How Gerrard and Lampard promised a splash but only delivered a ripple in MLS
By Graham Parker published
They were expected to be foundational players with their new teams. Instead, as Graham Parker writes, neither Steven Gerrard nor Frank Lampard had a chance to make the impact that was promised.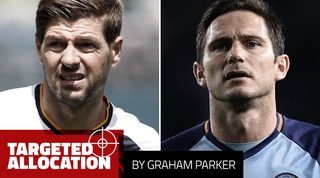 Frank Lampard has left New York City FC. Steven Gerrard has left the LA Galaxy. Shall we talk about their MLS legacies?
Already, I've seen graphics comparing Lampard's 15 goals and five assists to Gerrard's four goals and 14 assists, suggesting that we consider which player was the most effective in MLS. But that totally misses the point that, with where we are at in the history of designated players, neither had the chance to be truly effective for what their clubs needed them to be — technically, as box office, and culturally.
And while neither helped themselves at moments during their stay, both with their comments or evident understanding of where they were playing, the responsibility for that is squarely on the clubs.
Gerrard and Lampard failed for different reasons and in different contexts — not because they played badly (the stats quoted above are very respectable, and Lampard in particular had a really strong summer this year) — but because they were never, ever, going to be here in the U.S. long enough to write a significant history in the chapter of their clubs. And for investments of that scale and symbolic significance within the financial structure of MLS, you need exactly that.
When David Beckham left the LA Galaxy, I ended up writing a slew of think pieces and doing TV and radio interviews for foreign media, about whether he'd been a success. And in thinking about that, I tried to acknowledge the whole impact of his stay. He won two championships, of course, and got his Hollywood ending, while never living up to a wholly unrealistic expectation that he could single-handedly drag viewing figures into the mainstream. All those things went into a fair assessment.
But I also argued that he'd ultimately been with the Galaxy long enough for it to be possible to discern a change in trajectory for the club and league as a whole, and that was legacy enough. From what Beckham's first Galaxy coach, Frank Yallop, described to me as the "whirlwind" of his arrival, through the departure of Yallop, the disastrous Ruud Gullit experiment, the abortive move to Milan and Landon Donovan feud, and then the stability and new model of an MLS superpower that began to emerge in the Bruce Arena era, Beckham ended up implicating himself in the fortunes of his club and league, just by being around long enough.
Everyone from the league office, to club administrators, owners and even the fans who found their voice in denouncing then forgiving Beckham in 2009, ended up being transformed in some way through reckoning with his presence, even in critiquing his influence. And for all that his Miami expansion-team project has lost momentum, it's been a persistent marker of his ambitions in this league. Gerrard tried hard, played well on occasions, misjudged how his ongoing love affair with Liverpool would read, and left an Instagram goodbye that about matched his light footprint in LA.
I don't blame him — in reality, the lessons Gerrard's club could and should have learned were redundant from the Beckham years.
The team David Beckham left, with Juninho as his designated runner, and the Englishman actually describing himself as "kind of like Tom Brady," should have been the last hurrah for the idea that a lopsided team built around one aging player's strengths is any sort of sustainable blueprint. With Robbie Keane's movement and Donovan's intelligence running the channels, not to mention Mike Magee's ability to exploit the gaps left by defenders preoccupied with the other two, Beckham the quarterback was still a potent enough weapon in 2012, but watching the Galaxy try once again to balance the individual quality of their midfield and attack within a functioning team this year, felt oddly valedictory.
This has been a year of transition for LA, with the preseason roster turnover, yet it played out instead like a great team trying to keep proven assets together for one last campaign, and never fully made the transition from "great on paper" to the field. It's hard to see how transition into next year doesn't become a reinvention that's been postponed by Gerrard's presence.
Lampard's challenge greater than Gerrard's
Over in New York, the picture is more complex because of the burst of form Frank Lampard showed this summer, but in truth he'd stepped into a scenario much more charged than Gerrard. The bar was set considerably higher. He joined an expansion team in the country's biggest media market, and its most competitive sports market. The team needed a technical and box office and cultural success from its foundational Designated Players, and it needed them to be on board with the particularities of New York sports from the start in 2015.
In practice, that means no equivocating, and an ability to accept New York sporting hubris at face value. That means accepting that it's the greatest city in the world because it says so (in fairness, Manchester says that, too, with less evidence and more chutzpah), and by that token, it doesn't matter what you've done elsewhere, or how absurd a comparison of Chelsea and a startup MLS team might be. Rational comparisons do not matter here. You're in New York now. Own it.
But by the time Lampard edged warily onto the field on his comeback from injury, it was clear he was not going to arrive on time.
The farce of his extended stay at Manchester City was not the player's fault, but it was a damaging undermining of the good work City Football Group had done in trying to go about things the right way. Their community work in Manchester, and New York for that matter, has been excellent — nuanced and sensitive to locality. But that sensitivity was nowhere to be found in the handling of Lampard's late arrival in New York or in understanding how that would read.
By the time he got there, then-head coach Jason Kreis had been left holding the bag for decisions taken above him, had just about improvised a stopgap midfield into being, and was then left with the task of reinventing an expansion team on the fly as first Lampard, then Andrea Pirlo were "gifted" to him. As I remarked to a friend of the latter, it felt like giving a pony to a nine-year-old girl who'd always dreamed of having one, without thinking through the fact that she lived in an apartment.
Part of my admiration for what head coach Patrick Vieira was able to do this year was based on his ability to make all those elements work at their optimum, while recognizing that some fatal flaws could not be addressed until the offseason. And in doing so, he got some impressive performances from Lampard doing what he does best.
But because Lampard was the age he was (now 38), and because he hadn't been there from day one, there was never enough time for it to matter — I mean truly matter. If Lampard had somehow threaded the needle to be a catalyst for an unlikely NYCFC MLS Cup win, maybe that assessment would have been different, but by the time Lampard became a peripheral figure in the Sebastian Giovinco show in the Eastern Conference semifinal, it felt like a fair return to the mean. Neither he, nor NYCFC, really deserved more from this year.
And now he's gone. Pirlo can't be far behind. That leaves David Villa, who, like Sebastian Giovinco, like Thierry Henry, like David Beckham, came to MLS at a moment in his career when he had a chance for their sustained presence to matter; not just to their team's legacy, but in any assessment of their personal legacy. They chose to implicate themselves, and that's the difference. Villa will always be a key part of the NYCFC story, because in part it's his story.
Gerrard and Lampard may well return to the clubs where they made their names now, joining the coaching staffs at Liverpool and Chelsea, respectively, and consolidating their entirely deserved legendary status and special relationship with the fans of those clubs. You'd have to be ridiculously partisan to begrudge either man that. But when it comes to their legacy as players on this side of the pond, they barely made a ripple, when we were promised a splash.
More features you'd like every day on FourFourTwo.com
Graham Parker's column, Targeted Allocation, appears weekly on FourFourTwo USA. Follow Graham on Twitter @KidWeil (opens in new tab)
Thank you for reading 5 articles this month* Join now for unlimited access
Enjoy your first month for just £1 / $1 / €1
*Read 5 free articles per month without a subscription
Join now for unlimited access
Try first month for just £1 / $1 / €1
Quizzes, features and footballing fun
Get the best features, fun and footballing frolics straight to your inbox every week.
Thank you for signing up to Four Four Two. You will receive a verification email shortly.
There was a problem. Please refresh the page and try again.