How Llorente and Tevez evoke fond memories of classic Juventus pairing
Adam Digby on the Juve pair evoking memories of John Charles and Omar Sivori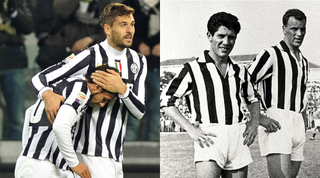 It was only a goal against the team in 13th place, but it was hugely significant for the scorer and his team. 
As Fernando Llorente wheeled away to celebrate the injury-time header which gave Juventus a 1-0 over Udinese, the sense of relief among his team-mates was palpable. They mobbed the Spanish striker, celebrating and perhaps sensing that this moment, this victory, meant something far beyond the three points it had just secured.
For the preceding 90 minutes, the Turin giants had laboured against a resilient opponent, as they had so often in the previous two seasons. Since Antonio Conte took over in May 2011 he had solidified the defence and constructed a wonderful midfield, but despite two successive league titles Juve have regularly seemed to lack that decisive attacking edge. 
Many players had attempted to solve the problem, from Alessandro Matri to Nicklas Bendtner, but Juve suit Beppe Marotta's failure to provide a quality striker was constantly bemoaned. 
This past summer the director general finally delivered not once but twice, capturing both Llorente and Carlos Tévez as he sought to give his coach the tools to improve upon last season's Champions League quarter-final exit. 
The deals were designed to end the all-too-frequent draws which had blighted the Bianconeri, and an end to the frustration that came with them. But the game against Francesco Guidolin's Udinese encapsulated that feeling, particularly after Andrea Pirlo left the field with an injury which robbed the side of its major creator.
Without their midfield architect's constant probing, Juventus seemed bereft of ideas, really only sparking into life with the injection of energy and impetus provided by substitute Stephan Lichtsteiner. The Swiss full-back would eventually find the opening as his miscued shot became the key pass of the game, steered home by Llorente for the matchwinner. 
Llorente the linkman – at 6ft 5in
The goal marked the end of a difficult period of acclimatisation for the 6ft 5in Basque striker, firmly ending the doubts which had plagued his first months in Turin. His lack of action in the first few weeks led to huge amounts of press coverage, much of it going as far as to indicate he would sign for Arsenal in the January transfer window. 
Instead, Llorente's importance to Juventus is now well-established. Putting his lack of match fitness behind him, he has added five goals and two assists in his last nine starts, rewarding the effort Conte had put into teaching him the tactical system and movement expected of him.
Llorente has shown he is far more than 'just' a scorer however, making other telling contributions all over the pitch. His ability to hold up the ball and bring others into play has been almost as invaluable as his goals, with the 3-1 Champions League win over FC Copenhagen showing how influential he can be in matches where he fails to find the back of the net. 
While Arturo Vidal's incredible hat-trick rightly took the spotlight and plaudits, it was impossible to miss the impact of the Spanish star. 
Llorente won the penalty which Vidal converted for the crucial second goal, controlling the ball in the box so well that Olof Mellberg saw no option but to foul him. But it was his link-up play with team-mates which really caught the eye. In total he would touch the ball 52 times, making 38 passes, including four creating scoring opportunities for his team-mates. 
Looking at where the passes were made, it's notable how much Llorente moves around the pitch and how much ground he covers. Far from merely occupying a forward role, he is everywhere, linking play and providing an essential outlet as Juventus look to relieve pressure. All but two members of the starting XI received a pass from him, while the only team-mate not to complete a pass to Llorente was Gigi Buffon – who rarely, if ever, kicks the ball downfield.
Llorente did well to prove that he's more than just a goalscorer. However, after only scoring in one of his first 12 domestic appearances for Juventus he has begun to register with the regularity demanded of such a headline signing. He had scored in each of the three Juventus matches before the Copenhagen game, and was at it again four days later against Udinese.
Moreover, his goals have all been important. That injury-time winner marked the third time he has broken open a 0-0 scoreline – and the Bianconeri have gone on to win all three games. Of his other three goals so far, two were equalisers against Real Madrid – home and away – and the other, his first for the club, was the winner against Hellas Verona.
In Italy, the final minutes of games are referred to as the 'Zona Cesarini' in honour of Juventus legend Renato Cesarini, who played for the club in the 1930s when they last won three consecutive titles. It would be apt indeed if Llorente were seen to be following in his footsteps with that goal against Udinese.
For not only was Cesarini part of that fine side, he later coached a team containing John Charles and Omar Sivori. It was he who recommended the latter to Juventus, having coached him as a youngster with River Plate, and the iconic 1960s duo are now being invoked in comparison with Llorente and Carlos Tevez.
Tevez and Sivori: Delightful devils
While the Basque is a very different player from the gentlemanly Wales legend, the parallels between the former Manchester City captain and the devilish Sivori are rather clearer. 
Like the 1961 Balon d'Or winner, Tevez is a technically gifted player blessed with incredible touch, vision and an eye for goal rivalled by very few of his peers. Like his compatriot, his career to date shows Tevez can infuriate and inspire team-mates and coaches in equal measure, capable of being brilliant one moment but imploding the next.
Thus far at Juventus we have only seen the best from the striker, who has clearly bought into the team-first attitude of Conte and the club. We have seen no sign of the drama that plagued Tevez's relationship with Roberto Mancini, which resulted in his exit from Manchester City. 
Since arriving in Turin he has been in superb form, providing 11 goals and four assists in his first 17 games. He started off playing alongside Mirko Vucinic, helping to sweep Lazio aside 4-0 in the Super Cup, but it is his blossoming relationship with Llorente that is prompting older Juve fans to reminisce. Like that famed Charles-Sivori tandem, both are hugely versatile players who offer far more than the stereotypical front pairing. 
November's 2-0 win over Livorno offered a good insight into how well the two fit together, each getting on the scoresheet with great link-up play between them, particularly given the small number of games they have started in tandem: Llorente, having scored the opener, set up his partner's goal with a wonderful pass. 
By the time of the win against Udinese, the two were finding each other regularly, completing 19 passes to each other. And the deadly duo were heavily involved not just with each other but with all their team-mates: Llorente made 48 passes, Tevez 54, again all over the pitch.
Such games display the absolute quality demanded by strikers at the very best clubs. Both men are known primarily as scorers, and goals were undoubtedly the chief reason they were brought to Turin, yet to discuss either of them in terms of only their contribution to the scoring tally is hugely reductive. They are both consummate team players, working tirelessly both with and without the ball to help push the team to victory at both ends of the field.
With the duo working this well together, it is no surprise that the Bianconeri have once again found themselves atop the Serie A standings after overtaking Roma last month. Sadly they were unable to make a telling contribution on the awful pitch against Galatasaray as the club crashed out of Champions League contention. 
The time it took for the pair to settle is fully understandable,  but is also certainly one of the reasons for Juve's exit. Yet with the Europa League Final to be held in their own stadium, their star duo could yet fire them to glory in more than one competition. 
Quizzes, features and footballing fun
Get the best features, fun and footballing frolics straight to your inbox every week.
Thank you for signing up to Four Four Two. You will receive a verification email shortly.
There was a problem. Please refresh the page and try again.