Interview: Thiago Silva – What Man City have done to Pellegrini just isn't right
"It's clear that it's not a correct thing to do," PSG's Brazilian stopper tells FourFourTwo, as we sit down to discuss the French side's chances of going all the way in the Champions League...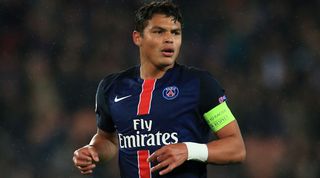 "A 1-0 victory would be a great result with the return leg to come," Thiago Silva tells FourFourTwo as he considers Paris-Saint Germain's upcoming quarter-final against Manchester City in the Champions League.
"City has more of a collective game than our previous opponent Chelsea. They are in a better position and it will be a far more difficult game.
"In theory, PSG play well away from home. They have players who can make the difference, but the first game is going to be the basis for everything. The first leg will give us the possibility to travel to England with perhaps the option to qualify with a draw."
He pauses and ponders his words. The Brazilian seems satisfied with his gameplan. He speaks generously, but delivers his words with the authority of a captain and veteran of many crunch games and key battles. At the age of 31, Silva remains dedicated to his profession, coupling aptitude with attitude.
Concentration key
For the last two seasons, PSG have dispatched their familiar rivals Chelsea. The Parisians fundamentally altered the narrative of the Franco-Anglo encounter, played with maturity and enjoyed supremacy over two legs.
"We showed good quality – the quality of a team that wants to win something big and important," Silva reflects. "The motivation of the players is growing every round as we are competing with big clubs. Chelsea are certainly good – they made our qualification for the knockout stage a bit more valuable in terms of meeting a strong opponent.
"Now, it's about working hard to get the same level of productivity and efficiency that we showed in the round of 16."
Runaway leaders PSG wrapped up Ligue 1 in March with a 9-0 victory against bottom side Troyes, breaking the club record for league matches unbeaten (36). Silva believes it will be beneficial for the bigger tests to come.
"We have played an excellent season – different from last season in the sense that we won the title then as well but only managed it in the latter stages of the league," he tells FFT.
"This year we began the season really well and luckily we seized the chance to win it well before the end. That leaves you the chance to prepare more thoroughly for the Champions League. The Champions League is PSG's main goal."
Pleasure and pressure
It's just after lunchtime at Camp des Loges, PSG's training centre in the green and lush arrondissement of Saint-Germain-en-Laye, a 30-minute drive west of Paris and the birthplace of Louis XIV.
There is a slight drizzle outside. David Luiz saunters about blissfully. Zlatan Ibrahimovic walks in with bags of goodies containing, presumably, a designer wardrobe. They all greet the staff and bystanders warmly.
The relaxed vibe is somewhat confounding, though – all but a veil, in fact. PSG are under enormous pressure. Everything at the French club is informed by a crushing sense that the Champions League must be won.
Simply, they yearn for European glory – and their fourth consecutive quarter-final offers the Parisians a chance to progress to the last four for the first time.
Silva, though, a doyen of international football who suffered severely after Brazil's disastrous 2014 World Cup exit (and continues to be ignored by coach Dunga), is unfazed. He has been having an outstanding resurgent season.
"There is always a first time, there is always a first time [to win]," Silva chuckles. "We are aware of our responsibility.
"We know as well that City are an excellent team. We have to respect them in the best way possible, but neither PSG nor City have reached the semis. So, one club will progress."
Mr Motivator
It's only a modicum of the truth. The two-legged match with Manchester City represents a seminal moment for PSG: victory against Chelsea was a mere prelude.
This quarter-final will determine PSG's entire season and be a benchmark for the club's Qatari owners. Coach Laurent Blanc, Silva the captain and his fellow players will stand or fall against City after a season that has been relatively straightforward up to this point.
"Motivation should always exist," counters Silva matter-of-factly. "But it's clear that our motivation [in Ligue 1] will drop a little as a consequence of already having won the league title.
"Our motivation should be in line with our future prospects, though. PSG has the league cup final, the semi-finals of the French Cup and the quarter-finals of the Champions League coming up. So the games in the French league will serve as preparation for those decisive matches."
Don't be fooled
At his pre-match press conference, manager Blanc refused to acknowledge that the weekend's match against 3rd-placed Nice was a tone-setter, but despite some kind-hearted treatment of Hatem Ben Arfa in the first half, an imperious Ibrahimovic inspired PSG to a simple 4-1 win. The Swede's velvet touch was too much for the visitors to handle.
PSG missed Marco Verratti, Angel Di Maria and Javier Pastore due to injuries. It's an unpleasant predicament for Blanc – but one Manchester City have had to endure for much of the season with the notable absences of captain Vincent Kompany and midfield lynchpin Kevin De Bruyne, who returned to action with a fabulous strike against Bournemouth at the weekend.
But Silva isn't fooled by possible injury crisis.
"I have an example to counter this," says the PSG captain. "It's the group game against Real Madrid. Everyone was saying it was going to be an easier game, because Real Madrid didn't have James Rodriguez, Gareth Bale and [Karim] Benzema due to injuries.
We played them at the Parc des Princes and got a goalless draw. It was a tough game, because Real's substitutes wanted to show their coach that they are good enough to play.
"That game serves as an example for the game against Manchester City. They have important players, who are injured. In theory they will be missed because they have quality, but their backups will want to show their coach they have quality to play. That's a fact and that will make it a difficult game."
Harsh deal
Could the sacking of Manuel Pellegrini influence the tie? The Chilean denies as much, but the imminent arrival of Pep Guardiola has certainly overshadowed the denouement of Pellegrini's City career.
The 62-year-old has handled his own managerial defenestration with little fuss, but his reign has become fraught. Since February, Manchester City have only won two Premier League games and are now 15 points behind leaders Leicester.
"It's clear that it's not a correct thing to do," Silva says of Pellegrini's treatment. "I am thinking aloud - it's not a friendly thing because you are working, knowing that tomorrow you won't be doing it anymore.
"That must be a difficult situation for Pellegrini. In my view, the coach maintains an interesting posture, because if it had been another coach with less ambition and less work ethic he may have said: 'Well, you want me to leave already? I could let you down and go home, because you have practically sacked me.'
"He is being very professional. You should almost congratulate him, because not everyone would stick at it and focus in such a situation."
Blanc page
At PSG, Blanc extended his contract until 2018 in February. His tenure has been fractious at times, and ultimately Le President will be judged on his European achievements, not the number of domestic trophies he lifts.
But Blanc has build a solid team around a nucleus of players – Silva in defence, Verratti in midfield and Ibrahimovic up front. They have developed an understanding and created stability.
"You need to maintain a base in a club that wants to win important things," Silva analyses. "That base has been well preserved at PSG for let's say the last two, three years.
"It's important that the main architect stays. Blanc has great coaching qualities – we have a near-perfect understanding. He listens a lot to me and I listen a lot to him.
"That facilitates our dialogue between player and coach when I am on the field in important games. It's important that he extended his contract to allow PSG to maintain an attacking style of play. That is important."
When it matters
PSG's forward-minded game often translates into possession-based football: they had 65% of the ball at home against Chelsea, 58% at Stamford Bridge, and 56% against Nice. But will it be enough, not only to beat City, but to win the Champions League?
"Barcelona, the defending champions, are always the favourites," says Silva. "I also consider Bayern Munich and Real Madrid as favourites.
"Bayern have a distinctive quality; they play a different way with a coach who I am a particular fan of. Every time there is a game of Bayern Munich I try to watch it and learn from it, because Guardiola is the best coach in the world – the team he works with is always going to compete for titles.
"Real Madrid, because they have one of the best players of the last few decades as their coach in [Zinedine] Zidane. He is doing a good job as a first-time professional coach. It's not easy to manage Cristiano Ronaldo, Gareth Bale, Benzema, Sergio Ramos, etc – those are players who are established in Europe, but Zidane plays a great role in the way things are going at Real Madrid after Benitez left."
Silva is a realist, but doesn't contemplate defeat: all that matters is Champions League success. For him as a captain, it's about making PSG truly belong to the European aristocracy.
More features every day on FFT.com • More Champions League • Interviews
Quizzes, features and footballing fun
Get the best features, fun and footballing frolics straight to your inbox every week.
Thank you for signing up to Four Four Two. You will receive a verification email shortly.
There was a problem. Please refresh the page and try again.