It IS easy to win an England call-up – the numbers prove it
By Huw Davies
FourFourTwo has crunched the numbers and made a startling discovery...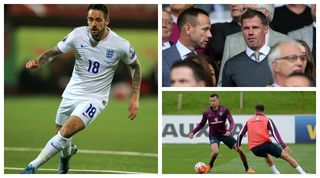 Well, it's true. We counted. And the fact is, half of the English players in the Premier League right now have had a senior call-up at some stage in their career.
That is to say: of all the Englishmen playing Premier League football, those eagerly awaiting their first invitation to the national team party are outnumbered by those who've already arrived, thanked the host and tried to chat up a stranger in the kitchen.
That is to say: Jamie Carragher may be right.
The former Liverpool and – full disclosure – England defender claimed recently: "It's never been easier to win an England call-up," namechecking Dele Alli and Danny Ings. Alli has made four league starts for Tottenham since joining from MK Dons in January; fellow debutant Ings, at Liverpool following his first top-flight campaign for Burnley, three.
Ross Barkley slams home during Monday's game in which Alli and Ings both featured
New caps
Carragher wasn't speaking bitterly, or even doubting the ability of those players. He was lamenting a lack of future England players getting opportunities in the Premier League. Of course, the Three Lions' chief owl defended his selection. "It's not a situtation where the moment you kick the ball correctly from A to B, you'll get in the England team," said Roy Hodgson. "It's not like that at all."
The numbers say different, however. The relative ease with which talented young players are rewarded with a place (however brief) in the England squad is reflected in one stark statistic.
Of all the English players in the top flight, 141 have featured in at least five Premier League matches in their career, and of those 141 players, 71 have an England cap or call-up to their name. Only 70 have not. In their respective careers, half of the Premier League's English contingent have been deemed good enough to play for their country.
(Before we go any further: why are we stipulating that they must have played in five Premier League matches or more? Because it would be unfair to include the likes of Patrick Roberts or Ruben Loftus-Cheek among the ranks of uncapped players when they're likely to change that in the near or distant future... and you could argue that in some other cases it would be misleading to call a teenage one-minute wonder a Premier League player, at least at this stage.)
It took Dele Alli just two minutes to nutmeg an opponent after coming on as a sub this evening. pic.twitter.com/CwRm7pYYet
— The Spurs Brain (@TheSpursBrain) October 12, 2015
Roy's reasoning
So: Roy Hodgson or his predecessors have given a cap or, in half a dozen cases, a mere call-up (ooh, the flirts) to one in two of all the English players currently in the Premier League. What does that mean?
That there aren't that many to choose from? Perhaps. That being part of a successful team is enough? On occasion. That everyone gets a go eventually? Not necessarily. As odd as it seems to call Fraizer Campbell and Matt Jarvis England internationals (while Steven Taylor was called up twice for no appearance), there are plenty of Premier League stalwarts who never got the call. Just ask Mark Noble, Lee Cattermole, Wayne Routledge...
No, the signs point to what Carragher was saying: that international recognition comes too quickly. Dele Alli is a seriously talented prospect, and exposing a young player to the senior setup can make sense if he really excites a manager – but that should be the exception, not the norm.
Making a mark
Wilfried Zaha made his England debut the day after his 20th birthday, while he was still playing in the Championship. Calum Chambers got the nod at 19, just one year on from his Premier League debut. Martin Kelly made his England debut (and the Euro 2012 squad due to Gary Cahill's injury) having made a couple of dozen Premier League appearances; fellow Liverpool product Jon Flanagan did the same.
These were players with potential as yet unrealised, as with any under-21, but not only that: they were some way away from challenging for consistent selection. There would be no continuity. Carl Jenkinson has improved while on loan at West Ham but seemed little more than a makeweight at the time of his debut in 2012, stolen away from international giants Finland.
Danny Ings made his England bow last night. When his competition includes squadmates Wayne Rooney, Theo Walcott, Harry Kane and Jamie Vardy, as well as Danny Welbeck, Daniel Sturridge, Saido Berahino and Charlie Austin, at a time when Ings isn't guaranteed to start for his club, the timing almost makes it meaningless – though not to him, of course. His short-term England future is subject to quite a lot of snipped hamstrings.
Half a chance
It's not just that 71 of the Premier League's 141 English players have represented the Three Lions. Another handful – Jack Grealish and Gary Hooper among them – would have increased that number but for their respective clubs' interventions. At least another 10 have been tipped for England call-ups soon, some by Hodgson himself. More than half of the 70 unapproached players featured for England's under-21s; some of them still do. Bournemouth provide a good number of those that remain. And there are another 17 players in the Championship with at least one England cap (quick quiz for you, then: name 'em).
RecOMMENDED
Is national team selection unfocused? It's useful to experiment with different players, but lately, just playing in The Best League In The World almost seems to be enough to merit an England cap, as long as there's a semblance of some potential – however great.
Carragher was half-right. It isn't easy for players to get an England call-up. They have to work harder than ever against a very open global transfer market to establish themselves in the Premier League at a young age. But having done that... well, you have half a chance. Literally.
Quizzes, features and footballing fun
Get the best features, fun and footballing frolics straight to your inbox every week.
Thank you for signing up to Four Four Two. You will receive a verification email shortly.
There was a problem. Please refresh the page and try again.