Remembering King Kenny's domestic double at Liverpool, 30 years on
Liverpool's achievements in 1986 were special for various reasons – not only did they beat their local rivals to both prizes, but recovered from a serious points deficit too. Sam Drury takes you through the ride...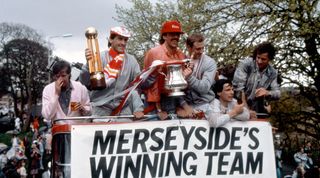 As Alan Hansen held the FA Cup aloft in May 1986, it seemed like business as usual for Liverpool. A league and cup double secured, their domination of English football showed no sign of coming to an end.
Heading into that season, though, there was an air of uncertainty around a club still coming to terms with the fallout of the Heysel disaster. Everton had beaten them to the title in 1985, Joe Fagan had retired and his replacement Kenny Dalglish, though revered as a player, was completely untested as a manager.
Player power
However, the Scot's appointment as player-manager was welcomed by the squad according to Jim Beglin, a key member of the Liverpool team that year.
"There was a lot of satisfaction," he tells FourFourTwo. "Kenny had an aura about him even then, and we all thought they couldn't get anybody better.
"He knew the club inside out, was a very shrewd character and a great at Liverpool so we were all hoping that the club would be competing for anything we entered."
Indeed, any notion that Dalglish would struggle to assert his authority over his former team-mates was soon dismissed.
"I remember Kenny putting pressure on us all to deliver what he wanted and if ever that level dropped a little, he wouldn't tolerate it," says the ex-Reds left-back. "It was as if he was trying to take the club up another level. Kenny was a winner and he wasn't going to accept anything less from any of his players."
Losing points, losing ground
However, despite a 3-2 derby win at Goodison Park, by the New Year – and after just one win in five during December – there was a feeling that maybe the squad wasn't good enough. Not least from the side's captain.
"It's come out now that Hansen went to Kenny and said 'this team's going to win nothing'. That's another one he's got wrong!" Beglin chuckles.
"But December wasn't too good. We drew 1-1 at Nottingham Forest and in added time I had a chance to get the ball in the box. It was a really tricky surface and I slipped, so our last chance of getting a winner went.
"I got it afterwards in the dressing room and I remember telling everyone to go and whatever. I got bombed out of the side, I think I was being taught a lesson after that."
Beglin was back in the team by the time the Merseyside derby came around in February and it proved to be a turning point in Liverpool's season.
"Losing to Everton at Anfield was a terrible blow, it was like our worst nightmare," Beglin explains. "They were unlucky to lose earlier in the season and probably deserved to beat us on the day – we weren't great. Brucie [Grobbelaar] let one in from a [Kevin] Ratcliffe shot that bobbled along the ground from about 40 yards and then [Gary] Lineker finished us off.
"It was a real demoraliser and we couldn't have recovered, but I always maintain that team had a real underlying spirit and determination – that dressing room was full of winners.
"The pressure was cranked up hugely after that defeat and, thankfully, we responded brilliantly."
Real winners
Having found themselves in third, eight points behind leaders Everton following the derby defeat, Liverpool went unbeaten in the final 12 games of the season, winning 11 and keeping eight clean sheets.
It wasn't until the penultimate game of their league campaign that Liverpool gained the upper hand in the title race, though, Ian Rush and Ronnie Whelan giving them a 2-0 win at Leicester while Everton lost 1-0 at Oxford.
That meant Liverpool travelled to Chelsea on the final weekend of the season knowing victory would secure the title.
"The intensity went up another notch," Beglin recalls. "We weren't going to blow it, we couldn't blow it – we'd worked too hard to get ourselves in position."
A single goal proved enough at Stamford Bridge, the player-manager himself with the championship-winning strike.
"For Kenny to get the winner – it had to happen and it was brilliant," Beglin says. "To be part of a team that good and to go and win the league – I was in heaven. It was the best... what a time."
Derby delight... in London
There was little time to celebrate, though, as a week later Liverpool headed to Wembley for the FA Cup final against Everton with the chance to complete a famous double.
"The FA Cup back then was absolutely mega," says Beglin. "Arguably, it was even bigger than a European Cup final.
"It was the first all-Merseyside FA Cup final. It was off the scale, the official attendance was 98,000 that day, but I think it's got to have been 110,000 or more. It was packed to the rafters."
Once the game began Everton settled quickest and Lineker put them in front at the break. Liverpool needed something to spark them into life and they got it soon after the interval.
"Even in the second half we didn't get going at all and I ended up having a scrape with Brucie [Grobbelaar] – he hit me!" Beglin recalls. "I wish I had a quid for every time a Liverpudlian has come up to me and said 'that's what woke us up that day'. I don't know whether that's true but if it did play any part in that then I'm delighted."
It certainly drew a response: two goals in six minutes, from Rush and Craig Johnston, turned the game around before Rush struck again in the 84th minute to seal the win.
The Double – an achievement no Liverpool side in the 30 years since has managed to replicate – was complete.
"That team could really play some good football – the pass-and-move culture was drilled into us on the training ground, but we could grind," Beglin concludes. "People talk about a 'Plan B' but you don't completely change your style of play at a moment's notice.
"I've never known a coach to work on that. For me, 'Plan B' is finding a way of not losing, a way of winning games that you're not likely to win, and that team could do that – it had the winners, the winning mentality, and that came through superbly well at the end."
Quizzes, features and footballing fun
Get the best features, fun and footballing frolics straight to your inbox every week.
Thank you for signing up to Four Four Two. You will receive a verification email shortly.
There was a problem. Please refresh the page and try again.