On this day in 1991: King Kenny's abdication shocks the world
Stephen Tudor reflects on Kenny Dalglish's unexpected resignation after a 4-4 thriller with Everton, a moment so traumatic that some fans required counselling...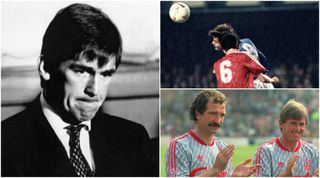 On February 20, 1991, Goodison Park hosted a game so ferociously dramatic that the aftershock is still arguably impacting on one of the clubs today. It led to the departure of a favourite son, and signalled the end of a famous boot room dynasty.
That's a lot of blame to place between two parps of a whistle, but this was no ordinary local skirmish. This was a Merseyside derby for the ages.
A vintage classic
The pulsating FA Cup fifth-round replay between Everton (opens in new tab) and Liverpool (opens in new tab) was the fourth time the old foes had squared up to each other that season, and contained every ingredient required to justify classic status: wonder goals, calamitous defending and four separate comebacks, each more Gwladys Street-shaking and improbable than the last.
Dominating proceedings for the bulk of it was a vintage Liverpool side who were reigning champions and on course for a historic double, but each time Peter Beardsley (twice), Ian Rush and John Barnes slapped the Toffees down – the latter with a sublime curler in extra-time – the home team responded, capitalising on uncharacteristic sloppy defending from a backline that appeared to have lost its moorings amid the chaos.
Most neighbourly clashes promise the world then flatter to deceive. This one had more twists than an ailing soap opera, until a typical poacher's finish from Tony Cottee in the 114th minute meant honours were even and a city could finally assimilate what it had just witnessed ahead of a second replay scheduled for seven days later.
The 4-4 draw is enthralling by its very nature, but this one had been something else entirely – the drama was far from over. While the newspaper headlines were still revelling in the eight-goal cup thriller, a king suddenly – and wholly unexpectedly – abdicated his throne.
End of an era
Kenny Dalglish's decision to step down as Liverpool boss came out of the blue for all concerned. His wife Marina was informed the following day, the players told during a tearful meeting the next morning and the world stunned by the news during an emotionally charged press conference that afternoon.
Dalglish simply was Liverpool, his artistry, goals and managerial acumen entwined in a formidable era of supremacy that took football to unparalleled heights and conquered Europe several times over. As a player his 172 goals made him a legend. As a manager three league titles, two FA Cups and assembling one of the greatest sides of the 20th century had taken his standing among Reds to a unique plateau.
And now he was gone, with Liverpool three points clear at the top of the table and in familiar fine form. His pallid face stared back at the flashing cameras, offering no clues as to why he was resigning, other than to hint at something much bigger than an immediate reaction to a tumultuous match.
"People might find my decision difficult to understand but it's one I've made," said the Scot. "It would have been a mistake to mislead people into believing that there was nothing wrong in myself."
The shock was palpable around the city and across the nation, with one supporter even calling police headquarters seeking counsel. But once the bewilderment subsided, speculation naturally took its place. Some claimed there had been a fallout with Beardsley, a farcical notion to anyone with even a passing acquaintance of football's nice guy. Others hinted at a boardroom bust-up.
Too much to take
Looking back it seems bizarre that the real reason for his leaving wasn't startlingly apparent from the moment the announcement was made, but perhaps we're now living in a more evolved age.
Back then, post-traumatic stress disorder, depression and emotional fatigue were all vague, disputable concepts that happened to other people. That bloke down the road.
The 40-year-old Scot had given 14 years of outstanding service to Liverpool Football Club, a timespan that included the harrowing first-hand experiences of Heysel and Hillsborough. In the unendurable aftermath of the latter he was a rock of support and unwavering comfort, attending up to four funerals a day. He'd given everything he had for the club – and for football – and there was simply nothing left.
His body language in the cauldron of Goodison showed this clearly. Here was a guy who had stood on countless touchlines and experienced every glory and heartbreak the game could throw at him. Yet throughout the second half and beyond he remained slumped against the tunnel wall, visibly beaten by the insanity before him.
Dalglish's candid words in later years reveal this further: "After we took the lead for the final time, I knew I had to make a change to shore things up at the back. I could see what had to be done, and what would happen if I didn't, but I didn't act on it.
"That was the moment I knew. I was shattered. I needed to get out and away from the pressure. After about two weeks, though, I regretted it. I felt ready to go back, but the phone never rang."
Souness the successor
Liverpool fans know all too painfully what followed.
Long before 'gardening leave' became a buzz term – a leave of absence which would have afforded Dalglish a chance to step back, smell the roses and return reinvigorated – Liverpool instead targeted another legendary Scot to inherit the club's legacy.
Graeme Souness arrived with growling intensity and a determination to stamp his own mark, and in doing so committed the cardinal sin of the Liverpool Way, favouring revolution over evolution.
Players like Paul Stewart, Julian Dicks and Torben Piechnik were signed – limited talents who should only have emerged from the away dressing room at Anfield – while up the M62 yet another gruff Scot was talking of perches with a glint in his eye.
In the weeks leading up to his resignation, Kenny Dalglish did two significant things. He bought a 17-year-old Jamie Redknapp from Bournemouth and gave a young, gangling Steve McManaman his debut. In a parallel universe they thrived under the tutorage of the king, winning silverware in abundance right up to the millennium.
More features every day on FFT.com (opens in new tab) • More retro
Thank you for reading 5 articles this month* Join now for unlimited access
Enjoy your first month for just £1 / $1 / €1
*Read 5 free articles per month without a subscription
Join now for unlimited access
Try first month for just £1 / $1 / €1