Report card: Liverpool make their supporters dream before rude awakening
The title chase ended agonisingly but, writes Nick Ames, Liverpool have much to be happy about...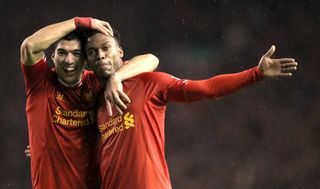 The lowdown
It would have been nice, wouldn't it? Perhaps not if you're a one-eyed fan of Liverpool's nearest rivals, but Brendan Rodgers' side almost pulled off the most daring title heist of the Premier League era, doling out a hefty portion of nostalgia to fans aged 30 and over into the bargain.
You couldn't have seen this coming in August. Luis Suarez, suspended for the first five league games, had spent his pre-season angling to leave and pouting through the club's tour of Australia. Daniel Sturridge stepped up to the mark, scoring three 1-0 winners in as many matches, but defeats to Southampton and, later, Arsenal suggested Liverpool would come up short too often against decent opposition. That feeling heightened over Christmas when, with Sturridge sidelined, they suffered narrow 2-1 reverses at Manchester City and Chelsea, seemingly ruling out any serious title pretensions.
Not so. Back they came and, confidence rocketing after nine goals in consecutive home games against Everton and Arsenal, Liverpool ran riot during the Spring. Suarez and Sturridge freewheeled their way to goal 56 times between them during the season in a partnership that variously appeared telepathic and gloweringly soloist, while Raheem Sterling and Jordan Henderson proved their worth as the two most dramatically improved players in the division.
It all seemed to have come together beautifully, and poignantly, when Manchester City were beaten 3-2 at Anfield two days before the 25th anniversary of the Hillsborough disaster but, with Steven Gerrard urging his team-mates that they couldn't "f*****g let this slip now," the sneaking fear was that, when their run did come to its natural halt, they'd do just that.
It did, and they did. Gerrard's slip – yes, slip – let in Chelsea's Demba Ba and the title was City's to lose, all-but confirmed when Rodgers' men lost a 3-0 lead at Crystal Palace. In the end Liverpool's football, impossibly exhilarating at its best, lacked the defensive control needed to complete the fairytale, while Rodgers' summer signings – Simon Mignolet comfortably the best, despite concerns over his aerial strength – didn't contribute enough to the squad's depth. Even so, they've set themselves an almighty standard now.
Would they have taken this in August?
Absolutely. After an exhaustingly Suarez-orientated summer, Liverpool fans were simply looking forward to watching some progressive football. Few foresaw what followed.
Would they have taken this in January?
Yes. As February dawned – without serious transfer-window strengthening, despite a dogged chase of Yevhen Konorplyanka – the Reds were seven points off leaders Manchester City; confirming a Champions League berth would have done nicely.
High point
Thrashings of Everton and Spurs (twice) and a 3-0 win at Manchester United, sitting ducks though the latter may have been, all stake good claims, as does the optimism and emotion around what seemed a decisive triumph over City. But a whirlwind of a lunchtime on February 8 was the one that suggested Liverpool might just make a proper title tilt. Arsenal, eight points ahead of Rodgers' men at this stage, were blown away by a velocity of football rarely witnessed since their own 'Invincibles' were in their pomp. Liverpool could have added more than one goal to their opening four if they'd felt the need, and the platform was set for a run of 11 wins that nearly took them all the way.
Low point
This one isn't difficult. A win at Palace in their penultimate game would have piled the pressure back on City, with little to be taken for granted in this of all campaigns. Liverpool went 3-0 up unfussily but, rather than locking things down after Damien Delaney's deflected riposte, persisted with a pointless goal-difference chase that left most of the team stranded when Dwight Gayle scored another. Then, when Martin Skrtel stepped out suicidally to prevent Glenn Murray's chest pass to an unattended Gayle, the denouement was predictable in painful slow motion. You almost – almost – felt for a teary Suarez at the end.
Hero of the season
It has to be Rodgers. During a steady enough first season as Anfield, there had been a growing eagerness to subvert the Northern Irishman's image as an innovator; it didn't take long for the moniker 'Brenton' to become common currency and for sidesplitting lists of his -isms to spring up on the internet. While Rodgers' critics can rightly point to the rough edges still obvious in his side, the joke has well and truly been on them this term: few Premier League managers in recent times have sent a team this dynamic and spontaneous out to play.
Villain of the season
Steven Gerr....no, no, that would just be unfair. There aren't too many contenders, but perhaps Rodgers would have expected more from one or two of his summer signings. A semblance of support from £7.7m Iago Aspas would have been useful on the rare occasions, such as that Chelsea defeat, when Suarez and Sturridge were subdued – but as Liverpool scrambled for a vital equaliser, his headline-grabber was the arrowing of an oh-so-clever injury-time corner straight into the path of Willian.
The season in microcosm
Two rollercoaster away wins against lesser opponents – January's 5-3 victory over Stoke and the 6-3 humbling of Cardiff two months later – sum things up nicely, and the former perhaps said it best. Liverpool went two up and were pegged back to 2-2, before Suarez and Sturridge combined brilliantly to send the game beyond the hosts' reach – but not before another late scare. Rodgers' side had goals for and against in them at all times; you never quite knew when a flurry was due at either end, but they usually came out in credit.
FFT grade
A. It might seem like scant consolation after a crushing final couple of weeks, but Liverpool had an outstanding season and played the most exciting football the Premier League has seen in years.
SEE ALSO Read FFT's report cards for the other 19 Premier League teams
Quizzes, features and footballing fun
Get the best features, fun and footballing frolics straight to your inbox every week.
Thank you for signing up to Four Four Two. You will receive a verification email shortly.
There was a problem. Please refresh the page and try again.