Southampton's shooting drills solely theoretical, strikers confirm
Saints' strikers yet to kick a ball at a goal in training, Back of the Net explains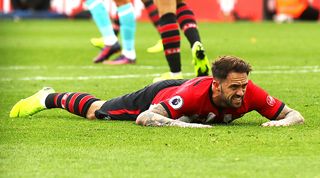 Southampton's strikers have confirmed that they have been spending many hours exploring the theory of shooting on goal but are yet to progress to the practical component.
Mark Hughes's men wasted countless chances against Newcastle as they extended their run to five Premier League games without a goal, but Southampton's marksmen have insisted that they are making great strides.
"Some of the things we're doing on an interactive whiteboard would take your breath away," Charlie Austin told FourFourTwo.
"Give any of us a pad of paper and a calculator, the exact height and weight of the goalkeeper and the distance from goal and we'll submit to you within hours a very workable model for scoring a goal.
"More than that, we have a wider understanding of what it means to score a goal. We can write a solid essay on the socio-economic implications of netting it and you won't find a single quotation unattributed.
"But sadly teams just aren't giving us the time we need to draw up a solid proposal, debate that proposal, secure peer backing and then get the blessing of the key stakeholders to execute the proposed shot or header.
"It seems you just don't get that kind of time at this level."
In practice
Southampton managed 22 shots against Newcastle, but only four were on target and 10 never got as far as physically kicking a ball.
"I found myself through on goal and was very calm, I knew we'd been training for exactly this all week," Shane Long explained to FourFourTwo.
"Sadly, while I calculated the optimal angle of contact and factored in wind resistance, Goalkeeper X [Martin Dubravka] came off his line and changed a key variable in the equation.
"By the time I'd worked out the optimum way to hit the shot, the ball was on the halfway line and the defence was completely unwilling to set the situation up again."
Under growing pressure, Hughes has reluctantly pledged to 'get the footballs out' ahead of schedule, but insists that before he allows any Southampton striker to belt one towards a goal they must watch him do it on multiple occasions.
"The worst thing I could do is let them all go out there and skew a load of shots wide without adequate supervision," Hughes told FourFourTwo.
"That would completely destroy their confidence.
"Besides we're all waiting to see whether Mario [Lemina]'s application for a goal from a header against Newcastle will be accepted. There seems to be a delay in getting back to us on that but he submitted a lovely 3,000-worder to the referee after the final whistle."
More Back of the Net • New features you'd love on FourFourTwo.com
Quizzes, features and footballing fun
Get the best features, fun and footballing frolics straight to your inbox every week.
Thank you for signing up to Four Four Two. You will receive a verification email shortly.
There was a problem. Please refresh the page and try again.