Why Atletico's bashing of the Big Two is even more impressive than you think
Hassan Cheema suggests Atletico Madrid's stunning title victory gets even better below the surface...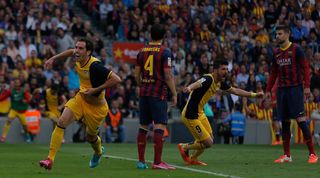 It was never supposed to end this way. Diego Simeone could do wonders, but this was surely beyond even him. Last season Atletico were second in the table until March before their lack of squad depth and ability to play beyond their limits finally caught up; that was supposed to be the optimist's best-case scenario. The Big Two would wait for the others to dream of glory before they snatched it away.
Apparently that's no longer valid – this season, Atletico Madrid are the champions of Spain, and no one could have predicted that.
La Liga has come a long way from its peak in the early 2000s. From 1999/00 to 2007/08 it was probably the most competitive big league in Europe. Over those nine years, six different teams finished in the top two, and it is two teams from this period that Atletico reminded us of as they hunted unlikely success of their own.
The first was a Real Sociedad side that followed three consecutive 13th-place finishes with challenging for the title in Raynald Denouiex's first season at the club in 2002/03 – and yet were still left disappointed. With two games to go, la Real were top but a 3-2 loss in Vigo allowed Real Madrid to overtake them.
Four years later, Junade Ramos's Sevilla side went through something similar. At the start of April they needed a win at home to Racing Santander to go top of the table; Madrid had endured a poor start to the season and Barcelona (the reigning European champions) were beginning to falter. This was Sevilla's hour – or not. They drew against Racing, and followed it up with a loss to Valencia; despite five wins in their next six matches, their chance had gone. By the time Barca had faltered completely, Real Madrid were ready to take the crown. Sevilla were two results in April away from a league, cup and UEFA Cup treble. The greatest season in their history ended with a What If? 
Breaking the barrier
Neither of those teams had great tactical innovations or the emergence/reliance on superstars (like, say, Liverpool and Luis Suarez this season). What they had were strikers in surprisingly good form (Nihat in 2002/03 and Kanoute in 2006/07 enjoyed their only 20-league goal seasons), and midfielders coming through (2002/03 was the breakthrough season for Xabi Alonso, who finished the year with the Don Balon award for Best Spanish Player). Both teams essentially played 4-4-2 with a reliance on what they did on the break, and the belief that their best way to succeed was to outgun the opposition.
Atleti aren't that different to those two teams, but they are different enough. They too play a 4-4-2, but theirs is narrower than their predecessors. They too saw the breakthrough of the next great Spanish midfielder - Koke - and they too rely on the break. But they also play in a different league to the ones Sevilla and Real Sociedad did, and have something neither of those teams had – a darn good defence.
Firstly, the reason Atletico may have won La Liga might be the reason they were never going to win it. The institutionalised division in La Liga was designed to separate the Big Two from the plebs, to make sure that the top of the table was a closed shop. Instead, as the others weakened, those who could remain stagnant would benefit too. Atletico won La Liga not because of the six points they earned against Barcelona and Real Madrid, but the 84 points they'd garnered from 34 games against the rest. To put that into context, in La Liga's competitive apogee the average points total for the title winners was 78.4, and no team had more than 85 points in a season during that period. 
Atletico didn't have the sheer number of individual resources the Big Two had, but what they needed was something that would make them better than the other 17 and was still feasible (not feasible: producing a Messi or buying a Ronaldo at a whim).
Defences win you titles
Enter Cholo Simeone and a historically good back four. Yes, one of the hallmarks of this Atletico side is that they defend with 11 men all the time, working like madmen; but it is that back four that defines the team and its identity. What they realised, especially through the second half of this season, was that they didn't need to be otherworldly – all they needed was to be a goal better over 90 minutes than the other lot. It's simple when you put it that way, and even simpler if you have a defence that refuses to buckle. Atletico ended up scoring only 18 goals in their last 14 yet still managed to fend off the Big Two.
Across the pond, the rise of the Indiana Pacers in the NBA has been built around defensive excellence and an identity of "no one believes in us except the people in this locker room". It is a statement that could as easily be applied to this Atletico side, particularly the back four. That is not to say that the foursome has no pedigree – Juanfran was the player of the tournament at the 2004 U19 Euros; Filipe Luis did for Deportivo what Dani Alves had done for Sevilla – a full-back-cum-best attacking thread; and Miranda was part of Dunga's Brazil team even when he was at Sao Paulo.
But of course, it could never be that simple. Juanfran the teenager was a lightning quick winger rather than a journeyman full-back; Filipe Luis's Depor never finished in the European places, and the only reason Miranda was playing in Brazil was because he had failed to settle into the European game with Sochaux. In fact, both full-backs were on the books of Real Madrid's B team but never really became fixtures in the main squad. That may not be enough to offset Raul going the other way, but it's a start nonetheless. 
These three, together with Diego Godin, formed arguably the best defence in Europe this year. They conceded 26 goals in 38 games. To put that into context, only Barcelona (twice) have conceded fewer goals in a La Liga season this century. In fact, you would have to go back to the mid-90s, and the days when La Liga awarded two points for a win, to find a team other than Barcelona that had had a better defensive record. And their style isn't the Barcelona way either – Barca's great 'defences' relied on the fact that they had to do so little; they defended by dominating the ball. On the other hand Atletico finished the season with an average possession percentage of 48.9% and yet still conceded fewer shots per game than any team in the league but Barcelona.
This was just defending done well, something that Europe has become increasingly aware of thanks to the team's exploits in the Champions League. 
But the final word, like the football, must lie with the fourth member of that back line. In summer 2010, Barca cut their losses and were finally rid of Dmytro Chygrynskiy; Real Madrid got rid of Christoph Metzelder, and thus both giants were in the market for centre-backs. Diego Godin, meanwhile, had finished his third season at cash-strapped Villareal and had become one of the best stoppers in the country – something he duly showed at the World Cup that summer.
Madrid went for Ricardo Carvalho, eight years Godin's senior, for the same price that Atleti ended up buying Godin for. Four years later he's no longer at the club. Barca, meanwhile, went for Javier Mascherano, for three times the price. As the 6ft 1in Godin rose above the static Barca defence to score the goal that won his team the title (and also meant Barca had conceded nine goals from corners in the season – more than any team in the league) there was a certain poetry in it all – the perfect example of what Atleti have done this season. They beat the big two with players that weren't considered good enough for the big two. And that alone is a feat worth celebrating.
Quizzes, features and footballing fun
Get the best features, fun and footballing frolics straight to your inbox every week.
Thank you for signing up to Four Four Two. You will receive a verification email shortly.
There was a problem. Please refresh the page and try again.