Why Firmino is the perfect forward for Klopp's high-octane Liverpool
After a slow start to his Premier League career, the Brazilian is thriving in a central role. Edward Stratmann analyses why the 24-year-old is the ideal man to lead the line for the effervescent Reds...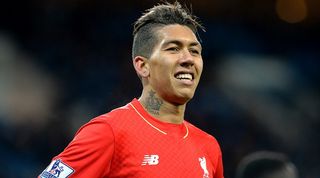 Jurgen Klopp offered a fascinating insight into Roberto Firmino's role when speaking to American television after Liverpool's rampaging 4-1 victory over Manchester City. "Before the game, I told him he's a striker who can sometimes be a midfielder – not the midfielder who is sometimes a striker," the German said.
The Reds tactician then went on to explain how he instructed the Brazilian to remain as central as possible to ensure Liverpool always had a focal point up front. While his free role obviously encompassed him drifting to the flanks when necessary, Firmino provided a brilliant outlet for Liverpool to attack through in what was a brilliant interpretation of the false nine role.
Firmino switched between staying high up the pitch and dropping deep to knit his side's passing moves together. His first-rate movement allowed him to find pockets of space throughout Manchester City's defensive structure, causing headaches for the home side all night.
Space raider
His intelligent movement successfully created space for his team-mates regularly, with one of City's centre-backs, Eliaquim Mangala or Martin Demichelis, forced to follow him wherever he ventured. This consistently opened up large gaps within City's backline which Philippe Coutinho and Adam Lallana were able to exploit.
Whether it was by drifting laterally or coming to meet the ball, Firmino proved a constant thorn for City's central defenders, who desperately needed greater assistance from their midfielders to deal with the threat posed by the former Hoffenheim man.
When he played high on the shoulder of the last defender, Firmino demonstrated an impeccable ability to time his runs into the box with precision, which proved a fantastic source of attacking impetus for Klopp's men. While he perhaps should have scored more than once, it was positive to observe that Firmino always got himself into threatening positions.
It came as no great surprise when Liverpool's opener, a Mangala own goal, came about following a direct run into the box from the 24-year-old. The timing of his movement caught the opposition defence cold, as did Coutinho's neat pass to find him; when he slid a dangerous cut-back into the area, Mangala could only turn the ball into his own net.
Technique meets physicality
Then came his goal after 32 minutes, the product of another delightful surge into the box. Coutinho made sure Firmino's forward push did not go unrewarded, teeing up his compatriot for the easiest of tap-ins. It was certainly encouraging from Klopp's perspective to see his intelligent off-the-ball efforts have such an impact, but he was equally impressive whenever he collected possession.
Firmino's technical gifts made him a force to be reckoned with at the Etihad Stadium, as he showcased his splendid dribbling skills, deft first touch and ability to link play with his crafty passing game. When combined with his pace, strength and agility, such attributes meant he provided a multifaceted threat that Manuel Pellegrini's side never got to grips with.
Interestingly, in the lead-up to his aforementioned goal in the 32nd minute, Firmino's first touch and delightful lay-off to James Milner served as a catalyst for the move which he later finished off. His perfectly weighted assist to Coutinho further illustrated what a polished passer the Brazilian is.
On the topic of Coutinho, Firmino's burgeoning relationship with his countryman was another massive highlight for the Merseyside contingent on Saturday night. The pair provided assists for another, but more than that, they exhibited a terrific understanding of the each other's momentum and runs, combining dangerously to give City a torrid time throughout.
Club over country
Dunga's baffling decision to omit both men from Brazil's recent squad for World Cup qualifiers against Argentina and Peru worked out beautifully for Liverpool, who put the extra two weeks they enjoyed together in training to good use.
Not having to travel back to South America also ensured they were fresh and ready for battle, something that helped Firmino in his pressing exertions. As part of Klopp's cohesive closing-down scheme, Firmino and his attacking colleagues tortured City's defenders and deep-lying midfielders with their relentless harrying, which made it extremely difficult for the Citizens to get any sort of traction in their quest to pass the ball out from the back.
RECOMMENDED Revealed: Klopp's transition is more important than the press
A perfect example of Firmino's defensive application came just before his assist for Coutinho's 23rd-minute goal, when he charged down Demichelis and Mangala to win possession high up the pitch. Klopp has stated many times that he believes well-executed pressing to be the most effective playmaker, something that rang true throughout the Reds' first away win against City in seven-and-a-half years.
Overall, this was a tremendous performance from Firmino, with his creativity, unpredictability, smart positioning and defensive output all married together to produce a fine overall display.
Although injuries made for a tough start to his Liverpool career, the appointment of Klopp appears to have helped him thrive. All of a sudden, Christian Benteke and Daniel Sturridge have a major battle on their hands if they want to usurp the mobile Firmino up front, for the Brazilian looks the ideal candidate to lead the line for Klopp's high-octane outfit.
Quizzes, features and footballing fun
Get the best features, fun and footballing frolics straight to your inbox every week.
Thank you for signing up to Four Four Two. You will receive a verification email shortly.
There was a problem. Please refresh the page and try again.