Why Manchester United aren't reliant on Zlatan – and a ban might actually work in their favour
Sure, the Swede has been sensational at times this season, writes Republik of Mancunia's Scott Patterson – but Jose Mourinho's one-eyed outlook up front might well be holding his team back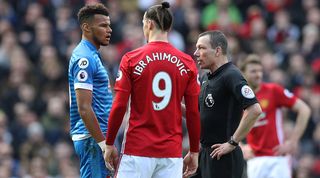 Following Manchester United's 1-1 draw with Bournemouth, their seventh league home stalemate of the season, the headlines predictably focused on Zlatan Ibrahimovic. Between getting stamped on, elbowing someone and missing a penalty, it was all about the Swede – as most things are.
United supporters took to social media after the game to vent their frustrations after Ibrahimovic's botched attempt from the spot kept them sixth in the table for the 16th matchday running. This was supposed to be the weekend that things changed and, after Bournemouth went down to 10 men before half-time, victory should have been a foregone conclusion for Jose Mourinho's team.
United's keyboard warriors were promptly reminded about events from less than a week earlier, when Ibrahimovic had scored twice – including an 87th-minute winner – to secure United some silverware. Granted, the League Cup is the least of United's priorities, but it does make them holders of both domestic trophies at the moment and gave Mourinho his first medal at the club.
Short-term solution
It has been suggested that United have become over-reliant on Ibrahimovic this season, given that no other player has managed more than seven Premier League goals so far this term.
The Swede hasn't always played well over 90 minutes, yet his experience and knack for being in the right place at the right time mean United have been grateful for his overall contributions up front; his goals aside, some of his passes to set up his team-mates have also been sublime.
But the notion that United are over-reliant on Ibrahimovic doesn't paint a totally accurate picture of the season so far. It would be difficult to measure the 35-year-old's off-field impact, but judging by the comments from many of his team-mates – Marcus Rashford, Wayne Rooney, Ander Herrera and Michael Carrick included – Ibrahimovic is helping to instill a winning mentality in his team-mates.
But on the pitch, while he's far and away United's top scorer this season, it's little wonder given how much game time he's had.
No outfield player has more minutes in the Premier League. The former PSG man has missed just one game this season, through suspension for five yellow cards, but has played 90 minutes in every other match. One goal per 150 minutes on the pitch isn't a bad return, but he doesn't compare so well to the strikers currently above him in the table. Harry Kane has a goal every 100 minutes; Alexis Sanchez and Romelu Lukaku every 129; Diego Costa every 133.
When you also consider the fact that United create more chances than any other team in the league too, Ibrahimovic's goal return begins to look a little less impressive.
Killer instincts
In the seven draws United have endured at Old Trafford this season – arguably, January's 1-1 against Liverpool was the only one they didn't clearly deserve to win – they have attempted 136 shots. Of those, 49 were on target but Mourinho's side managed only five goals. United averaged 19 shots per game but scored just 0.7 goals on average, dropping 14 points.
That's not to say Ibrahimovic is solely to blame. He is the centre-forward and has missed some easy chances, Saturday's tame penalty against Bournemouth included, but others have a responsibility to contribute too. Still, without others being given responsibility to lead the line, the buck stops with him more often than not.
Marcus Rashford has been used up front occasionally in the cup competitions this season, but mainly played out wide otherwise; the 19-year-old has started 19 games, come on as a substitute in 17 more, and made a positive impact on several occasions.
It's a surprise, then, that Mourinho has played Ibrahimovic in every possible minute when Rashford and Anthony Martial are waiting for their chances. Rashford scored eight goals in 18 appearances last season, while Martial top-scored with 17 in all competitions.
You may compare that with Ibrahimovic's tally of 26 this campaign and conclude with little wonder why he has Mourinho's trust. However, it's worth pointing out that United are a much-improved team in attack this season. Under Louis van Gaal, who stifled the team's creativity, United were ranked 15th for shots on goal compared to this season's second place behind only Tottenham. If Rashford and Martial scored that many for a side that didn't play attacking football, it's not unreasonable to imagine how many they could manage in this team.
Rash thoughts
This season, Ibrahimovic has had more shots per game than anyone in the league – but none of the players who've managed more goals than him have played as many minutes.
That's not to say he isn't a great player, nor that he isn't important to United, but this reliance has come solely from Mourinho forcing the team to depend on him. Ibrahimovic isn't superman, but he is 35 and has stepped up to a more demanding league. It isn't realistic or fair to demand he plays every minute of every game, never tires, is always at his best and scores every week.
Mourinho has never been a fan of rotation, which goes some way to explaining why others haven't had a look-in. And when you consider the build of the strikers he has previously favoured – see Didier Drogba, Diego Milito, Diego Costa and Zlatan – Rashford hardly fits the mould. The teenager simply doesn't yet have the strength or physical presence of those Mourinho has built his successful teams around in the past.
There are occasions when Rashford or even Martial would be a better bet, though – particularly when Henrikh Mkhitaryan returns to fitness and United don't need them to play out wide.
Consider this United team with Robin van Persie circa 2012/13 in it: Chelsea would likely be looking over their shoulders, if not chasing Mourinho's men. The Dutchman bragged a phenomenal conversion rate that helped United ensure there was no such thing as a disappointing home stalemate; that season, United won 16 of their 19 league matches at Old Trafford and lost the other three.
Wising up
Mourinho will still do well to keep Ibrahimovic for another season – his ability to drag the team through tough games is a welcome attribute, his aura is huge, and the comparisons with Eric Cantona are justified.
But the Portuguese can't make him an undroppable player next season if he has aspirations of winning the title. Whether it's players already in the squad (Rashford, Martial) or new faces added to it (Antoine Griezmann, or a more traditional No.9), Mourinho has to share the burden of goalscoring more effectively next term and learn from the mistakes of this one.
Quizzes, features and footballing fun
Get the best features, fun and footballing frolics straight to your inbox every week.
Thank you for signing up to Four Four Two. You will receive a verification email shortly.
There was a problem. Please refresh the page and try again.