Why Pardew needs European football to be considered a success at Newcastle
By Rohan Banerjee published
Rohan Banerjee says it could be now or never for the under-fire Magpies chief to prove his worth...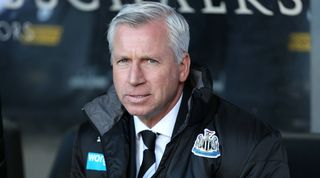 In football management, approaching four years in a job usually signals one of two things: success or stagnation. Alan Pardew's reign at Newcastle is an interesting combination of both.
A prolonged purple patch in November included wins over Spurs and Chelsea – and a brief dalliance with the prospect of a return to European football – but the Magpies now find themselves nestled in ninth, closer to the bottom half than they are to Europa League qualification.
As a consequence, opinion on Pardew is divided. To some, it would seem pure heresy to dare criticise the man who guided Newcastle to fifth in 2012, while to others his record against Sunderland and in the domestic cups remain unforgivable. Indeed, whether Pardew should be viewed as a saviour or simply as someone solving a problem he helped create, forms the basis of most pub punditry on the Tyne.
Newcastle fans are a sensitive lot, and that's probably to do with how often they are patronised by the wider media - "having a big stadium doesn't make you a big club," is a regular retort to any ideas perceived to be above their station. Moreover, for a team who have won more top-flight titles than Manchester City and Spurs, they are enduringly consigned to an afterthought of also-rans, rather than ever noted as serious contenders.
Ordinary boys
Certainly, adopting the southern consensus, the mixed fortunes of Pardew's tenure might be seen to have balanced this season. They overachieved in 2012 when they finished fifth, and underachieved last term in 16th. Now upper-mid-table, they are where they should be.
Except they aren't. While last season's injuries may have exposed the thinness of Newcastle's squad, and embroiled them in a relegation battle, the number of positive results against some of the Premier League's biggest sides this season demonstrates the clear potential. Even factoring in the untimely sales of Demba Ba and Yohan Cabaye, Newcastle's team is still one littered with full internationals and the spine that finished fifth is largely still intact.
So the job Pardew has done can be spun both ways. On the one hand, he has delivered the club's highest league finish since 2004, while on the other he only narrowly beat the drop last season. While he might have secured a return to Europe for the first time since 2007, he has failed to navigate Newcastle past the third round of the FA Cup in three of the last four campaigns. During his reign, he has managed Newcastle's first win at Old Trafford since 1972, but he has also become the first manager in Newcastle's history to lose three successive games to derby rivals Sunderland.
Of the 153 matches Newcastle have played under Pardew, they have won 59 – and lost just one fewer.
His backers cohere around the padlocked pockets of an unpopular owner, but it should not be overlooked that this same owner shelled out on five new first-team players last January. Admittedly, transfers at Newcastle can be a touchy subject and some sympathy must be extended to Pardew over the sale of Cabaye – but he cannot claim to be bereft of options. It is by his own choice that he routinely benches his most creative players. It is he who plays central midfielders on the wing.
Bad behaviour
Newcastle welcome Crystal Palace to St James' Park this weekend with Pardew banned from the ground against a club at which he is remembered fondly; his headbutt on Hull's David Meyler earlier this month demonstrated his unsavoury duality. His touchline temperament signifies passion for some, and poor practice for the rest.
Having been sixth on Boxing Day, Newcastle fans could be forgiven for being disappointed with their second-half slide. Of course, the Cabaye exit hasn't helped, but it seems unfair to say that the Frenchman was the only thing elevating Newcastle above the likes of strugglers Norwich, Fulham or West Brom - three sides they have failed to beat in recent weeks.
It's not that Pardew has done an especially bad job at Newcastle; it's that he hasn't done a particularly good one either, and his longevity is perhaps owed more to a long-term contract than is necessarily deserved.
Starting with the visit of his former club Crystal Palace, Pardew has nine games to salvage a European push. Finishing in the top six, or even seven, for the second time in three seasons will go a long way towards justifying his own hype, while the faceless achievement of eighth or ninth will confirm the 'just another Curbishley' tag from which the cocksure cockney has never really managed to shrug off.
With a summer reshuffle planned, the importance of where and how Newcastle finish this season must not be underestimated. Margins are thin. The difference between Europe and no Europe will play a big part in who the Magpies are able to bring in – and perhaps more importantly, who they're able to keep.
Thank you for reading 5 articles this month* Join now for unlimited access
Enjoy your first month for just £1 / $1 / €1
*Read 5 free articles per month without a subscription
Join now for unlimited access
Try first month for just £1 / $1 / €1
Quizzes, features and footballing fun
Get the best features, fun and footballing frolics straight to your inbox every week.
Thank you for signing up to Four Four Two. You will receive a verification email shortly.
There was a problem. Please refresh the page and try again.