Why Thierry Henry should never be Arsenal's manager
He may have been a superb player for the north Londoners, writes Gooner Chas Newkey-Burden, but the former France international doesn't have the right personality for the top job at the Emirates...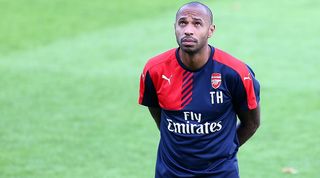 Over the years, some bizarre candidates have been suggested as potential successors to Arsene Wenger, including Harry Redknapp, Owen Coyle and Michael Laudrup. The other week, a fully grown adult guest on an Arsenal podcast suggested a managerial duo of Eddie Howe and George Graham.
A mindboggling proposition, but no more foolish than the idea that Wenger should be replaced by Thierry Henry. With this week's news that the club's record goalscorer has been offered a coaching role with Arsenal U18s, some Gooners are suggesting that he will one day become the first-team boss.
As an Arsenal fan, I'll always be grateful for Henry's cosmic contributions to the club, but even were he to accumulate managerial experience, I feel his egocentric and flighty character make him the last person we'd want anywhere near the manager's seat.
I've actually never warmed to Henry the man at all. Even though he's been voted in countless polls as the Arsenal fans' all-time favourite player, he'd struggle to make my top 20 in terms of affection. Before I am burned at the stake, let me explain my heresy.
Self-centred striker
Clearly, Henry sees life as an all action-movie in which he is not so much the lead star but the lead star in a cast of one. It's all about Thierry. When this worked, it was great: his hat-trick against Liverpool in April 2004 lifted a shell-shocked stadium and propelled the club back onto the unbeaten trail.
There are other instances of individual heroism from the man,. For the casual viewer who watches Match of the Day and occasionally catches a live Sky match, Henry must have seemed a flawless jewel. Certainly for those Gunners fans susceptible to disingenuous crowd-pleasing gestures he was an unquestionable icon. But for the more thorough and discerning viewer, he could be an infuriating player.
He scowled and screamed at team-mates if they didn't make him the epicentre of their every move. This bullying habit hindered his younger colleagues' development, as he later admitted himself. He fluffed a string of chances as the Gunners lost to Liverpool in the 2001 FA Cup Final, and in fact failed to find the net in any of the five finals in which he appeared for Arsenal.
On a good day, Henry's showboating style was a joy, but all too often his fancy flicks proved, from a team point of view, an unhelpful overindulgence.
Bad attitude?
Not that arrogance need be a bad thing in a player. My favourite footballer of all time is Ian Wright, who could be as flash and cocksure as you like. But Wrighty's warm and open heart makes him so loveable, as does his vulnerability and palpable self-awareness. Henry seems a cold, self-satisfied character in comparison.
He was eventually made captain, in a somewhat desperate attempt to convince him to remain at the club. He duly signed a new contract and vowed to stay at Arsenal for the rest of his career. But the moment the going got tough, with a young squad struggling to adjust to the Emirates era, he showed what sort of 'captain' he was by running off to Barcelona, only seen again in a Gunners shirt during a hellishly egocentric 2012 cameo.
He was a divisive figure at international level, too. Many in France have never forgiven him for his sulk during the nation's disastrous 2010 World Cup campaign, where they mustered a solitary point from three games. The French had only reached the tournament at all thanks to his handball which led to the decisive goal in the qualifying play-off against Ireland. But we don't talk about that, of course.
Henry's infamous handball
Not cut out for management
To be honest, I'm not crazy about his punditry either. At the 2014 World Cup he repeatedly belittled – bullied, even – his co-analyst Robbie Savage. But karma seemed to work its magic last year when Graeme Souness put him back in his box live on Sky. Finally, the Frenchman had come up against someone who would not indulge his arrogance.
His most headline-grabbing moment as a pundit was his attack on Olivier Giroud last season, a desperate bid to prove himself an unbiased and controversial commentator. But his scapegoating of Giroud – whose imperfections are just one of many, many factors on and off the pitch that are holding the club back – was unfair. The striker's self-assurance notably collapsed after Henry's sour words, and it was unedifying to see so many Arsenal fans take the pundit's side against our confidence-dependent striker.
Henry's achievements as a player were vast. He retired with medals from the World Cup, European Championship, Champions League, Premier League and FA Cup. But a great player does not equal a great manager – ask Diego Maradona, Sir Bobby Charlton, Bobby Moore, Hristo Stoichkov, Lothar Matthaus or dozens of others.
Thierry's impulsive, grandstanding personality and his occasional tendency for cruelty would seem to leave him ill-suited to the patience and paternalism required for football management. He is a thrilling firework where a slow-burning candle is needed.
So let's stop pretending that this retired club legend can slot effortlessly back into the Emirates as a managerial supremo for a grand Hollywood ending. Rose-tinted glasses are almost inevitable when you look back in football, but if you wear them when you look forward you are playing a dangerous game.
Quizzes, features and footballing fun
Get the best features, fun and footballing frolics straight to your inbox every week.
Thank you for signing up to Four Four Two. You will receive a verification email shortly.
There was a problem. Please refresh the page and try again.