All about Vincent Janssen: The Eredivisie top scorer who has signed for Spurs
Priya Ramesh offers an insight into Holland's new No.9 – and the man who has caught the eye of Mauricio Pochettino...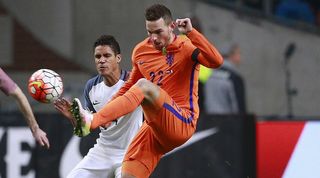 The 60-second story
This time last year, Vincent Janssen was plying his trade in sparsely filled stadiums in the second division of Dutch football. A whirlwind 12 months later, the 21-year-old finds himself the top scorer in the Eredivisie, with five national team caps and three international goals to his name already.
Sought after by clubs domestically and abroad, the AZ Alkmaar man is seen as the prime candidate to receive the torch from Robin van Persie and Klaas-Jan Huntelaar. Janssen seems to be on the cusp of potentially being the first top-class Dutch striker in a while.
Why you need to know him
Janssen's rise has been a surprise, since he was never touted as a big thing in his youth. In his age group at Feyenoord, the 21-year-old was never earmarked for the first team and in the summer of 2013, was released.
But as his family noted in Helden magazine, optimism has always been 'Vince's' attitude; his go-to expression is 'Komt goed', which translates roughly to 'It'll be alright'.
And that it proved. As soon as Janssen was a free agent he was snapped up by second-tier side Almere City, and over the course of the next two seasons netted 32 goals in 74 games for the Zwarte Schapen.
Most agree that Janssen's work ethic is a standout quality; Almere coach Fred Grim, an ex-Ajax youth coach, recognised and encouraged it. In his own time, Janssen would study other strikers like Huntelaar – who also took a step down to the second tier before rocketing up again – for how he functioned when in space, or after loss of possession. Janseen observed how Luuk de Jong ran into the box to meet crosses and following this, would attempt to apply his newly acquired knowledge on the training ground.
As the summer of 2015 beckoned, AZ were resigned to losing attacking talent in Steve Berghuis and Aron Johannsson. Their technical manager, Earnie Stewart, went down to Yanmar Stadion to watch Jansenn and returned with a glowing report; manager John van den Brom called the player incessantly, persuading him to join AZ over Heerenveen.
Janssen didn't score in his first 367 minutes for AZ in the league but soon began to find the back of the net, starting with a brace against Twente. It was after the winter break, though, that Janssen truly exploded onto the scene.
Six goals in the first three matches of the year, including a typical hat-trick against Feyenoord, was followed by a streak of scoring in seven consecutive matches. He's now on course to become the first player in 52 years to score 20 goals in the second half of an Eredivisie season.
Janssen made his international debut as a substitute in the friendly against France. In the following game, Danny Blind showed faith and started the 21-year-old against England at Wembley. Provided with the stage, Janssen delivered a man-of-the-match performance, scoring his first international goal — a virtually unsaveable penalty — and providing the assist for Luciano Narsingh's winner.
Strengths
Janssen has a reasonable amount of pace and is equally comfortable with both feet, which makes him rather unpredictable. It is, however, an unpredictability that is not flashy nor complicated; just as he looks like a nondescript twenty-something guy, his football also functions on a principle of simplicity.
His strength on the ball is commendable too, as two Slovakian centre-backs Branislav Ninaj and Milan Skriniar will testify from a U21 Euro qualifier in late 2015. A fantastic pass from Hans Hateboer found Janssen, whose run split the two centre-backs; as they converged upon him, Janssen accelerated precisely at the right moment to skip away, go past the onrushing keeper and deliver a side-footed finish.
Janssen is not only a finisher but has a good range of passing and movement on and off the ball. He can pick up the ball anywhere along the horizontal space in the final third and either storm down on goal himself or bring his team-mates into play with his back to goal.
One of his best performances this season came against Feyenoord – of course – when he unabashedly terrorised his former youth team-mate Sven van Beek. Janssen played his part in the first goal and then got himself a hat-trick to rub salt in the Rotterdammers' wounds.
Weaknesses
Janssen's finishing inside the box is sensational, as he does indulge himself with a fair number of shots. However, the shots he takes from outside the box don't find similar success and this long-distance accuracy is something he could definitely work on. He could better his control and touch too, so as to reduce his likelihood of losing possession.
Furthermore, Janssen has a frustrating tendency to be caught offside relatively often. Hence, improvement in the timing of his runs and movement well is imperative.
They said…
Gaston Taument, Janssen's former youth coach at Feyenoord: "Vincent has always lived exemplarily for the sport. There has not been a day that he has not trained optimally. That shows his character: he is a fighter, a hardy spirit. Therein lies his greatest strength: he is able to work exceptionally hard and very much so to keep defenders busy."
Did you know?
Sporting glory runs in the blood for Janssen.
His mother, Annemarie Janssen, is a legendary Dutch athlete herself; she was a swimmer who won three Olympic medals, a gold at the World Championships, and the prestigious Jaap Eden Trophy for Dutch Sportswoman of the Year in 1982. Janssen's younger sister Frederique is also a national swimmer who represented her country at the 2015 European Games.
TALENTSPOTTERS
Introducing YOUR Premier League club's breakout star for 2016/17
10 players who Tottenham should be targeting to sign this summer
Ante Coric: The Croatian maestro who keeps turning down the big boys
What happens next?
The big news of course, is that Jannsen has now signed for Tottenham.
A justified concern for Eredivisie strikers moving abroad is that they often fail to replicate their success at home. For every Luis Suarez, there is an Afonso Alves; a Jozy Altidore to a Wilfried Bony.
In an anecdote, Janssen mentioned once that while he was at Feyenoord, everyone was asked to jot down their dreams. While others scribbled "playing for Real Madrid" and the like, Janssen's was to play for the national team, more than anything else.
His 'komt goed' attitude may just lead to him reaching great heights.
More features every day on FFT.com • Football's hottest prospects scouted
Thank you for reading 5 articles this month* Join now for unlimited access
Enjoy your first month for just £1 / $1 / €1
*Read 5 free articles per month without a subscription
Join now for unlimited access
Try first month for just £1 / $1 / €1