Tim Howard suspended three games for altercations with fans
By Paul Tenorio published
Rapids and USMNT goalkeeper caught on camera in two separate fan altercations, one involving physical contact.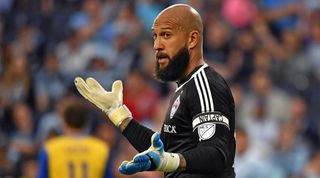 Major League Soccer has suspended U.S. men's national team goalkeeper Tim Howard for three games and issued an undisclosed fine for a pair of altercations with fans after the Colorado Rapids' game at Sporting Kansas City on Sunday.
Video of Howard cursing at away fans during the match circulated on Twitter after Sporting KC's 3-1 win over the Rapids on Sunday night. In the video, fans yell at Howard to, "go back to Colorado," and he responds with an expletive. MLS also has video of Howard in a physical confrontation with a fan in the tunnel at Children's Mercy Park after the game. That security video, which was not released, apparently shows Howard grabbing a fan.
Video also picked up Howard in a heated conversation with Sporting Kansas City forward Dom Dwyer after the game.
Howard, 38, signed with Colorado as a Designated Player last season. He has made 20 regular-season appearances with the Rapids. Last year, he had seven shutouts in 17 games and also had one shutout in two playoff appearances.
The veteran goalkeeper is expected to start for the United States in upcoming World Cup qualifiers in June, including a game against Trinidad and Tobago in his home stadium in Colorado. The U.S. will play Mexico in Azteca Stadium three days later.
The suspension stands out because it includes a player confrontation with fans. Those occurrences are rare ones.
Montreal Impact forward Didier Drogba had a verbal altercation with New York Red Bulls fans after a game last season, and David Beckham was fined $1,000 for a confrontation with Galaxy fans in 2009. Last season, video circulated of Orlando City midfielder Antonio Nocerino in a verbal argument with the home team's fans during a game.
None of those three players were suspended by the league However, none of those incidents included a physical confrontation.
MLS has handed down multi-game suspensions for player confrontations with referees during games, including to Fabian Espindola and stars Clint Dempsey and Jermaine Jones. The league has also handed out suspensions and fines for players' confrontations with ball boys on the sideline during games.
Thank you for reading 5 articles this month* Join now for unlimited access
Enjoy your first month for just £1 / $1 / €1
*Read 5 free articles per month without a subscription
Join now for unlimited access
Try first month for just £1 / $1 / €1