How you could get scouted online
A new online platform could help amateur players get scouted with the click of a button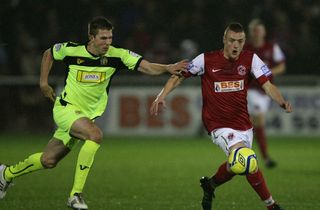 FFT gave up on our dream of becoming a professional footballer a long time ago, but a new online platform could help give talented amateur players a shot at stardom.
Scout Me Online gives scouts, agents, coaches and clubs the chance to view clips uploaded by players online and find a hidden gem who may have slipped through the net.
Founder of the London-based startup, Kyam Abdul Quiyum, tells FFT how it works and how you could get scouted with the click of a button...
What exactly is Scout Me Online?
Talented players sometimes evade the gaze of scouts, so we've created a platform which gives them the chance to showcase their ability to scouts, clubs, agents and coaches around the world. Scout Me Online also helps clubs with smaller budgets that may not have scouting networks, to find players.
How does it work?
If you're a player, you simply go on the website and create a profile, almost like a CV and then simply attach your Youtube videos using the URL link. There is a filter system, which allows scouts, coaches and agents to view players depending on what they're looking for via position, age, height, weight etc.
How is this different to other scouting software?
Lots of big clubs use software like WyScout to watch videos of players in divisions across the world, but this platform gives players the power to be found rather than waiting to be spotted. Players used to send letters to clubs asking for trials – now they can use video to show their quality.
How many scouts do you currently have on the system?
We currently have in the region of 70 scouts on Scout Me Online. There is a limit to how many games a scout can go to in a week, so this is a good way of watching players and getting an initial view of a player before deciding whether to make a move. This increases the chances of finding a hidden gem.
Do you think there is genuine hidden talent in the lower leagues?
Definitely. I really think we can help to find the next Jamie Vardy. Jermaine Beckford is another player who played semi-professional football before making his breakthrough. This platform gives players the power to be found rather than waiting and hoping to be spotted.
Do you think you've slipped through the net? Visit www.scoutmeonline.com and you could get scouted while you sit in your armchair.
Quizzes, features and footballing fun
Get the best features, fun and footballing frolics straight to your inbox every week.
Thank you for signing up to Four Four Two. You will receive a verification email shortly.
There was a problem. Please refresh the page and try again.