10 FIFA 19 icons we really want to see in the new game
Curling home with Crespo, dribbling with Deco and orchestrating with Okocha – the Icon cards in FIFA 18 Ultimate Team were one of the game mode's best features. Next time, wouldn't it be great to see this lot?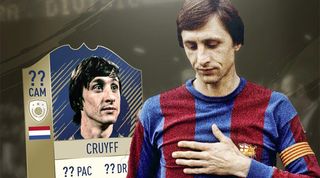 Adriano
Anybody who played Pro Evolution Soccer in the noughties will have known the feeling of impending doom upon seeing Adriano's name on the opposition teamsheet.
With 99-rated shot power, 89 shot accuracy and 88 shot technique, you could bet your own gran on The Emperor lashing home beyond a quivering goalkeeper as soon as he got within range of goal. Deadly.
Eusebio
The Black Panther bore many similarities to Stan Lee's superhuman comic book hero – incredible speed, agility and power made the Portugal and Benfica star one of the world's most feared forwards of the 1960s.
Eusebio managed an incredible 621 goals in 639 appearances for club and country, including nine at the 1966 World Cup. Worthy of an Icon card in FIFA 19? You bet.
Edgar Davids
Before his spell in the lower echelons of English football with Crystal Palace and Barnet, Davids was one of Europe's toughest and, it shouldn't be forgotten, most skilful midfielders.
His greatest achievement (other than his triumphant display in Nike's 2002 cage advert), however, was surely being on the cover of FIFA 2003 alongside Roberto Carlos and Ryan Giggs. Both have been recognised as FUT Legends/Icons in the past. Hopefully, Davids will complete the triumvirate in FIFA 19.
Zinedine Zidane
Serie A winner. La Liga winner. Champions League winner. European Championship winner. World Cup winner. Ballon d'Or winner. Elegant. Skilful. Devastating. Zidane is the player FIFA 19 deserves.
Raul
Spain's representation in the Icon department of FIFA 18 rested squarely on the shoulders of Carles Puyol. The former Barcelona star was a just inclusion, but two's company, and who better to join the shaggy-haired stopper than Real Madrid legend Raul?
With 741 Madrid appearances to his name, 323 goals and six La Liga titles, the original galactico is worthy of accompanying his former Barcelona adversary in FIFA 19.
Johan Cruyff
Having sadly passed away in 2016, Cruyff seems almost certain for inclusion this year after his official Instagram page posted photos of the Dutchman holding mocked-up Ultimate Team cards.
The three posts, each showing Cruyff at different stages of his career, suggest the former Ajax and Barcelona star will be gracing our consoles for the first time ever in late September.
David Beckham
Forget Kevin De Bruyne. Forget Mesut Ozil. And Andrea Pirlo too. No one has ever caressed a ball into the box quite as sublimely as Becks.
For whatever reason, however, football's most handsome man and his devilish right boot haven't been featured in FIFA since his playing days. It's about time that changed.
Cafu
FIFA 18 did a pretty good job of spreading its 120 Icons across all 11 positions on the pitch. If you were to be ultra critical, though, a few more full-backs wouldn't go amiss – and there's no better man to start with than World Cup winner and Milan hall-of-famer Cafu.
The evergreen Brazilian was known for his marauding runs up and down the right flank and dead-eyed delivery into the box, proving himself to be a model for the modern wing-back.
Michael Ballack
Unlucky No.13? Unfortunately so for Michael Ballack. The former Germany international enjoyed a successful career, no doubt – 11 major trophies says so – but was a two-time runner-up in the Champions League, and once apiece in the finals of the World Cup (for which he was suspended in 2002) and European Championship.
Ballack was, though, a brilliant box-to-box midfielder; his country's eighth-highest scorer of all time with an incredible 42 goals from 98 caps. Ballack could prove to be one of Ultimate Team's greats if his stats truly represent his all-round attributes. Gullit 2.0.
Roberto Baggio
In Italy, fantasistas – playmakers – are among the most revered players in the game. Baggio is the best his country has ever seen. The free-thinking star's liberated style may be hard to translate in the virtual world of FIFA, but it would be a pleasure to pull the strings with one of the Azzurri's all-time greats.
Gabriel Batistuta
As his country's second-highest goalscorer (behind only Lionel Messi), and with over 300 career goals, it seems only right that Batigol is given an Icon card in FIFA 19. Before a forgettable loan spell at Inter in 2002/03, the Argentine had thumped home 198 goals in 332 Serie A appearances across 11-and-a-half seasons with Fiorentina and Roma.
Described as the best striker to ever play the game by Diego Maradona, Batistuta would make a lethal striking partner for his countryman in FIFA 19.
Just Fontaine
Given that the World Cup just finished, it would seem natural that EA include a couple of the tournament's legends in FIFA 19.
Fontaine meets that criteria. The Frenchman scored 13 goals in just six games at Sweden '58, including four against West Germany – the most any player has ever managed at one World Cup.
Thank you for reading 5 articles this month* Join now for unlimited access
Enjoy your first month for just £1 / $1 / €1
*Read 5 free articles per month without a subscription
Join now for unlimited access
Try first month for just £1 / $1 / €1
Get FourFourTwo Newsletter
The best features, fun and footballing quizzes, straight to your inbox every week.