10 stars who'll become household names in MLS 2015
Unfamiliar with these Stateside gems? Try saying the same in December, says Jason Davis...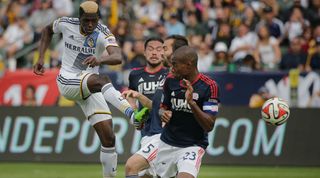 To say that MLS is top-heavy on talent is a bit of an understatement. As part of a calculated move to improve its profile both at home and abroad, the league has decided that star power is the order of the day. Since the arrival of David Beckham in 2007, and the institution of the salary cap exception that allowed him to be signed, a host of European and South American stars have arrived on North American shores.
For all the good those marquee signings have done for MLS, however, one negative result has been to take focus away from a lesser-known type of star who reveal themselves over the course of a season.
Sometimes these are homegrown players, sometimes they're products of the college system, and sometimes they're simply diamonds in the rough from the world over who landed in MLS by fate, circumstance, or the wisdom of a scout.
With FFT's magical prognosticating hat cocked every-so-jauntily on its head, here are 10 players who you might not know now but could explode by the end of the 2015 MLS season...
1) Harry Shipp (23, Chicago Fire)
A gifted passer of the ball, Shipp burst onto the scene in 2014 - his first year as a professional - by leading the Fire attack and earning praise from all corners. Though he counts as a homegrown player under MLS rules, he spent four years playing college soccer at Notre Dame. He faded in the second half of last season, but there's plenty of reason to think Year Two for the local kid will be a big one. If his fitness holds up, Shipp is capable of 10 goals and as many assists in 2015.
2) Wil Trapp (22, Columbus Crew)
Trapp is already garnering serious consideration from USMNT head coach Jurgen Klinsmann, and was named Crew SC's captain ahead of the new campaign. The midfielder's obvious defensive abilities belie his incredible passing accuracy; adept at long passes, Trapp is already among the best in the league in that area. Throw in a brain not many kids his age possess, and Trapp has star written all over him.
3) Gyasi Zardes (23, LA Galaxy)
You might have heard of Zardes, since he was a key figure in the Galaxy's championship run last year and scored a goal in the MLS Cup final. But as his development continues, it's clear that the sky truly is the limit for the 23-year-old Californian. With Landon Donovan gone, Zardes will have to be even better this year. By the season's end (thanks in part to a likely Gold Cup call-up) he could be among the biggest stars in MLS.
4) Kellyn Acosta (19, FC Dallas)
A product of FC Dallas's academy, 19-year-old Acosta is the latest up-and-coming wide player in a league that is starting to produce a good number of speedy attack-minded wing-men. Acosta can slot in at both full-back and defensive midfield, and is sure to get plenty of minutes under a head coach who has no reservations about turning to youth. If he can nail down a position, the full USMNT isn't too far away.
5) Steve Birnbaum (24, D.C. United)
Fresh off his national team debut in January, the D.C. United centre-back is poised to join the league's defensive elite. Forced into the starting line-up due to injury last season, Birnbaum helped anchor a backline that pushed United all the way to first place in the Eastern Conference. He's far from the finished product, but he's big enough and smart enough to lift himself to stardom.
6) Olmes Garcia (22, Real Salt Lake)
A 22-year-old Colombian striker, Garcia is a rangy, talented goalscorer whose time to shine in Utah may have finally come. Mostly a substitute in his first two years with Real Salt Lake, Garcia should get a chance to show what he can do in a starting role more often in 2015. If the club goes to a 4-3-3 formation, watch out for Garcia cutting in early and shooting frequently. MLS watchers know how good he can be; now he just needs to show it.
7) Luis Gil (21, Real Salt Lake)
For a while there, Gil was touted as the Next Big Thing in American circles. Rather than chase glory in Europe, however, Gil chose to stay close to home and develop under the watchful eye of Jason Kreis at Real Salt Lake. After Kreis fled to New York City FC, Gil saw his playing time reduced in 2014 (injuries also played a role). But RSL have turned over their midfield, and this year will be Gil's chance to come into his own on a weekly basis.
8) Kekuta Manneh (20, Vancouver Whitecaps)
Not only is Manneh an immensely talented striker, but his background makes for a fantastic story. Born and raised in Gambia, Manneh moved to the US at 16 to pursue the dream of professional soccer. After a stop in Texas, he was drafted by the Whitecaps in 2013. Manneh soon torched the Sounders with a hat-trick, showing his ability to take over a game. A few more performances like that and he'll join the elite of MLS. Speed is Manneh's chief weapon, though he also shows a innate finisher's touch in front of goal.
9) Matt Miazga (19, New York Red Bulls)
A US youth international, Miazga is a talented young defender in a league that doesn't always trust talented young defenders. He is perhaps in need of a bit of seasoning, and there was talk that he might be shipped to one of Red Bull's other clubs during the off-season. Instead he's sticking around and, considering the lack of options at centre-back in New Jersey, he could get a chance to make a name for himself this year.
10) Bryan Rochez (20, Orlando City)
Orlando scooped up Rochez from Real Espana of Honduras, where he scored nearly 30 goals over three senior seasons and broke into the Honduran national team. A likely targetman, the 20-year-old can leap and is already strong enough to slot into an MLS line-up. How much he'll play remains to be seen, but as the club used one of their three DP slots on him, there will be pressure to get him onto the field soon enough. 
Quizzes, features and footballing fun
Get the best features, fun and footballing frolics straight to your inbox every week.
Thank you for signing up to Four Four Two. You will receive a verification email shortly.
There was a problem. Please refresh the page and try again.