5 big things that went wrong for Liverpool at Watford
John Robertson was at Vicarage Road using Stats Zone to watch a brilliant Hornets performance against Jurgen Klopp's Reds...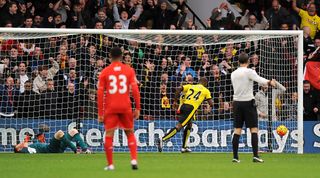 1. They lost their shape after early goal
One of the most difficult tasks for any team is to recover quickly from conceding an early goal. Immediately, in the players' minds, it can seem that their manager's pre-game planning no longer has any relevance and, instead, they start to rely solely on instinct to get themselves back into the game.
Nathan Ake's early goal inside three minutes proved apt evidence of this loss of discipline. Liverpool's shape and, in particular, any compactness with and without possession, disintegrated.
The gaps between the three lines of defence, midfield and attack – within the context of the 4-3-3 formation Liverpool began with – were startling. It was exactly those that left Martin Skrtel exposed for Odion Ighalo's first goal, and his team's second. Such problems were confounded by the performance of Skrtel and his defensive partner Mamadou Sakho, both of whom looked completely incapable of stopping the threat posed by Ighalo and Troy Deeney. Liverpool were so stretched at times that it made passing difficult when they did win possession, with the space between the different lines being filled by one or more Watford players. It's unsurprising, then, that they failed with so many of their attempted passes.
2. Watford outmuscled them in attack
It's rare to see a team play with two strikers in the Premier League nowadays, but on the evidence here perhaps more managers should think about employing such a strategy – after all, it's working for current leaders Leicester.
Both Ighalo and Deeney consistently outmuscled Liverpool's central defenders, frequently pulling them out of position. This had the effect of Ighalo creating space for Deeney, and vice versa.
Combined with Watford's stunning incisiveness on the counter-attack, preventing Liverpool being able to quickly bring players back to support their defence, this proved to be far too much for the visitors to handle.
Not only could Liverpool prevent Deeney and Ighalo gaining possession, they couldn't stop losing it to them. Surely, Klopp won't be satisfied to see his defenders reveal ineptitude for playing out from the back.
With so much pressure put on the central defenders to avoid the attentions of Deeney and Ighalo, mistakes were inevitable and came thick and fast whenever a Liverpool centre-back was asked to make a decision.
3. Outpressed at their own game
If there's one stereotype that surrounds Klopp's approach it's the gegenpress; that art of recovering the ball before your opponent has set themselves up to engage in the upcoming phase of play.
And of all the surprises to come from the way both teams conducted themselves, it was Liverpool's lack of any success in the pressing game that is perhaps top of that lengthy list.
In fact, if we look at the areas of the pitch in which each team recovered the ball, what we find is that only Watford were consistently successful in forcing the issue of regaining possession in the attacking half.
Particularly poor was Liverpool's lack of ability to win back possession through interceptions. While Jordan Henderson, Emre Can and Lucas Leiva, Liverpool's midfield core on the day, have a degree of physicality to their play, they were frequently outworked and outmuscled by their Watford counterparts.
With little chance, then, of winning possession through tackles, the need to win the interception battle became clear early on. Their failure to do so often cost them field position and, in turn, crippled their chance to play unpredictable, decisive passes from dangerous areas.
The same visual data for Watford, however, highlights just how good they are without possession. In this game they gave Liverpool a lesson in how to press intelligently in the right areas of the pitch. Liverpool need to work on muting the effects of an opponent's energy before their next game against Leicester.
4. Playing in short bursts not enough
Doing this, followed by significant troughs in perceived enthusiasm, has been a characteristic of Liverpool's style since Klopp's appointment. Rarely, though, has a single game demonstrated the fact so aptly and, ultimately, cast so many questions on its credibility against disciplined teams.
While it's understandable that a team needs to catch its breath between peaks of exertion against a team looking to play on the counter-attack and already in the lead, the regular breaks between periods of speed only plays into the opposition's hands.
When play is slow the team defending a lead can happily sit back and conserve their own energy, readying themselves like a spring for the sudden attack from deep. Ake's early first goal allowed Watford to do exactly this. The pressure was on Liverpool to get themselves back into the game, and for long periods they didn't look like they were capable of doing so.
Break their performance down into 10-minute chunks and you get a good idea of how Liverpool's part in the game changes over time.
5. Watford squeezed space masterfully
Watford have now conceded in just three of their nine Premier League home games this season and, on the evidence here, it's easy to see why. It's so easy, in fact, that you should expect to see the trend continuing.
Other than Henderson replacing James Milner, this was the same Liverpool front six that tore Manchester City apart in their 4-1 victory in November. Where Manuel Pellegrini's team failed to contain the movement and precision of attacking trio Philippe Coutinho, Adam Lallana and Roberto Firmino on that day, Watford made it look relatively simple.
Klopp must be afraid that other teams are going to use the approach as the go-to blueprint for overcoming his new club.
A good defensive unit will generally play the midfield and defensive lines in tight proximity to one another without possession, but Watford's extreme dedication to it in the first half went far beyond what is usually employed in the Premier League. The result was no space for Liverpool's attackers to move into and exploit.
This is shown with great effect when we look at the average positions the Watford players found themselves in over the course of the first and second half.
In the second half, with Liverpool playing a focal striker in Divock Origi and, later, Christian Benteke, Watford's central defenders dropped a little deeper to guard against any long-ball threat.
Normally this greater separation between the lines would negatively affect the ability of a team to play intelligent forward, counter-attacking passes. However, with Liverpool throwing caution to the wind as the second half wore, such opportunities continued to present themselves throughout as Klopp's Reds stretched themselves and left obvious, exploitable gaps.
Without the ball, then, Watford have again proved themselves more than capable of enforcing their gameplan on other teams in this league. Klopp will want to know how his side will deal with a similar approach next time – and he might not have to wait long, with Leicester on the horizon.
Analyse Watford 3-0 Liverpool yourself using Stats Zone
More features every day on FFT.com • Analysis
STATS ZONE Free on iOS • Free on Android
Quizzes, features and footballing fun
Get the best features, fun and footballing frolics straight to your inbox every week.
Thank you for signing up to Four Four Two. You will receive a verification email shortly.
There was a problem. Please refresh the page and try again.