5 reasons why Real Madrid are struggling this season
From being pre-season Liga favourites to eight points behind Barcelona, Real Madrid's poor form is threatening to make for a disastrous campaign. Thore Haugstad explores the situation as Los Blancos prepare to face Tottenham in the Champions League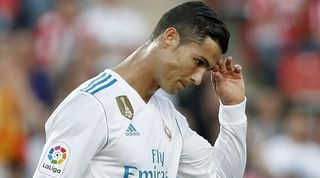 When great teams crumble, the diagnosis is often complex. Real Madrid, Spanish champions and back-to-back Champions League winners, have fallen eight points off the top of La Liga after 10 rounds. They failed to win any of their opening three home games for the first time since 1995. Last Sunday they lost at Girona, their first defeat to a top-tier debutant since 1990.
How is it possible? This is more or less the same group that conquered Europe in June. The big players have all stayed, as has coach Zinedine Zidane. There are no signs of internal unrest. As recently as August, they outplayed Barcelona at the Santiago Bernabeu to win the Spanish Super Cup 5-1 on aggregate.
To understand what has changed since then, let's break it into five points.
1. Squandering strikers
In bad times, it's always tempting to blame the defending. Madrid have kept just three clean sheets. Watch their games and you'll see gaps opening up midfield, a wobbly backline, naive full-backs bombing forward. Even centre-backs gallop into attack at times. When Girona can score two and also hit the woodwork twice, it's clear that Madrid are struggling at the back.
Yet they always have done. This happened last season too. Zidane accepts these risks because they unshackle his gifted attackers, who usually cover the cracks. The result tends to be entertaining games in which the defending is chaotic, the goals are many and the three points to go Madrid.
This season their defending has actually been better than usual. They have shipped 0.90 goals per game, down from 1.08. The trouble is, the goals that used to make up for the defensive leaks have dried up.
Madrid are still creating chances, and shooting more often now than last season. But their wastefulness has been extraordinary. The 'expected goals' model suggests they should have hit 27 league goals so far – they have 19. Cristiano Ronaldo, suspended for the first four games, has fired 40 shots in six league appearances since and scored once.
With a 'normal' conversion rate, Madrid would have been fine. Particularly in their home defeat to Real Betis, the first time they failed to score in 73 games, their finishing defied belief: sitters were missed and 27 attempts unleashed. Until recently you could have argued that Madrid were playing well and just needed their strikers to find form. But then came the 2-1 loss to Girona.
2. A busy treatment room
The Girona defeat was the first game this season that Madrid did not deserve to win. They played badly and created little, lacked guts and attitude. The whole team merited blame.
Which leads us to the list of injuries. All teams miss sidelined players, particularly when several are out at once. Absentees this season include Marcelo, Casemiro, Karim Benzema, Gareth Bale, Raphael Varane, Mateo Kovacic, Keylor Navas and Dani Carvajal. Of these, only Benzema, Marcelo and Casemiro are currently fit.
Madrid did seem equipped to deal with such a crisis before. Then they sold off half their B team.
3. Cashing in on Plan B
Last season, everyone was hailing Real Madrid's strength in depth. Zidane could rest up to nine players at once, confident that his 'Plan B' would do the job. The reserves not only tended to win; they often played better than the first-choice team. It was fair to ask whether any club had ever assembled a squad of similar quality.
So what better way to ensure continued success than to break it up? Last summer, Madrid offloaded Alvaro Morata (to Chelsea), James Rodriguez (loaned to Bayern Munich), Pepe (on a free to Besiktas), Mariano (to Lyon) and Danilo (to Manchester City). Most of these were not only capable deputies, but experienced heads who changed games from the bench. Morata and Rodriguez alone scored 23 league goals. This season Ronaldo and the misfiring Benzema have two league goals between them; Morata and Mariano have struck a combined total of 14 elsewhere.
The 'B team' replacements have been coveted youngsters with less experience, such as left-back Theo Hernandez and playmaker Dani Ceballos. Meanwhile, some pressing needs have gone unaddressed. There's no senior back-up for Benzema. Zidane wanted to keep Morata and expected Kylian Mbappe to arrive, but must now rely on 20-year-old Borja Mayoral, who has started just once in the league this season.
Elsewhere, right-back Carvajal is out indefinitely with a heart condition. Last year the role would have gone to Danilo; now Zidane has had to call on Achraf Hakimi, an 18-year-old from the academy. In terms of points, the £77.5m profit Madrid made in summer is looking increasingly costly.
4. Defenders are not scoring
Madrid used to have the best defence going forward. Last season, particularly when they were casing a late winner, a defender would come to the rescue. Centre-back Sergio Ramos got seven goals alone, many from set-pieces (through which Madrid scored 22, the most in the league).
Full-backs Marcelo and Carvajal set up 14 league goals between them. Midfield enforcer Casemiro struck four. Across all competitions, back-up left-back Fabio Coentrao was the only outfield player who failed to score.
Yet Zidane cannot rely on his defenders to score all the time. This season their contributions in La Liga have regressed towards the mean: Marcelo has been involved in two goals, Carvajal in none. Ramos has one assist and no goals. As for set-pieces, Madrid have scored just twice, proving that using them to outwit rivals regularly is all but impossible for any team not managed by Tony Pulis.
5. Their luck has changed
Several of these factors also come down to bad luck. Madrid often had the margins on their side last season, clinging on during stormy spells, scoring late goals and grinding out wins on bad days. "Maybe last year we won some games we didn't deserve," says Zidane. "Now it's the other way around."
Still, that's only part of it. The squad is clearly weaker and more injury-prone than before, and selling good players after winning the title remains a dangerous game. Just ask Chelsea.
Now read...
Alvaro Morata: "It was my destiny to play for Conte – I knew we'd get back together. He went to the death for me"
Thank you for reading 5 articles this month* Join now for unlimited access
Enjoy your first month for just £1 / $1 / €1
*Read 5 free articles per month without a subscription
Join now for unlimited access
Try first month for just £1 / $1 / €1