Why Mauricio Pochettino is the closest thing the Premier League has to a young Alex Ferguson
The Tottenham manager's methods and early achievements have much in common with his idol's, explains Thore Haugstad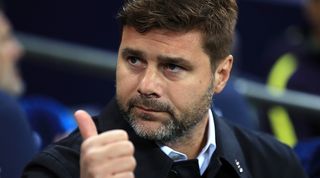 In May last year, Mauricio Pochettino met Sir Alex Ferguson at a London seafood restaurant. They talked for two hours. The rendezvous was so special for Pochettino that he'd describe it as a "dream come true" – like a fan who had got lucky in a competition. "I will always remember every detail from those hours of conversation," he claims in a recent book.
The Tottenham boss has idolised Ferguson since he began coaching. He sees him as an inspiration, a reference point and considers him the best manager in history. The Argentine is not the first to model his approach on the Scot, but he may be the first to do it this well.
In fact, Pochettino has taken so much from his hero that he's now become the leading practitioner of the old Manchester United way. While nobody will ever copy the master, few if any imitators have been as credible. The most suitable person to carry on Ferguson's legacy at Old Trafford is not the current manager of Manchester United, but the current manager of Tottenham.
Sharp elbows
Pochettino ticks all the boxes. He promotes youth, improves players, champions thrilling football, buys wisely and spends little. He is loyal and thinks in the long term. His wait for trophies has not prevented Ferguson from considering him the best manager in the league.
The two have more in common than shared values. As players they were both vocal, temperamental and occasionally ill-disciplined. A sharp-elbowed striker, Ferguson would harass opponents and even his own team-mates. Pochettino was a commanding centre-back. Entering management, both favoured tactics that mirrored themselves: proactive, aggressive and confrontational.
At 32, Ferguson took over East Stirlingshire, then later St Mirren, forging young and obedient teams that ran like men possessed. Pochettino took charge of former club Espanyol in January 2009, installing high pressing and a gruelling fitness regime as academy products were handed debuts.
Both managers kept their initial model at later clubs, with huge success – so much so that Pochettino can now be called the greatest overachiever in the Premier League.
Financial gravity
One of the main arguments behind that claim is that Pochettino has defied the financial gravity that keeps the traditional Premier League hierarchy in place.
Usually the financial table mirrors the real one. The rich clubs finish top, the poor ones bottom. Rafa Benitez was right when he said that the teams with the most money win 90% of the time. The three richest ones – Manchester United (the world's biggest commercial cash machine), Manchester City (backed by Abu Dhabi) and Chelsea (bankrolled by Roman Abramovich) – have won 12 of the last 13 league titles.
All of which makes it remarkable that Spurs have fought for the last two titles with the sixth-biggest budget, breaking free from the same financial shackles that have hampered Arsenal and Liverpool. In 2015/16, Spurs' wage budget was £100m; the other five top teams were all near or above the £200m mark.
Bridging this gap for several years running is a monumental achievement. In a sense, Pochettino's project evokes a feat Ferguson pulled off back in Scotland decades ago.
Revolution at Aberdeen beach
In 1978, Ferguson took charge of Aberdeen, a club with one league title in their history. For decades they had lived in the shadow of Celtic and Rangers, the all-powerful Old Firm, who had shared the last 13 league titles. Aberdeen's problems were not only financial, but mental.
They were seen as softer and more reserved than the battle-hardened Glasgow teams. A few months earlier they had unravelled against Rangers in the Scottish Cup final. Ferguson could not count on cash to banish their inferiority complex. The club spent little and even lacked a designated training facility, forcing him to make do with a municipal stadium, a military training ground, the stadium car park and the freezing Aberdeen beach.
Yet Ferguson galvanised Aberdeen through wise signings, brave tactics and sheer force of will. A conveyor belt of talent boosted the first team, thanks to Ferguson opening football schools, making local contacts and dispatching scouts to snap up the best kids in Glasgow. By the time he left for United, Aberdeen had shattered the old duopoly, winning four Scottish Cups, a European Cup Winners' Cup and three league titles.
The last of his league triumphs came in 1985. No team outside the Old Firm have won it since.
Slow change
You can see the comparisons. In 2014, Pochettino also arrived at club seemingly consigned to a place outside the elite; long derided for their weak mentality. He too has had to face entrenched financial and mental challenges. Like Ferguson, he has managed to break the glass ceiling.
The methods have been familiar. Pochettino has pushed the team up the pitch and trusted youngsters to the extent that 10 of the last 18 England debutants have played for him. His net spend at Spurs has been close to zero. Hardest of all, he has driven through a profound mental change, building their maturity, concentration and sense of ambition.
"The mental process is always more slow than the physical or tactical," Pochettino said in his first year. "We know that our challenge is to change this mentality."
Cue designated work in groups and one-on-ones in his office. When Spurs collapsed in the title run-in last year, he claimed the issue was in their heads, not their legs. He has since been proven right.
On Saturday, Spurs face Manchester United in a game that may decide who will be the main challengers to Manchester City this season. Should the Spurs project stay on track, Pochettino will stand alone in the top European leagues in his feat of bringing the league's sixth-richest club into the title race for a third straight year.
It's no wonder Spurs chairman Daniel Levy says he wants him to be their modern Alex Ferguson. Manchester United, meanwhile, are still looking for theirs.
Quizzes, features and footballing fun
Get the best features, fun and footballing frolics straight to your inbox every week.
Thank you for signing up to Four Four Two. You will receive a verification email shortly.
There was a problem. Please refresh the page and try again.