5 things Ian Wright thinks will happen to Arsenal this season
The Premier League returns as the Gunners kick off the 2017/18 season against Leicester on Friday – and one of their legends has some predictions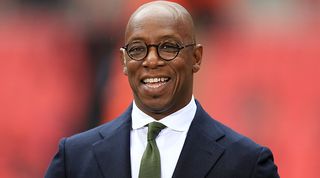 1. They'll finish outside top four
Totally honest right now – I could see Arsenal probably finishing fifth or sixth. Manchester City are strong, Manchester United and Chelsea are going to be strong, so then it comes down to Tottenham, Liverpool and Arsenal for that last Champions League spot.
We have to see how Tottenham get on at Wembley, but if their players stay fit I fancy them to stay in the top four. If Liverpool get Virgil van Dijk and shore up the defence, they're another team you have to fancy.
With Arsenal, it's difficult to say because we don't know what's going to happen with Alexis Sanchez and whether he's going to be there. A lot depends on him, because at the moment everything is up in the air. Whether he signs another contract is totally down to him, but you're hoping that if he does stay he's playing to his maximum ability for the club. That would change the whole dynamic of Arsenal.
Of course Arsenal are going to challenge for the top four, and if you look at the team at the moment, I think Sead Kolasinac and Alexandre Lacazette are good additions.
But there's still the same problem in terms of leaders and players of real grit in the team. They've added Lacazette and Kolasinac, but is that enough? The same problems could be there. God forbid they get an injury to those two and they're back to the same squad as last season, when they couldn't quite get into the top four.
2. Lacazette to outscore Sanchez
I think that Lacazette could end up top scorer – he's a penalty box goalscorer.
Olivier Giroud will always get his goals coming on and nicking things in and around the box, and Sanchez is the same – he creates goals and scores goals. But with Lacazette on the end of things and the amount of chances that Arsenal make, I can see him getting the most.
3. Alex Oxlade-Chamberlain to decide his future
They've changed him from position to position; I've seen him play central midfield, right-wing-back, left-wing-back, and I know he wants to play in central midfield. There's been interest from clubs in him. I'm hearing that Chelsea are interested, and if I was the Ox I'd be doing a lot of serious thinking about what's happening next for me at Arsenal.
He never gets a real run in the team, and when he does he seems to get substituted quite frequently. Then unfortunately he picks up an injury and it stunts his progress. Sometimes those kinds of things can make you start thinking, 'Maybe I need to change my environment'. Hopefully he's not thinking that because you need players like the Ox – young, English players who are ready to kick on.
I know that he's been in the first team for a few years now and we're still not sure about his best position, but those are the things that Alex is thinking about in terms of his progression now: 'What do I now? Where do I go next?'
He's coming into the last year of his contract so he's in a fantastic position for himself. I've spoken to the Ox – I'm not going to tell you what I said to him because whether he stays or goes, it suits me fine. But between me and the Ox, I've told him what I believe he should do. Now it's down to him.
4. They'll have a proper crack at Europe
I hope they treat the Europa League very seriously. Finishing in the top four won't be a breeze, so the Europa League will be another avenue into the Champions League.
If it's good enough for Manchester United, it's good enough for Arsenal. I believe they can win the Europa League and I'd love them to do it.
5. Reiss Nelson to prove himself the real deal
Nelson has real confidence. When he came on at Wembley in the Community Shield, he was directing people and talking – he wasn't just out there thinking, 'Oh my gosh, I'm playing at Wembley, this is amazing'. He was telling people what to do and shouting things.
I think he's next in the line of progression, after Alex Iwobi, to actually get in there and stake a claim for an Arsenal berth. I'm really excited about him.
Ian Wright is part of the BBC's football line-up. Match of the Day returns to BBC One, Saturday 12 August, 22.30. Hooray!
Now read...
Thank you for reading 5 articles this month* Join now for unlimited access
Enjoy your first month for just £1 / $1 / €1
*Read 5 free articles per month without a subscription
Join now for unlimited access
Try first month for just £1 / $1 / €1
Get FourFourTwo Newsletter
The best features, fun and footballing quizzes, straight to your inbox every week.