8 new celebrations we'd love to see in FIFA 18
From Cristiano Ronaldo thinking to Danny Welbeck's liberal seasoning, Fraser Gilbert serves up a selection of celebrations that deserve inclusion in EA's FIFA 18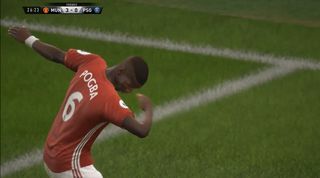 The concept of user-controlled celebrations first appeared in EA Sports' FIFA 09. The popular feature has since grown to incorporate an ever-expanding set of animations, with last year's game introducing such popular choices as the dab and Antoine Griezmann's Hotline Bling.
FIFA 18's September release is just around the corner, and it won't be long until we find out which celebrations have made the cut. As a result, we've taken this opportunity to detail eight celebrations we'd particularly like to see, with the game's recent E3 unveiling suggesting we'll definitely be getting at least one of them.
1. 'Salt Bae'
First originating from a Turkish chef's Instagram page, the 'salt bae' has since been sported by Danny Welbeck, Omer Toprak and Hakan Calhanoglu, among others.
The original video shows a chef flamboyantly sprinkling salt onto sliced meat, and his unique style quickly amassed the video two million views within its first 48 hours on the net. It's an outlandish celebration, making it the perfect victory dance for FIFA 18's online competitors.
2. 'The Thinker'
Cristiano Ronaldo's 'thinking' celebration debuted in the Madrid derby last year, instantly setting the internet ablaze with discussion. Closely resembling Auguste Rodin's The Thinker sculpture, the crouched pose recently made a brief appearance in FIFA 18's E3 trailer, practically guaranteeing it'll make its way into the final release.
As the game's cover star, expect Ronaldo's new celebration to be adopted by an array of online players.
3. Taking off the shirt
It's a yellow card offence in real life, but that hasn't deterred many of the world's stars from stripping off for the cause. And what the hell, we'll take the booking.
While this is a feature that might prove tough to implement in EA Sports' generally law-abiding game, there's no doubt it'd make a great addition.
4. Celebrate with the fans
For years, FIFA's crowds have suffered a certain disconnect from the rest of the in-game action. FIFA 18 looks set to buck this trend with the addition of crowd-based celebrations, as confirmed in our recent hands-on with the game.
Now, you'll actually be able to run to the advertising hoardings and celebrate with the fans as they surge to bask in your collective glory.
5. Messi's Clasico celebration
Barcelona's 3-2 Clasico victory in April is best remembered for Messi's late winning goal and subsequent celebration. The Argentine not only removed his shirt but held it up for all to see, with the home fans at the Bernabeu all around him.
It's a celebration that'll stick long in the memory, and we'd love to see it make an appearance in this year's FIFA.
6. Pile on!
FIFA's multi-person celebrations are largely limited to off-pitch interactions with managers, substitutes and cameras. Don't get us wrong - they're great, but an improved selection of pitch-bound animations would serve the series well in this area.
In particular, a good ol' fashioned pile-up in which the entire squad is reduced to a celebratory heap on the floor would help to enhance the emotion of a last-minute screamer.
7. The selfie
We all remember Francesco Totti's 2015 Derby Della Capitale celebration, but he's not the only sports star to utilise this modern-day trend in recent years. Now that we've got full confirmation of FIFA 18's crowd participation features, it seems like a no-brainer to add the selfie celebration eventually.
The only setback is how potentially complex it could prove to implement – but we've got faith in EA to find a way.
8. Kiss the camera
We've all done it - run to the camera and celebrate with our team-mates in spectacular fashion. It's one of FIFA's best celebrations, and we'd love to see it benefit from further enhancements later this year.
In particular, the kiss-the-camera celebration would help us to replicate Steven Gerrard's famous Old Trafford example, with the only question whether FIFA's facial animations could accommodate it. We'll see...
What would you love to see in FIFA 18? Tweet us with your suggestions @FourFourTwo
More on FIFA 18...
Thank you for reading 5 articles this month* Join now for unlimited access
Enjoy your first month for just £1 / $1 / €1
*Read 5 free articles per month without a subscription
Join now for unlimited access
Try first month for just £1 / $1 / €1
Get FourFourTwo Newsletter
The best features, fun and footballing quizzes, straight to your inbox every week.