9 big changes we really want to see for FIFA 18
Ben Wilson examines the improvements required for career mode, Ultimate Team and gameplay if FIFA is to see off PES 2018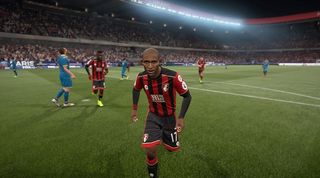 The first details of FIFA 18 are expected at June's E3 trade show, and Jermain Defoe in a Bournemouth shirt is one near-certainty for next year's game. But it's not only transfers we hope – and, indeed, expect – to see updated come the game's late-September release. 
While FIFA 17 put in a decent shift, there remain notable areas for improvement. Ultimate Team's brilliance is a touch diluted by the attrition test that is FUT Champions, and career mode urgently needs some summer surgery to again reach peak fitness. Below are nine changes which would once more put FIFA in a strong position to challenge Pro Evo for title honours.
1. FUT Champions Weekend League revisions
Ever qualified for the pinnacle event of online FIFA, namely FUT Champions? Then you'll know that while the rewards are great, competing in it is little fun. That's nothing to do with your win or loss record. Rather it's a result of time, or lack thereof: you get two-and-a-half days to play 40 games.
The result is an endless grind, which could easily be transformed for the better by trimming the fixture list and offering a slightly longer completion period. Thirty matches over three days – from midnight Friday to midnight Monday – would still enable the elite to differentiate themselves, without prioritising stamina over genuine skill.
2. Reworked set-pieces
Most agreed that set-pieces needed tinkering ahead of FIFA 17. Few expected the end result to be broken penalties. A return to the simpler, more reliable spot-kick method of FIFA 16 would be highly welcome, and there are specific areas where corners and free-kicks can be bolstered too.
It's time, for instance, that the user is able to dictate who goes forward for attacking set-pieces: imagine telling Tony Pulis that only one of his 6ft 4in robo-statues can be in the opposition box at corners. Affording more realism and player choice, this one is a no brainer.
3. Fewer match outcomes that feel scripted
Controversial one, this. For years, EA has adamantly denied the existence of comeback AI, or any kind of gameplay scripting. Yet, whether online or off, you'll have experienced passages in matches where an opponent seems super-powered for 20 minutes, or a last-gasp equaliser just feels like something the engine has cooked up for drama purposes.
Insane comebacks and moments of madness do occur in real football, of course – but in FIFA 18 they need to feel organic and player-triggered, rather than dictated by some arbitrary force.
4. Unique team playing styles 
Each FIFA iteration affords a greater focus to online play, which is perhaps understandable – but offline career mode and Ultimate Team matches remain a huge pull too, and their long-term appeal is hindered by rinse-and-repeat opposition play styles.
Take on Chelsea, then Manchester United, then Manchester City, then Liverpool back-to-back, and you'll see little variance in an opponent's tactical approach, whereas PES attempts to give every AI team a distinct feel.
Similarly, matches should feel hugely different at League Two level compared to the top flight; it's a huge immersion killer to start a lower-league game and discover that instead of playing a single long ball into the box, your AI opponent thinks it's Barnet-lona. 
5. More intelligent AI transfers
This is a hard element to get right, but the illusion of reality in career mode is often shattered by years three or four as AI teams make bonkers decisions in the transfer market. We're talking big clubs hoarding elite players for a single position – Zlatan Ibrahimovic and Paulo Dybala and Antoine Griezmann at United?! – or, worse, not singing anyone at all.
This writer has played against a 2019/20 Southampton line-up that's identical to their current one. As with Football Manager, teams should be able to correctly identify positions of weakness and tailor their transfer strategies accordingly. 
6. Full career mode customisation 
One feature which adds longevity to FIFA's shoulder-padded stablemate Madden is the ability to relocate your team, and design new kits in the process. The former isn't necessary or realistic in a Brit football game unless you come from Milton Keynes, but more customisation options would make every season feel fresh and retain player interest for the long haul.
Even if sponsors can't be amended for commercial reasons, some alternative, generic kit templates – which could work with existing team colours – would be a start. It's one of the reasons PES has flourished through fan-made option files, despite having far fewer licences than its megabucks rival.
7. The option to go Chinese
FIFA fans are already spoilt for choice when it comes to teams, with 35 leagues from around the world included last year. Yet none would be more tempting for a FIFA 18 career mode than the cash-fuelled Chinese Super League.
Indeed, starting a team in a foreign clime with a multi-billion budget would approximate fantasy football: do you drop big bucks on elder statesmen looking for one last trophy such as John Terry and Jermain Defoe, or build a Far Eastern footballing dynasty around the youth of Gianluigi Donnarumma and Kylian Mbappe?
As for Ultimate Team, players from leagues not in the game get removed completely. Dare you imagine playing FUT next season as though Diego Costa no longer exists?
8. The Journey 2
This is one wish guaranteed to come true: a spring conference call confirmed that EA is bringing back story mode The Journey for a second season. Some have said they would like total user control over your player's appearance and attributes; we, however, fancy continuing the story of Alex Hunter.
Actor Adetomiwa Edun played him believably first time around, and with more cut-scene options and team choices – how about a season or two sampling La Liga or Serie A? – there's still plenty of places to take this hugely likeable character.
9. More women's teams and options 
It's not a trendy viewpoint, but the women's game in FIFA 17 really is strong, and – with significantly less reliance on pace – feels markedly different from the men's equivalent. The player database remains a touch small for a self-contained Ultimate Team mode, but there's no reason to leave out domestic teams any longer.
Elite stars from across the globe, such as Manchester City and England standout Lucy Bronze, already have face scans included. Even the option to play a single season would be an advancement on only using national teams, and immediately transform Bronze into gold.
Quizzes, features and footballing fun
Get the best features, fun and footballing frolics straight to your inbox every week.
Thank you for signing up to Four Four Two. You will receive a verification email shortly.
There was a problem. Please refresh the page and try again.