7 big things we've learned from playing FIFA 18 for the first time
EA's digital heavyweight is making its return to consoles and PC in September – and Ben Wilson has spent a day playing it. Here's all the key scouting intel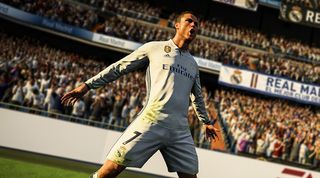 FIFA 18 has just been announced for every format under the sun, and it's out on September 29 – but FourFourTwo are fortunate enough to have already played it. We got to go hands-on at a secret Stamford Bridge showcase, ahead of its reveal at the E3 trade show in Los Angeles.
Is it good? Well… yes. Is it better than PES? That's hard to say without playing the latter, but it's definitely learned some lessons from Konami's success – such as the need to offer more team, and player, individuality. Here's what we took away from our playtest of the game; including the return of a FIFA 17 favourite, exactly as predicted by us just a few weeks ago…
1. The Journey is back – and so is Alex Hunter
Just as we'd hoped, story mode The Journey is back for a second season, with the very likeable Adetomiwa Edun stepping back into the boots of Alex Hunter. Only this time, you get to choose the brand of those boots, as Hunter is fully customisable.
You can unlock and select all manner of clobber for him to wear in cut-scenes, and pick from an array of hairstyles – including Paul Pogba's infamous leopard-print mohawk, or having 'HUNTER' shaved into the back of his head. Those cut-scenes will be more impactful that last year's, too, with EA promising that the mode will now take you across "the world of football". A sneak peek shows Hunter looking out over Los Angeles, while target artwork shown to FourFourTwo also teases Brazilian favelas. Street football back in FIFA? Yes please.
2. PS4 is getting Ultimate Team legends, at last
We didn't get to sample Ultimate Team during our first play of FIFA 18, with EA insisting there are plenty more details to come on its most popular mode at a later date. But the publisher did drop a spot of bad news for the green teamers among you: Ultimate Team legends are no longer exclusive to Xbox.
That means the likes of Ruud Gullit, Marco van Basten and Dennis Bergkamp are finally headed to PS4 and PC, with one additional name also confirmed: three-time world player of the year (original) Ronaldo. (Meaning that, yes, you'll be able to feature a forward line comprising The Two Ronnies.)
EA also says it's bringing an even more exciting mix of Squad Building Challenges to FUT. Expect more details on the mode ahead Germany's Gamescom trade show in August.
3. Loads of little things have been fixed – including penalties
Yes! Spot-kicks are no longer broken. FIFA 18 retains a similar penalties model to the one from last year, where you amend your run up beforehand, then direct your shot on the approach – but it's much more forgiving. So you no longer spank the ball towards the corner flag as punishment for pressing too far right or left.
Stuttering animations in open play have been eliminated, too, with everything looking – and feeling! – less juddery. Players adjust to the ball in real time, making for a much smoother gameplay experience, particularly when changing body shape to attack long balls or crosses.
On the subject of which, crosses are less floaty, and more curved, making them harder to defend. Through balls are deadlier, too. It means a ton more chances, and therefore goals – but EA promises that defensive play has been upgraded too.
4. AI teams finally mix things up…
One area PES has outplayed FIFA of late is in the realm of AI tactics. While Pro Evo's teams adopt varied, lifelike strategies against you, EA has often struggled to differentiate Barnet from Barcelona. In theory that's finally been changed, as every side in the game is attributed with specific offensive and defensive philosophies.
Barça now feel like a markedly different prospect to Chelsea's overlapping wing-backs and physical centre-forward play. And, as has been the case under Jose Mourinho, Manchester United take an eternity to build attacks, but are difficult to break down.
We won't get carried away about this element until we've had a chance to try, say, a Steel City derby or Airtricity League six-pointer, but it's certainly one of FIFA 18's most promising design decisions.
5. And players are more human, too!
A huge frustration within FIFA 17 was the AI's ability to react perfectly to your every move, and rarely – if ever – make mistakes. With that in mind, EA has worked hard to make computer-controlled players behave in a more human manner, and adopt the traits their counterparts display in real life.
You now sometimes see wingers committing to taking on a defender even if there's a free man on their inside, and strikers going for goal from ludicrous angles. (With team-mates then remonstrating with them over their selfishness.)
Big-name players have specific traits, too: so Cristiano Ronaldo – who's been mo-capped for this year's game – will often dribble and shoot himself rather than lay the ball off. Even individual running styles have been incorporated, such as Ronny's long-armed gallop and Raheem Sterling's chest-out glide.
6. Presentation just got even better, yet again
There's no word yet on potential commentary changes, but – as has become an annual tradition – FIFA has once more raised the bar in terms of visual presentation. In the stadium, that means more details in the crowd: our new favourite celebration is running to the ad boards and watching fans surge forwards across seats and down walkways to hug the goalscorer.
Playing in South American stadia brings a completely different atmosphere too, with huge flags draped across entire tiers, and pitches strewn with ticker tape. From a pretend-TV perspective the MLS gets bespoke, broadcast-style fonts and overlays, with other leagues surely to be announced later on. That stuff will really stand out if The Journey 2 does take you Stateside.
7. Other neat touches have us super keen to play more
Every FIFA is – without wanting to sound like a Britain's Got Talent contestant – a voyage of discovery, and lots of small improvements crop up during our day's play which make us keen to experience more. Among them are players shifting their weight correctly while dribbling, meaning a change of pace can be more effective at beating a man than fiddling with the right stick. EA is also keen to introduce more 'dramatic moments': we end the day with one, as Thiago thunders a 30-yard equaliser into the top corner for Bayern Munich against Manchester United. (Although even with those penalty improvements, David de Gea is the shootout hero.)
Quick Subs are also a neat touch: you can prepare up to three in-game changes from the tactics screen, then bring up an instant menu and make your switch any time the ball goes out of play by tapping R2. In wider terms we'd like to know more about career mode – there's nothing to report thus far – and questions remain about how that tactical variation will filter down to the lower leagues. But at this stage, FIFA 18 looks set for a monster campaign. Let The Journey re-commence.
FIFA 17 content
Thank you for reading 5 articles this month* Join now for unlimited access
Enjoy your first month for just £1 / $1 / €1
*Read 5 free articles per month without a subscription
Join now for unlimited access
Try first month for just £1 / $1 / €1
Get FourFourTwo Newsletter
The best features, fun and footballing quizzes, straight to your inbox every week.