The 9 best editions of Football Manager/Championship Manager
Which version was the greatest of all time? We 'Ask assistant'...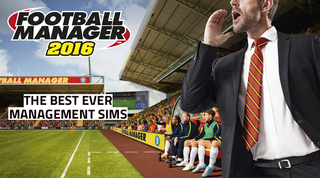 It's been 23 years since the Collyer Brothers released the first Championship Manager, the game that would develop into the all-conquering goliath that is Football Manager. Iain Macintosh, editor of The Set Pieces, has played them all. Leaving aside the new version, as you can never tell how good an FM is until you've played it for three months, he gives us his top nine incarnations... 
1. Championship Manager 2001/02
Hitting a sweet spot between the level of detail and the speed with which it could be played, there are many reasons why CM01/02 retains a special place in the hearts of those who immersed themselves in its data. Unlike the new versions, the AI is fairly basic and you can't micro-manage the development of your players, but you can push through half a season in a three-hour train journey with Mike Duff, Mark Kerr and Cherno Samba as the spine of your team. There's a lot to be said for that. 
2. Football Manager 2014
Realism is always one of the key factors in any game and FM14 stepped up the pace with the introduction of job interviews. Now you could land a position that your reputation might not deserve by toadying up to chairmen. Alternatively, you could take your time finding the right job, making sure that your devotion to youth development was encouraged and rewarded. Chillingly, the improved AI brought opposing managers who could quickly see through your time-honoured tactics and adapt, forcing you to change or fall behind. It all went a bit Skynet here. 
3. Football Manager 2007
A fine effort, balanced and accessible, but notable primarily because it reversed the maddening decision of its predecessor FM06 to include fictional Harchester United players. There is very little worse than investing hours in a detailed simulation of the entire footballing world only to have some bloke called Casper Rose suddenly pop up as one of the world's best players. When you're escaping into an alternative reality, you want that reality to be as pure as possible. The arrival of scout report cards was also a very nice touch, easing the flow of information and breaking it into bitesize chunks. 
4. Championship Manager: Season 97/98
A ground-breaking version, this. The first one clever enough to run more than one league concurrently. Granted, you need to make sure that the suitcase-sized tower that passed for a personal computer in those days was powerful enough, but finally it was possible to excel in the Premier League and then land the Barcelona job. And if you had Tom Youngs, you had every chance to do just that. An easy-to-use editor was a nice touch too. Who among us hasn't dropped themselves into the game with ludicrous attributes, eh? You're a liar, sir. We all have. 
5. Football Manager 2012 
After a sticky period where the game had become increasingly unwieldy and bogged down with detail, FM12 was a welcome return to form. The information was all there, but now it was contained in a far more intuitive, far less headache-inducing layout. Sometimes it's hard to put your finger on where a game has improved, but here it was simple; playing it no longer felt like a second job. This was the moment when the series began to flex its muscles, while wearing a flattering shirt and a welcoming smile. 
6. Championship Manager
The progenitor. The foundation stone. The daddy. It didn't have real names. It didn't have graphics. There were four divisions with 80 teams. When you played Real Madrid in Europe, you played against 'Player 5' and 'Player 7'. But by thunder, it was the greatest thing to ever happen to the genre. In scope and style, it would be bettered again and again and again, but that feeling that you had stumbled into a brand new world and that life would never be the same, that was never stronger than it was here. 
7. Championship Manager 2
Update discs had given the franchise real player names for the first time in 1993, but CM2 gave you real grounds to visit. There were still no graphics, details were thin on the ground by today's standards, but the joy of watching your numbers dance upon the images of the exact stadium in which you were playing was marvellous. Less marvellous was the Clive Tyldesley match commentary, the tone of which only served to bring a touch of the 'captured Gulf War pilot' vibe to proceedings. 
8. Football Manager 2005
After the acrimonious split from publishers Eidos that meant they lost the name 'Championship Manager,' the Sports Interactive studio set up home with Sega, regrouped and rebranded. But which game would be the best? This newfangled FM05 or Eidos's own CM5? It wasn't even a contest. CM5 was a disaster, a shocking and utterly unplayable mess of bugs that should never have seen the light of day. FM05, while not perfect, was light years ahead. It was bright, it was playable, it was fun and it was big. Eidos's version would never catch up. 
9. CM Italia
RECOMMENDED
With the Premier League hidden away on Sky and with James Richardson bringing Serie A to the masses on Channel 4, it was only logical that the Collyer brothers would respond. Using the same engine as the original CM, the two Italian leagues were faithfully restored, as too was the controversial three foreigner rule and, of course, Paul Gascoigne. This was a golden age of football, reflected faithfully and beautifully. If you could find a computer that ran it, you could play this game today and still enjoy it. 
Iain Macintosh is the author of 'The Football Manager Guide to Football Management'
More features every day on FFT.com • More FM tips and tricks
Quizzes, features and footballing fun
Get the best features, fun and footballing frolics straight to your inbox every week.
Thank you for signing up to Four Four Two. You will receive a verification email shortly.
There was a problem. Please refresh the page and try again.