9 reasons why everyone hates… Liverpool
The world stood in awe of their success at home and abroad throughout the 1970s and '80s – but how times have changed. Blue-nose Mark Langshaw offers the case for why the Reds now exist only to chuckle at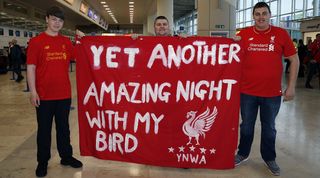 Please note: Other teams have had the return treatment too, so no, we aren't just picking on you (calm down, calm down etc). Oh, and the below doesn't necessarily represent the views of FourFourTwo…
1. Their fans are fixated on the past
Anyone with a Liverpool-supporting friend will be familiar with the accomplishments of the great Bill Shankly, as lectures in ancient history and sonnets to a bygone age happen to be their specialty.
Reds fans have more tales of past exploits in their repertoire than Uncle Albert from Only Fools and Horses, boasts that become increasingly sitcom-worthy with every season of underachievement.
Liverpool may have been England's biggest trophy hoarders during the glistening Shankly and Paisley eras, but the barstool history lessons are difficult to stomach when the last decade tells a story more about lost bottle than cup success.
With Roberto Firmino having racked up more points on his driving licence in 2017 than Jurgen Klopp's charges have managed in the league, no doubt we haven't heard the last tired ode to Shankly, Paisley and the so-called Miracle of Istanbul.
2. They've got a pretty deluded view of the present too
There has been a seismic shift in the balance of power since Liverpool last won England's top division (in 1990) – but trying telling that to Reds loyalists.
To put it in perspective, Peter Schmeichel has signed for Manchester United, lifted the coveted trophy five times, retired and fathered a son, who has in turn gone on to win the Premier League with current champions Leicester since then.
Why Liverpool have failed to top the pile in more than two-and-a-half decades is a complex question, but a bigger mystery is why their fanbase, season after season, expects them to. Every campaign it's the same story – the Reds string a few wins together and Anfield Road is abuzz with whispers of 'it's our year'.
No one can deny the history Liverpool fans are obsessed with is illustrious, but the club's past achievements have fostered a sense of entitlement among its current crop of supporters. What a brazen attitude for a club that has fewer Premier League titles to its name than Blackburn or Leicester.
3. Fluke is their forte
It's appropriate that Liverpool play in Satan's red because the team has always had the luck of the devil, and it usually comes into play in crucial games.
Nothing sums this up like the Reds' Champions League success of 2005, the year a rather ordinary side lifted club football's most coveted prize with the help of sheer fluke.
The road to Istanbul was paved with good fortune for Rafa Benitez's men. After scraping through the group stage on goal difference, they reached the final thanks to a Luis Garcia ghost goal that will haunt Chelsea for eternity, and went on to win the trophy under contentious circumstances.
The planets aligned for the Reds that night in Turkey. A complacent second-half showing from Milan, combined with a Steven Gerrard dive in the area and shootout blunder from Andriy Shevchenko, helped a team who could only manage a fifth-place Premier League finish by virtue of a better goal tally than Bolton achieve a feat which truly flattered them.
4. Luis Suarez
Anfield has seen its fair share of pantomime villains over the years, from Craig Bellamy to El-Hadji Diouf, but none were as truly despicable in the eyes of opposition as Luis Suarez. When the Uruguayan hitman wasn't banging in a hat-trick against your team, he was taking a bite out of your centre-half or doing his best Tom Daley impression in the penalty area.
To make matters worse, the controversy-courting Suarez was almost single-handedly responsible for the Reds' second-place finish in 2013/14, which almost felt like a force of evil triumphing over good.
The Premier League was glad to see the back of him when Barcelona dragged him away to La Liga the following summer. Even a few Liverpool fans breathed a sigh of relief.
5. Self-appointed rivalries
Maintaining a rivalry with neighbours Everton isn't enough for a Liverpool team desperately seeking relevance in the Premier League era, so whichever team happens to be the most successful usually ends up in their crosshairs instead.
A bitter rivalry was born when Manchester United had the audacity to dethrone the Reds as England's most successful club in the 1990s, yet as the gulf between the teams widened, Liverpool's right to call themselves the Reds Devils' primary antagonists should really have expired – particularly when Middle Eastern investment in the blue section of Manchester saw a more credible contender emerge.
Money counts for a lot in football, and when Roman Abramovich's billions transformed Chelsea into title challengers, the Blues suddenly became one of Liverpool's modern-day rivals. They were goaded with chants of "you ain't got no history" whenever they visited Anfield, which loosely translates as 'you didn't used to be this much better than us'.
6. The Evil Empire
Pouring scorn on the filthy-rich Chelsea is all well and good, but the whole thing becomes tragically ironic when you consider that Liverpool have twice sold their souls to lucrative American ownership.
Let's face it, nobody likes a money-bags football club with an Evil Empire behind it, especially one with so much capital that they could afford to blow £35 million on Andy Carroll.
Chelsea and Manchester City are often hit with 'bought the title' allegations, yet former Reds boss Brendan Rodgers spent around £300 million and won sweet FA. At least the City and Chelsea hierarchy can say they were successful in their attempts to buy the Premier League.
7. Steven Gerrard
In the red half of Merseyside he's worshipped as a God-like figure (except for that brief period when newspaper reports linked him with a move to Chelsea) – but opposing supporters have never shared such sentiments when it comes to Gerrard.
Who knows why Stevie G is so derided outside of Anfield? Maybe it's because he never managed to replicate his club form for England, or perhaps it's because he came to embody a club which rubs many up badly. Either way, it's clear many non-Reds have always had it in for Gerrard – just look at how the neutrals seemed to unleash a collective holler of delight when his unfortunate slip against Chelsea in 2014 all but gift-wrapped the Premier League title for Manchester City.
Overnight the Liverpool captain became a figure of ridicule – the most trolled footballer on the planet, and the subject of more memes than Gene Wilder and the Grumpy Cat combined.
Although the midfield maestro achieved a lot in his career, to all but Liverpool supporters that iconic stumble goes down as the defining Gerrard moment. After all, it serves as an apt metaphor for the Reds' Premier League fortunes over the past two-and-a-half decades.
8. They're a football tourist club
Perhaps the main reason Liverpool supporters downplay their rivalry with neighbours Everton is because so many of them don't hail from Merseyside.
With around 100,000 'fans' travelling from abroad to catch a game at Anfield each year, the Reds are developing a reputation as one of those irritating tourist clubs.
The famous stadium's Kop stand is still packed with ardent Reds on matchday, but elsewhere in the ground you'll find dozens of selfie stick-brandishing fraudsters who are more concerned with the half-time snack bar menu than the full-time result.
9. Celebrity 'supporters'
Daniel Craig and Damian Lewis we'll let them have, but how many of Liverpool's other celebrity 'supporters' have actually set foot in Anfield more than a couple of times?
Reds fans wax lyrical about their tenuous associations with Hollywood royalty, claiming that everyone from Dr. Dre to Brad Pitt feature among their ranks.
The Pitt connection was the result of a passing remark made during an interview five years ago, and the Reds attempted to claim Dre as one of their own after he expressed his admiration for John Barnes.
Samuel L Jackson is known to have swung by Anfield while filming in the city, but these days his Liverpool fandom is limited to the occasional tweet which almost melts internet servers in the crimson section of Merseyside. Still, it probably makes him more genuine than the selfie stick brigade in Anfield's main stand.
Quizzes, features and footballing fun
Get the best features, fun and footballing frolics straight to your inbox every week.
Thank you for signing up to Four Four Two. You will receive a verification email shortly.
There was a problem. Please refresh the page and try again.