9 reasons why everyone hates... West Ham
Chelsea fan Paul Wentworth stops laughing at the Hammers long enough to pick out their worst characteristics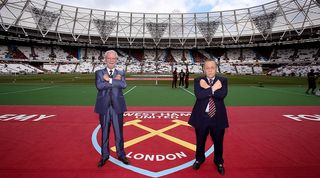 Please note: This is the last in our series featuring several other Premier League teams getting the return treatment, so no, we aren't just picking on you. Oh, and the below doesn't necessarily represent the views of FourFourTwo. Over to Paul... 
In the process of putting together this list, I took a moment to reflect and ask myself the question: do I actually hate West Ham?
I mean, sure, they're literally taking money out of my pocket to pay for their appalling stadium, there's the bubbles, and supporters that dress like low-rent Jacamo brand caricatures from The Only Way Is Essex (only with even more unintelligible accents). Oh, and the oft-repeated 'alternative fact' that West Ham are the only club in the Football League's 129-year history to actually win the World Cup. (Fake news! Sad!)
But hate is a strong word, usually reserved only for Tottenham and the feeling of arriving at Fulham Broadway on matchday having left your wallet back at the pub. No, West Ham are too ridiculous to hate. To hate them is to hate comedy. Of all the 92 clubs in the league, West Ham are by far and away the most hilarious. From jellied eels to Russell Brand, from the West Ham Way to the tragedy of their supporters, they're a feast of Gold TV brand comedy reruns to be cherished.
So no, I don't hate West Ham, but here are seven reasons why I'll probably die laughing at them one day.
1. The owners
Just look at David Sulivan, the man who dresses like a Tsarist gnome (a piece of merchandise surprisingly lacking from the Poundland cave of wonders that is the club's megastore). Has anyone ever looked more ridiculous at a football match? Apart from that pirate fella at Arsenal, probably not.
David Gold, meanwhile, looks like a man who's been through some heavy stuff, although over 30 years with Thurston Bois' pocket-sized Stalin will probably do that to you, in fairness. No doubt haunted by the ghost of Sam Allardyce, Gold probably spends his days staring wistfully at a picture of Jermain Defoe surrounded by copies of his own autobiography, Pure Gold.
They're the kind of East End double act that make Del Boy and Rodney look like Einstein and Newton, and they're in charge of an actual football club. Sullivan and Gold accumulated their considerable wealth by flogging purple dildos in Soho, which in a fantastic twist of irony is what they're basically watching flail around the middle of park every Saturday.
2. Celebrity fans
Russell Brand. James Cordon. Ray Winstone. Steve Harris. Danny Dyer. Phil Jupitus. No, you haven't stumbled onto a Celebrity Come Dine With Me in the seventh circle of hell. These are just a few of the famous faces that have a hammer-shaped hole in their heart.
The mere fact they support West Ham wouldn't be so bad if their other supporters didn't go on about it every time one of them turns up at a game, wearing a grimaced expression which roughly translates as "I hope one of these unwashed louts doesn't touch me or my expensive jacket". They can often be found donning a flat cap, too, presumably handed to them by the club in a desperate attempt to make them look like an ordinary fan.
Perhaps dining out on a famous follower is something to hold onto in place of, oh, I don't know... AN ACTUAL TROPHY OR SOMETHING.
3. Carlton Cole
So good they signed him twice.
4. The West Ham Way
The West Ham Way: the mythical, elusive spirit and style of play that Football Men will tell you involves getting the ball on the deck and playing it out from the back. Which is fine, if your team is actually competent when it comes to playing football.
As it is, West Ham's most successful period in recent years saw them employing Sam Allardyce's more agricultural style, which brought promotion via a big day out at Wembley, consolidation in the Premier League and some memorable wins against their rivals.
You'd think that would be enough to stop the whinging, but no: Big Sam got the axe, with his refusal to play the West Ham Way heavily cited. Not cited was the fact that the club had a midfield of David Bentley, Matt Jarvis and a 48-year-old Yossi Benayoun. 
5. The stadium
The wheeling and dealing that led to the taxpayer taking up a role of dole officer and handing the Olympic Stadium to West Ham for virtually nothing was a total farce. Yet let's leave that to one side for now.
The Boleyn Ground (never referred to as the Boleyn Ground until the day they left) was a place steeped in the local community, the club's history, and the culture of the place it inhabited. It brought trade to local businesses and was home to the (very few) great moments in West Ham's history. Yet they threw it all away for the London Stadium (yes, they named it the London Stadium). Why not just bolt it onto one of those package ticket deals, with trips to the London Eye and Madame Tussauds while they're at it? 
In place of jellied eels and pie and mash, you can now tuck into some proper East End... er, popcorn and ice cream. Can you envisage a sadder site than a 40-year-old man in a Di Canio shirt and Lonsdale trainers gorging on this smorgasbord of Americanisation and consumerism? The London Stadium, surrounded by shopping malls and miles away from the club's spiritual home, is little more than a monument to football's excess and detachment from reality.
6. This travesty
I lied – I hate one thing about West Ham. Presented without comment. You get it.
7. Karren Brady
No, fear not, the hypocricy of telling lead-for-brains Apprentice candidates that their £3.99 sweets on Brighton beach are overpriced isn't lost on us all. West Ham are charging their supporters a minimum of £50 to watch a relatively meaningless game against Chelsea in early March, rising to £80 for their '1966' seats (of course!). This, for a team that haven't finished in the Premier League's top six since 1999.     
Then there was January's Dimitri Payet fiasco. Sell him? God no, said Slaven Bilic. And David Sullivan. And Brady. The Hammers did, obviously – and duly offered hacked-off fans with personalised replica shirts the chance to get a replacement. For £25.   
8. Forgetting they're West Ham
The east Londoners' attempts to woo players embarrassingly out of their league are often like watching a tanked-up moron try to cop off with a Miss World, and almost inevitably end up with them going home accompanied by a curb-crawler they've paid way over the odds for instead. 
In recent times the Hammers have been liked (however loosely) with the likes of James Rodriguez, Gonzalo Higuain, Mario Madzukic and Alexandre Lacazette, while their January efforts to land Defoe, Scott Hogan, Moussa Dembele and Robert Snodgrass (initial bid: £3m) were painful and largely unsuccessful. 
The Hammers' hilarious efforts to buy a successful striker have been going on since 2010; in the intervening years they've spent millions on the likes of Benni McCarthy, Modibo Maiga, Enner Valencia, Nikica Jelavic and Mauro Zarate, and in the summer chucked £5m at Juventus to take the hapless Simone Zaza on loan with a clause that would have forced them to pay £17m if he played only 14 games. 
Just consider the inevitability of them paying Liverpool £20m for Daniel Sturridge in the summer (and, subsequently, putting him on a £90k-per-week contract). 
9. And finally…
This last one should be more of a thank you, because without West Ham's momentous, calamitous, hilarious stupidity, my own team's greatest ever player would never have pulled on a blue shirt.
Without the short-sightedness that is, quite frankly, intrinsic to West Ham's DNA, Frank Lampard wouldn't have signed for Chelsea in 2002; he wouldn't have gone on to score 211 goals in 648 apperances (his 200th coming against the Hammers) to become the Blues' all-time record goalscorer; he wouldn't have finished as runner-up to Ronaldinho in the 2005 Ballon d'Or; and he wouldn't have won three Premier League titles, four FA Cups, two League Cups, the Europa League and the Champions League. Not bad for a fat lad.
Whatever did happen to Scott Canham, by the way?
Quizzes, features and footballing fun
Get the best features, fun and footballing frolics straight to your inbox every week.
Thank you for signing up to Four Four Two. You will receive a verification email shortly.
There was a problem. Please refresh the page and try again.