Aaron Ramsey is the engine of Arsenal's recent success
By John Robertson published
Santi Cazorla's injury has given the Welshman the chance to play in his favoured role. John Robertson analyses why he's thriving as a middle man...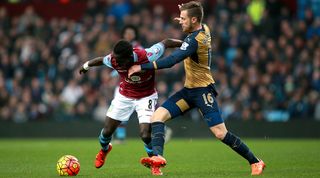 It's all coming together for Aaron Ramsey at the best time possible for him, his manager and his team-mates. With Arsenal beset by injuries, the packed Christmas fixture period looming and the small matter of Barcelona on the Champions League horizon, the Welshman can be the shining light that the Gunners use to navigate such dangers.
Indeed, it may well have been the first entry in that line of challenges that has triggered his upsurge in form. With Santi Cazorla absent through a knee problem, Ramsey has taken up his preferred central midfield role in his team's last three matches by scoring two and creating another pair for his colleagues.
Before that he had typically been employed on the right side of midfield, a position from which he is far less effective. Ramsey has started nine games on the flank this term, providing no assists and managing just one goal.
Mesut Ozil's performances have left Arsenal fans and rivals gawking, but it's Ramsey who has become the heartbeat of the side in recent weeks.
Back to the centre
This is not the first time Ramsey has been deployed in the centre of the park, of course. He first made his name under Wenger as a midfielder, only moving to the outside to allow the formidable Cazorla-Coquelin partnership to remain intact.
Since moving back to the centre, no one in the Arsenal team has seen more of the ball than Ramsey and no one has made more passes; he's clearly more comfortable and confident when able to utilise the greater space afforded to players in the middle of the pitch.
Much of that space, though – as is so frequently the case in team sports – is generated by the performances of others. The suave, sophisticated nature of Ozil's approach to the game, for example, opens up the perfect gaps for Ramsey to take advantage of.
With opposition defensive midfielders, and sometimes centre-backs, getting tight to the German playmaker, there is often plenty of room for a deeper player to exploit by motoring into a forward position later in the attacking phase.
Ramsey is ideally suited to this: his energy allows him to make up the ground at the last minute, giving any potential markers little chance to react to his presence before it's too late. He's intelligent too, picking and choosing his moments to burst forward in a bid to conserve enough energy to last the whole 90 minutes.
Box-to-box and back again
British football has always had a thing for the box-to-box, all-action midfielder, but passing, tackling, attacking and defending in equal measure is no easy feat. Not only do you need the stamina to execute these numerous tasks, you also require the kind of footballing brain that allows you to do so without stepping on the toes of team-mates and interfering with their roles and requirements.
Jordan Henderson and Yaya Toure are other examples of box-to-box players in the Premier League, but Ramsey has been the best at it in recent weeks. He has managed to consistently recover the ball across the entire length of the pitch, winning possession back for his team and often cutting out the threat before it reaches the danger zone.
His ability to win the ball back is impressive, but what's more striking is what he then does with it. In central midfield he has again demonstrated great vision and an ability to see the game one or two steps ahead of those around him.
All in one movement
These qualities mean little if not used in combination with one another, however; after all, any sort of isolated skill has a tendency to be found out and nullified. Stringing together abilities into one movement is key for a player like Ramsey, who looks to be involved in every aspect of the game.
His ability to combine skills into fluid movements was aptly demonstrated by his assist for Olivier Giroud's opener in last week's key Champions League clash against Olympiakos, as well as by his goal against Aston Villa in the Premier League on Sunday.
Against Olympiakos, Ramsey didn't just provide the cross for the goal but also helped to create the scoring chance through his movement on the shoulder of the full-back and his link-up with Ozil earlier in the move. Without his involvement in the build-up, the space for the delivery simply would not have existed.
His goal against Aston Villa was an even better example of Ramsey's gift for combining his full range of skills into seamless moves. Having made the tackle that won possession just in front of his own penalty box, Ramsey made a brilliantly timed run that took out three Villa defenders and goalkeeper Brad Guzan to score a tap-in.
RECOMMENDED 5 things we want to talk about after Aston Villa 0-2 Arsenal
The fact that the pass for the assist was provided by Ozil perfectly sums up the relationship the two have built. Together, both men are piloting an Arsenal ship that seems to be going from strength to strength, even without the considerable talents of the injured Cazorla and Alexis Sanchez.
Ramsey is once again making a claim for the title of 'Premier League's Best Central Midfielder'; on current form, it's difficult to argue that there's anyone better, particularly if he replicates his recent displays in Monday's crunch clash with Manchester City at the Emirates.
With Cazorla and Coquelin due to be out for the first few months of 2016, there's no reason – barring an injury of his own – that the Welshman cannot continue to be the fulcrum of this Arsenal side. Not bad for a player who celebrates only his 25th birthday on Boxing Day.
Thank you for reading 5 articles this month* Join now for unlimited access
Enjoy your first month for just £1 / $1 / €1
*Read 5 free articles per month without a subscription
Join now for unlimited access
Try first month for just £1 / $1 / €1
Quizzes, features and footballing fun
Get the best features, fun and footballing frolics straight to your inbox every week.
Thank you for signing up to Four Four Two. You will receive a verification email shortly.
There was a problem. Please refresh the page and try again.