Andreas Christensen: Chelsea's thriving loanee who's attracting Bayern and Barça
Kristan Heneage provides the lowdown on the 20-year-old centre-back, currently on loan at Borussia Monchengladbach, who has been spoken of as a potential long-term successor to John Terry...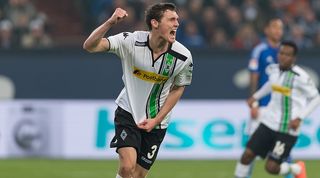 The 60-second story
FACT FILE
Date of birth: April 10, 1996
Place of birth: Lillerød, Denmark
Height: 6ft 2in
Position: Centre-back
Current club: Borussia Monchengladbach (on loan from Chelsea) (35 apps, 3 goals)
International: Denmark (4 apps, 0 goals)
There's no denying Chelsea have struggled defensively this season, with the strong backline that has so often guided them to Premier League titles absent for most of the campaign. With Antonio Conte set to take charge in the summer and John Terry and Branislav Ivanovic now past their best, the club may look to usher in a new generation of players ahead of next term, and Andreas Christensen is well placed to make the breakthrough.
Christensen's father, Sten, used to keep goal for Brondby, which is where Andreas began his own career in the mid-2000s. After impressing at various youth levels for the Danish side, he attracted the attentions of multiple elite European clubs – including Liverpool, Ajax, Bayern Munich and Arsenal – with Chelsea winning the race for the 15-year-old's signature in 2012.
Christensen had to wait about 18 months for his professional debut, which came in a League Cup tie with Shrewsbury Town in October 2012. Jose Mourinho was impressed with the centre-back's performance, later telling reporters that "the man of the match was Andreas Christensen, who played well against Shrewsbury", and again included him in his starting XI against Bradford City in the FA Cup.
Things didn't go so well for Chelsea on that occasion, as the Bantams completed one of the biggest shocks in the competition's history by winning at Stamford Bridge, but Christensen soon got his first taste of Premier League action against Sunderland in May.
A two-year loan deal to Borussia Monchengladbach then followed last summer, and Christensen has started 27 games in the Bundesliga so far.
Why you need to know him
Christensen certainly looks to have a future at Chelsea, something you might not necessarily have said earlier in the season: the Dane was shaky as Gladbach were thrashed 4-0 by Borussia Dortmund on his debut, but he's since bounced back and was named the club's player of the month in November and January.
He's also reserved some of his best displays for the biggest stage of all, shining in Champions League clashes with Juventus and Sevilla.
Chelsea aren't the only ones who have taken note of his performances this term, however: Barcelona and Bayern Munich have been linked with a move this summer, but the Blues are reportedly keen to keep the 20-year-old at Stamford Bridge.
Strengths
Christensen has frequently been compared to John Terry, with his composure on the ball certainly bearing a resemblance to the Chelsea skipper. His 87% pass-completion rate this term is higher than Borussia Dortmund's highly rated ball-playing centre-half Mats Hummels (85%), while his ability to hit long balls forward as well as shorter passes across the back makes him a useful asset.
He's also steady off the ball, having conceded just 10 fouls and one yellow card all year, while his reading of the game is another attribute that marks him out as an extremely promising young defender – it's notable that Christensen averages more interceptions per game than Jerome Boateng, for example.
Christensen demonstrates his composure in possession
Gladbach colleague Yann Sommer has also praised his maturity, insisting that "he's young but you can't see it on the pitch… he looks really experienced."
Weaknesses
At 6ft 2in, Christen certainly isn't small, but he does need to improve his heading. He's won just 55% of his aerial duels in the Bundesliga this season – 14% fewer than Boateng and 17% fewer than Hummels.
They said...
Terry may want to keep playing for as long as possible, but his comments on Christensen show how highly he regards the Brondby academy product.
"I've always told [him] that he should chase me and knock me off the team," he told TV2 Sporten. "He should be hungry to take my place. Believe me, I am sure that he will be a top footballer and one of the future men for Chelsea."
Denmark manager Åge Hareide has also heaped praise on the prospect, comparing him to a former world great. "He reminds me of Franz Beckenbauer," Hareide said. "He still has work to do to reach him – in his playing style – because he's really relaxed and elegant. It almost looks like he could be playing in a suit."
Did you know...
Like many players, Christensen did not start out in the position he currently plays; in his early days, the defender focused more on scoring goals than stopping them.
The centre-back displayed his predatory instinct against Werder Bremen recently, netting twice in a 5-1 win. Asked when he had last scored two goals in a game, he replied: "It must be… I think it must be even before I went to Chelsea. Maybe, when I was an under-15 or 16 or something like that. It hasn't happened in a long time."
What happens next?
That's the big question. Chelsea reportedly want their man back for the start of Conte's revolution, but Gladbach remain adamant he's going nowhere.
"I haven't talked to Andreas about Chelsea's next manager, or if he would be interested in going back to Chelsea," his dad has been quoted as saying. "Andreas is at Borussia for two years. He should just focus on playing football and finishing the season. He has a two-year loan with Gladbach, and they expect him to fulfil it. We have an agreement with Borussia to sit down and talk this summer to evaluate the first year. We haven't heard from Chelsea or others, and we shouldn't."
The man himself, meanwhile, told The Set Pieces: "It's hard to say because if I go back and don't get the opportunity, this [Gladbach] might be the opportunity. I'm thinking about doing my two seasons, doing as good as I can and then seeing what the future holds. When I get back to Chelsea, I still have three years [on my contract], so it's really up to them. I'm happy in both places."
Either way, a successful career looks to be on the cards for the Dane.
Thank you for reading 5 articles this month* Join now for unlimited access
Enjoy your first month for just £1 / $1 / €1
*Read 5 free articles per month without a subscription
Join now for unlimited access
Try first month for just £1 / $1 / €1