Basque to the bone? Why Athletic Bilbao vs Real Sociedad is more than a game
When Athletic Bilbao and Real Sociedad face off, there's an entire culture at stake. In late 2006, FourFourTwo's Andy Mitten witnessed the Basque derby...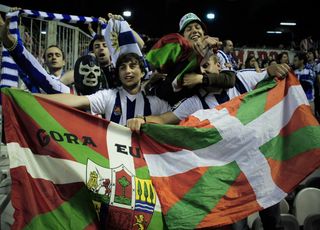 "We have two cathedrals in the city," says the man from Bilbao's tourist office. "The first where people go to pray, Santiago Cathedral. The second is the cathedral of San Mames, the stadium of Athletic Club. That's here," he adds, helpfully circling the stadium on a small fold-out map.
"Tonight they play Real Sociedad in the Basque derby in the first game of the season. It's very important." As San Mames they also pray, though generally in larger numbers. Tonight, FourFourTwo will be amongst them.


It's two hours before the game and Poza, Bilbao's main bar street, is so packed with fans wearing the colours of Athletic and Sociedad that cars have given up attempting to nudge through the crowds. Replica shirts are not popular among fans of Primera League clubs, but in Poza everyone seems to be wearing the red and white stripes of Athletic, the blue and white of Sociedad or the colours of the Ikurrina – the Basque flag which looks like a green, white and red union flag.
There's a higher percentage of females than at other Spanish grounds and everyone is mixing without any sign of animosity. At the end of the street is the city's other cathedral, San Mames, a true city centre football ground, dominated by a large illuminated club badge. The plan is for the faithful to consume their beer, then edge towards their place of worship.
Bilbao, Spain's fifth-biggest metropolis with almost a million people, is a wealthy, handsome city of neat grids and opulent buildings. "People think we're all terrorists and there are bombs going off," says Athletic fan Inigo, "but it's nothing like that. It's far safer than most big cities."
Like many an English city, Bilbao suffered badly from the effects of de-industrialisation, yet it's witnessed a renaissance in the last decade. Frank Gehry's titanium-clad Guggenheim museum is arguably Europe's most impressive new building, the Sir Norman Foster-designed metro system effectively a series of works of art, while sleek white Calatrava bridges span the Nervion River, which bought Bilbao much of its wealth. It was as a shipbuilding centre, using locally mined iron ore, that Bilbao became the first Iberian city to embrace the industrial revolution.
Bilbao's British beginnings
British émigrés, principally miners from the north-east or ship builders from the south coast, arrived in the late 19th century and were the first to play football in the city, their influence retained in Athletic's anglicised name to this day, and, so the theory goes, in the red-and-white-striped shirts they borrowed from Sunderland. Meanwhile, sons of the Basque merchant classes studied in Britain, arranging games with British workers on their return. Athletic Club Bilbao would be formed from these groups.

Bilbao's recent gentrification illustrates a renewed confidence in a place that used to make international headlines more for ETA bombs. Blessed by a location on an estuary and flanked by lush green hills, the only evidence a tourist might find of the political situation is the pro-independence graffiti and armed police outside any Spanish government buildings.
Politics and sport have long been entwined in the Basque country, where locals have considered their culture to be distinct from their neighbours. Arguably Europe's oldest race, they boast of ancient laws and a complex language which General Franco tried to destroy. Just as the Camp Nou was one of the few places where Catalans felt they could openly converse in their own tongue, the Basques did likewise in Athletic's San Mames or Real Sociedad's old Atocha stadium.
Athletic won four of the first eight Spanish championships, until the outbreak of the Spanish Civil war in 1936. With Franco in control, and many fans suspecting Francoist elements within the club, they won just two more in the next four decades.
In 1941, they changed their name to Atlético Bilbao, following a decree issued by the Generalissimo which banned the use of non-Spanish language names. Nowadays, Atlético are from Madrid, but Bilbao are resolutely Athletic.
Athletic Bilbao are historically Spain's third most successful team with eight championships and stand alongside Barcelona and Real Madrid as one of only three clubs never to have been relegated from the top flight. Although many businesses in Bilbao boast of their links with the club, Athletic refuse to tarnish its shirt with a commercial sponsor. But what makes Athletic unique is that they only use Basque players.
Until 1989, Real Sociedad – or The Royal Society Football Club of San Sebastián, to give them their full title – also had a policy of using locally-born players nurtured through the youth system. Indeed, la Real's policy was even more exclusive since they took players only from the immediate province of Guipúzcoa while Athletic were prepared to twist their own rules by recruiting from nearby French Basque country, the partly Basque neighbouring regions of Navarra, and La Rioja, famous for its wine rather than for being Basque.
Sociedad's strategy had endured for decades and frequently prospered, bringing them the league twice in succession and a European Cup semi-final in the early-1980s, but the policy was about to change – largely because of their near-neighbours.
 Athletic are a bigger club and were using their higher status and financial muscle to snare the best Basque players ahead of their rivals. Unable to compete, Sociedad broke with tradition and went in search of outside help.
While Basque nationalism dictated that any outsider brought in could not be a Spaniard, it said nothing about employing a moustachioed Scouser. In 1989, Liverpool's John Aldridge arrived to 'foreigner go home' graffiti, but 40 goals in 75 games later, there wasn't a problem. Goals, it seems, are a global currency, and Dalian Atkinson and Kevin Richardson soon followed him, with varying degrees of success.
Athletic's Basque-only policy began in 1912, with the development of the cantera (quarry) policy, the result of a revival in Basque nationalism and the emergence of the Basque Country as the pre-eminent force in early Spanish football. The club's success – usually under an English manager – flushed the Basques with pride and supporting Athletic became a legitimate way of expressing Basque nationalism.
Athletic thus became closely identified with the EAJ-PNV (Basque Nationalist Party), founded in 1895. Several prominent members of the EAJ-PNV were Athletic members and Jose Antonio Aguirre, a prominent player in the 1920s, became the first elected Basque president in 1936. All subsequent club presidents have been members of the EAJ-PNV. By 1958, ETA was created by members of the Basque Nationalist Party who had grown dissatisfied by the party's supposedly moderate policies. They were in the minority however, with most Basques content to see the region viewed as a separate country, but with links to Spain.

NEXT: "We see ourselves as unique in world football"
The Basque policy
Initially, Athletic's cantera policy suggested that only ethnic players born in the Basque Country should be allowed to play for the club, but the idea was dropped to include any player born in the region. Ironically, one of the main beneficiaries of the policy has been Spain, with Athletic having provided more players for the national team than any other club, Real Madrid and Barcelona included.
Writing in the club's centenary book, Athletic president Jose Maria Arrate summed up the cantera policy thus: "Athletic Bilbao is more than a football club, it is a feeling – and as such its ways of operating often escape rational analysis. We see ourselves as unique in world football and that defines our identity. We do not say that we are better or worse, merely different.
"We only wish for the sons of our soil to represent our club, and in so wishing we stand out as a sporting entity, not a business concept. We wish to mould our players into men, not just footballers, and each time that a player from the cantera makes his debut we feel we have realised an objective which is in harmony with the ideologies of our founders and forefathers."
Asier Arrate, the club historian, was disbelieving when his asked if his club's policy could be construed as racist, saying, "It's like somebody saying the Irish team is racist because it only plays Irishmen! The policy of playing solely Basques in the team is a tradition. It has absolutely nothing to do with racism.
"If someone comes from Ecuador tomorrow and signs their child up to our youth system, that child can play for Athletic. A player has to have been born in the Basque country or have been playing with a Basque club since their early teens. This is what the club adopted from its earliest years. So the definition of Basqueness is not a closed question."
The point about Ireland is pertinent, for like international teams, Athletic has used the grandparent rule, allowing the recruitment of some players of 'Basque descent'. Even so, the policy hasn't been able to reverse the club's fortunes. 

"We haven't won a title in 20 years," shrugs historian Arrate, "but what has been important is that the philosophy has been strengthened. People are patient. They know to accept it when we don't win. It's not like at Madrid where signings are made if the team is doing badly. Nobody has proposed signing foreigners [despite the lack of success].
"The policy is an obstacle"
"The policy is an obstacle, but the break in the relationship between the team and the fans would be very big. Here, everyone has a neighbour who played for Athletic. In small towns, there are former players, youth players, even managers of Athletic. They love the team.
"Real Madrid fills the Bernabéu every Sunday, but thirty thousand of them are tourists. They are at Real Madrid today and Chelsea tomorrow. They can't identify with those who are playing, if they're here today and at another team tomorrow."
And did Sociedad lose a sense of identity by allowing foreigners? "That's Real's decision," says Arrate diplomatically. "I could be wrong, but when they finished La Liga runners-up three years ago the fans were happy. When they win they are happy with the foreigners, and when they lose they want to return to the old policy."
Many Athletic fans do not see it as a no-foreigners policy but as a pro-Basque policy. That definition of Basque is still open to interpretation, but they see the recruitment of players like French international Bixente Lizarazu from the French Basque country as evidence that the club isn't xenophobic. They also cite the club's British origins, the use of Athletic in their name and the regular employment of foreign coaches, including Brits Frederick Pentland, William Garbutt and, more recently, Howard Kendall.
Indeed the former Everton manager was unsuccessful but popular after eschewing a penthouse apartment offered by the club for a spartan alternative overlooking the training ground. And the relationship remained strong – when Athletic played in Liverpool in a pre-season friendly, Kendall met the team at the airport.
Ultimately, though, it's the fans who decide on the club's selection policy, and Athletic's 34,373 members appear supportive. "I'd rather be relegated than change. People are happy with the policy," says Inigo. "Fans love to go to the Lezama [training ground] to watch the players of the future. We know that they have a realistic chance of making it. There is a lot of talent in the Basque country and we want Athletic to be a club represented by local people who appreciate what it means to the community. We don't want a Brazilian to come here and score goals, then leave when he gets a better offer."
NEXT: "We had to change our whole policy because they took our best players"
What about the Basques who leave Athletic, to earn more elsewhere? Like Asier Del Horno at Chelsea? "If a Basque player goes on to be a success then I am pleased for him, we can't stop ambition," says another Athletic fan, coincidentally also named Asier.
Real Sociedad have obviously suffered from Athletic's retention of the policy more than most. "We had to change our whole policy because they took our best players," says Mikel, a Sociedad regular. "Now, it only becomes a problem for us if more than 50% of our players came from outside Guipuzcoa.
"But Athletic cannot claim to be more Basque than us when Donostia [the Basque word for San Sebastian] is far more Basque. Bilbao is an industrial city full of immigrants who moved there in the 1950s and '60s. Most people in my city, which is far more beautiful by the way, have a pure Basque bloodline."
Butchers and builders
En route to San Mames, the FourFourTwo photographer is attracting attention. A fan approaches and introduces himself as the leader of the German Athletic Supporters' Club. This is getting confusing. While a different fan has a gripe with the magazine. "I bought your magazine once in England but it referred to Andoni Goicoechea as the Butcher of Bilbao. He wasn't a butcher, he was a great…"
But his tackle on Maradona during his Barcelona days was one of the worst of all time, suggests FFT. "It was a fair tackle," he replies, and FFT knows this is an argument it cannot win.

Talk among the fans along Poza is of a new home being built for Athletic. With its famous arch, San Mames has long been considered one of the finest and most atmospheric stadiums in Spain, yet despite being remodelled for Espana '82, it's fraying around the edges, with some awkward sightlines, tight concourses and steel spikes separating different sections. There's no room to expand its 40,000 capacity, either.
"I want the new stadium," says one fan, "because I struggle to get tickets here." He's talking nonsense though. With an average gate of 33,726 last season (Real Sociedad averaged 22,129) there were more than 6,000 spare seats for every game. And even for this Basque derby it was possible to buy tickets on general sale in the week leading up to the game.
The arched main stand is located on a street named after Pichichi, a prolific goalscorer who scored the first goal when the stadium opened in 1913. The product of a working-class 'migrant' father and a Basque mother, he died of typhus in 1922 at the age of 29. His name endures as the top scorer in Spain each season is awarded the prestigious pichichi. 

As the atmosphere testifies, trouble is rare at derby games, indeed until the 1990s, Real Sociedad and Athletic had co-existed without any real problems on or off the pitch.

The fans shared the same Basque ideology, a healthy respect and suspicion of all things Madrid. "They are our main rivals for historical reasons," explains Inigo. "They represent the central powers of Spain and many of their supporters are right-wing while there is a more left-wing mentality in the Basque country."

The first time Athletic and Real Sociedad met after the death of Franco in 1976, the two captains held the Basque flag together on the centre circle before the game to reassert their Basque identity. This was its first public display since the end of the dictatorship, and the flag was accompanied by a rendition of Basque Soldiers, one of the ETA anthems.
Mutual respect

In 1977, Athletic reached the UEFA Cup final, only losing on away goals to Juventus. Athletic fans were pleased when Real Sociedad won their two league titles in the early 1980s, pipping Real Madrid to the title in 1981 on the last day of the season with a goal 12 seconds from the end.
The feeling was reciprocated when Athletic followed up with consecutive titles bagged by their famously aggressive team in 1983 and 1984 under young coach Javier Clemente. To the Basques who agreed with the policies of both their main clubs, this was justification of their historic sporting prowess.
Relationships soured in 1988, however, after Real Sociedad scored just 38 league goals in one season. Manager John Toshack left for Real Madrid and Athletic poached the source of those few goals, striker Loren. But that was nothing compared to an episode seven years later, when Athletic bought Joseba Etxeberria, the young Spain international and Basque winger, from la Real for £3 million.
Real Sociedad were outraged that their great young striking hope was joining their main rivals and felt that a gentlemen's agreement not to poach each other's junior players had been broken. The two clubs broke off formal relations for two years. Etxeberria failed to appear in San Sebastian the following season… so he missed the giant peseta notes that his old fans had made for him, accusing him of being a mercenary.
When he returned and scored twice in 2001, the abuse was so bad that Real Sociedad were fined by the Spanish Federation for the conduct of their fans. Now 29, Etxeberria has since played over 400 league games for Athletic.
NEXT: "Most fans get on well but many of us hate each other. I have been spat on"
In the intervening years, relations have thawed slightly. "Most of the fans get on well and you can see them mixing in the street," says Athletic fan Unai, "but many of us hate each other. I have been spat on in Donostia, but I am surprised that there is not a friendship between the two ultra groups because both support ETA and want complete independence.
"As for the regular fans, Sociedad think that we are arrogant, they hate us and they are jealous because we are the bigger team, with a stronger identity and we sign their best players.
"The players would rather play for Athletic because we are the flagship Basque club. We also issue longer contracts and pay higher wages. As for Donostia, we just think that they are middle-class French people!" Given that San Sebastian is one of the richest cities in Spain, that accusation may not be entirely unreasonable.
Community between fans, not clashes

Prior to kick off, most fans appear to be mixing well in the ground, however. Match programmes are given away free and there's no segregation, although a couple of hundred visiting fans have occupied blocks of seats directly behind both goals.
Before kick-off, two huge murals of Guerrero are unfurled from the upper tiers. The 32-year-old striker retired in the summer after a 24-year association with Athletic, 14 as a first-team player, and he's expected to take up a coaching role at the club.
The atmosphere, like the temperature in August, is warm rather than febrile. There are no choreographed displays or flares, and only chants rather than anthems.
There's a genuine sense of community in the stands. Some Spanish grounds are half empty for most games – Espanyol was just 39% full on average last season and even Deportivo only averaged 20,794. In Bilbao, it's usually 95% full and familiar faces seem glad to see each other after the summer break. The stewards wear traditional red Basque berets while banners ask for justice for ETA members held in prisons hundreds of miles from the Basque country.
San Mames' stands are high and close to the pitch, with many fans reluctant to leave the tight, intimidating environs for a new, more sedate stadium. Real Sociedad's 32,000-capacity Anoeta may have opened in 1993, but a running track makes it unpopular with fans, especially as their old Atocha home was every bit as tight, atmospheric and intimidating for visiting teams.
Javi Martinez, a 17-year-old central midfielder making his debut, is applauded heartily when his name is announced. It's as if they know he'll be with them for the next 15 years and want him to feel at home.
The game starts and there are so many high and long balls that the game seems more British than Iberian. Athletic take the lead in the first half from a controversial penalty. The linesman flags late under duress from an Athletic player and several thousand home fans who are stood within touching distance of the official, all of who spot a handball in the box. The referee awards the spot kick. Video replays in the stands show that there wasn't a handball. Rival fans dispute the decision and it all gets heated, stopping just short of outright aggression. 
Even so, it's 1-0.
"Athletic! Athletic! Athletic!" chant the fans. With Basque spoken readily, they must be the only tri-lingual football fans in the world, apart from the Dutch.
Real Sociedad are the better team in the second half, but they don't equalise until five minutes from time. They deserve it on the balance of play and pockets of fans erupt around the stadium, including behind both goals. Some Athletic fans don't appreciate their celebrations and begin pelting a pocket of visiting fans with plastic bottles.
Trouble is only averted, not by intervention from the Basque police force the Ertzaintza, but by a tough-looking 50-something club official in a denim shirt, who faces the crowd and points at the culprits in a manner which suggests: "Do that again and you have a problem." The bottle-throwing soon stops.
It's the last action of the game and leaves the spoils shared, which seems appropriate. Both sets of fans are expecting a mid-table finish this season, their ambitions diminishing each decade.
Athletic especially are a relic from a bygone age, when footballers represented their community and played for their local team. Despite top-level football now being a global business, Athletic refuse to budge from tradition and trawl a wider net in search of talent, and their loyal fans wouldn't have it any other way. For them it's identity and pride over points and profits.
Thank you for reading 5 articles this month* Join now for unlimited access
Enjoy your first month for just £1 / $1 / €1
*Read 5 free articles per month without a subscription
Join now for unlimited access
Try first month for just £1 / $1 / €1