From bench warmer to world beater: How Bayern's Dante took his long walk to freedom
By Joe Brewin published
Joe Brewin examines the fascinating story behind Bayern Munich's fun-loving stopper...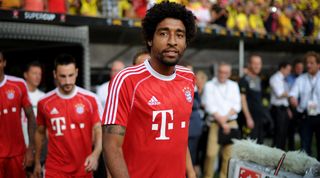 In his first season at Bayern Munich he won every trophy there was to win. He played his part in the Champions League obliteration of Barcelona and beyond, was an ever-present in the record-breaking defence that shipped a miserly 18 Bundesliga goals, and helped Brazil lift the Confederations Cup in the same year he made his national team debut.
In a nutshell, 2013 was a rather good year for Dante.
Dig a little deeper, though, and it becomes clear just how far the 30-year-old stopper has come. It took him until the age of 25 to play regularly in any one of Europe's top five leagues – even then it came with relegation scrappers Borussia Mönchengladbach – but just five seasons later he was conquering all with the world's best team.
The Brazilian's long road to glory is a truly fascinating one, which began in his hometown of Salvador. As a youngster, disappointment was sadly never far away, and several unsuccessful trials came and went before he was forced into the brave decision which would change his life forever.
FACTFILE
Name: Dante Bonfim Costa Santos
Date of birth: October 18 1983
Place of birth: Salvador, Bahia, Brazil
Position: Central defender
Previous clubs: Juventude, Lille, Charleroi, Standard Liege, Borussia Mönchengladbach
Honours: Belgian Pro League ('08), Belgian Super Cup ('08); DfL-Supercup ('12) Bundesliga, DfB-Pokal, Champions League ('13), European Super Cup, FIFA World Club Cup ('13)
"My family was very poor," Dante says in the March issue of FourFourTwo. "I sat in my bedroom, looked at the games console there and said to myself, 'Oh well…'
"A couple of days later I managed to sell it. It was the only way I could afford the bus ticket and the only way I got my chance in the game."
Beautiful south
That chance came in the form of southern side Juventude, a long way from home - more than 1,800 miles away, in fact. The spindly defender had to make his opportunity count, and fortunately did so. In 2004, aged 20, he joined Ligue 1 up-and-comers Lille, who finished 10th in his first season at the club.
Dante waited for his chance, and waited some more. But regular first-team football never came.
"He had to ask where he had landed. I remember in the first practice he suffered from the cold," recalled skipper Grégory Tafforeau.
In the following two seasons – his only full ones in France – Lille finished second and third. Dante made just 12 league outings for Claude Puel's side, who had been transformed into an ambitious Champions League outfit.
"In the pecking order he was a bit further down the line," former Lille team-mate and current Stoke man Peter Odemwingie tells FFT. "We had other defenders who were left-footed like Rafael, and our captain Tafforeau was a left-back.
"I remember he had a groin injury once that needed an operation, so that was a setback. Sometimes you would feel for him when you were playing with him in training sessions or matches."
Odemwingie grew close with his fellow star during their time together in France, however, and insists he did everything he could do pick up his companheiro when times were tough.
"When he wasn't playing at Lille I would always try and encourage him – he was frustrated, but I would tell him: 'you are a top, top player and you are going to make it'," he says. "He always had a nice long pass on him to find the striker, and he was a bit tough too – he'd always use his hands, even in training, which annoyed a few people.
"Sometimes you'd have to tell him off for it! He just didn't want you to get past him – sometimes he'd foul you unnecessarily when he was younger. But he was always a character and always worked hard."
A character, you say? FFT is a keen endorser of japery.
"We used to pull his hair a little bit!" adds Odemwingie. "I had my braids then, but instead of doing that we used to laugh at him because his hair was different and came out big. Then he started braiding his for a little bit. We used to call him 'big head' and he kept that style going for years – even now.
"We were really close friends – neither of us drink much but we once had a Brazilian party at his house where he made me some Caipirinhas and got me the drunkest I've ever been…"
These days it's fair to say the Nigerian is toasting his friend's success. Ask any of Dante's former team-mates from Lille, in fact, and each will reveal their admiration for the defender's hard route to the top.
"When I saw him playing in Germany for Mönchengladbach I was so happy," says Odemwingie.
"I'd point and say, 'for this guy the road to the top was very hard'. He'd had a few injuries, some bad luck and wasn't playing enough, so I was always celebrating his success."
Another former Lille man, Geoffrey Dernis, now of Ligue 2 side Brest, declared: "He is a player who has walked very far, and bounced back as many players do not know how to."
Eventually, however, the time came for each to part their separate ways for very different parts of the globe; Dante to Charleroi in Belgium, and Odemwingie to Lokomotiv Moscow a year later.
The Dante of today regrets nothing of his Lille days, though. He recalls difficulties with homesickness and learning French, although Odemwingie remembers a colleague whose linguistic skills were better than his own.
"I think I was even trying to learn French from him – his was always getting better," says the Stoke forward. "I know if you speak Portuguese moving over to French is a bit easier, but he was quick.
"He tried to speak English with us too – I used to laugh! He tried to learn some Nigerian slang and spoke in broken English after picking up a few things from me."
Slow burner
It's difficult to imagine a quintuple winner warming the bench during the most important years of his career, but the happy-go-lucky defender of today doesn't look back with remorse. He remembers where he came from, and enjoys every moment with this history-making team under Pep Guardiola's tutelage.
It's also with little wonder that he is one of the most popular figures in the Bayern dressing room. He can do no wrong with the club's fans either, not least thanks to selfie celebration videos like the one below.
Can't see the video? No problemo - click here
In February last year Dante made his debut for Brazil against England, his first appearance of any kind for the Seleção. Almost four months later he was featuring at the Confederations Cup, and netted his first goal against Italy in Brazil's final group stage match (they went on to win 4-2). The venue? Arena Fonte Nova, Salvador. There's no place like home.
He's been called a late bloomer with good reason, but that's just not the case if you ask the man himself.
"I think it's fair to say there has been an evolution in the clubs I have played for, but in terms of my quality as a player I disagree," he tells FFT. "When you get the chance to play in France as an 18 or 19-year-old, that's a huge step. Every player has a story. Every player has their own path to follow. I don't think I developed late – that is just the path my career followed."
Joining Belgian middlers Charleroi in 2006 sparked the phenomenal trajectory which landed him at the Allianz Arena 18 months ago. He needed only a season to make his case, helping his new team finish fifth before stepping up to join UEFA Cup-qualified Standard Liege.
Naturally, his debut for les Rouches came against his former club in a 5-2 win, when he lined up alongside the likes of Marouane Fellaini, Steven Defour and future Liverpool man Milan Jovanovic. Earlier in the season his Charleroi side ran out 2-1 winners in the reverse fixture. "I was the only one to win it all," he joked.
And indeed he did. Standard overhauled Anderlecht to win the title by seven points, and beat their close rivals 3-1 in the Super Cup final shortly after. It was no surprise when, 15 games into the new season, Dante was lured to the Bundesliga with struggling Gladbach in December 2008.
Though he didn't make his debut for another three months, his performances towards the end of that first season proved to Michael Frontzeck's side that their new man was valuable. Dante became a regular as die Fohlen battled through another two seasons of struggle – even forced to win the 2010/11 relegation play-off against VfL Bochum, in which he featured in both legs alongside Marco Reus – before their woes were finally ended with a memorable fourth-placed finish the following campaign.
Bayern and Jupp Heynckes were suitably convinced – after all, the Brazilian had starred for the plucky underdogs in their fine campaign, and was influential en route to the DfB-Pokal semi-finals where only a shootout defeat to Bayern denied them a place in the final. Dante missed his spot-kick that night, but it mattered not – his work had long been noticed.
Dante's peak
This season it's more of the same where the Brazilian is concerned. No outfield player has started more games, as Bayern surge towards consecutive titles and remain well poised to match last season's stunning exploits.
Yet again Pep's men are impeccable at the back, having conceded just nine goals in their 21 league games so far this season. It's with good reason, of course – and Dante is an influential figure in it.
In January's midweek clash at Stuttgart, the Bavarians trailed to Vedad Ibisevic's first-half goal with 15 minutes remaining. Substitute Claudio Pizarro equalised before Thiago Alcantara won it in the final minute of added time with a brilliant overhead kick – after all, that's just what Bayern do – but there was another standout moment in between. With Stuttgart chasing a late winner, Dante blocked a menacing cross from Mohammed Abdellaoue to keep his side in the game. Beating his chest and body-thumping any team-mate in sight, his celebrations were more like those of a man who'd just won the league.
But this is a player who has already won, and clearly is not resting on his laurels. After all, last season's incredible debut campaign is really just the start – there's Germany and Europe to conquer (again), before the small matter of the world on his doorstep. Then what? A new contract? More of the same?... Manchester United, anyone? At this rate it seems entirely up to him.
So a lesson then, kids – never give up. But maybe eBay your Game Boy first.
Thank you for reading 5 articles this month* Join now for unlimited access
Enjoy your first month for just £1 / $1 / €1
*Read 5 free articles per month without a subscription
Join now for unlimited access
Try first month for just £1 / $1 / €1
Joe is the Deputy Editor at FourFourTwo, having risen through the FFT academy and been on the brand since 2013 in various capacities.
By weekend and frustrating midweek night he is a Leicester City fan, and in 2020 co-wrote the autobiography of former Foxes winger Matt Piper – subsequently listed for both the Telegraph and William Hill Sports Book of the Year awards.
Quizzes, features and footballing fun
Get the best features, fun and footballing frolics straight to your inbox every week.
Thank you for signing up to Four Four Two. You will receive a verification email shortly.
There was a problem. Please refresh the page and try again.