Bergkamp remembered by his former ghost writer, 20 years after his Arsenal arrival
Gooner Chas Newkey-Burden once helped run the Dutchman's personal website. Two decades on he pays tribute to the affable Iceman, and reflects on the (occasionally sozzled) conversations they shared...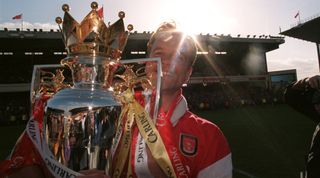 Arsenal fans had a couple of songs for their favourite Dutchman. The most fitting was the incessant chant of: "We've got Dennis Bergkamp, we've got Dennis Bergkamp…" To opposition fans it may have sounded boastful, and of course in part it was, but it was also a vocal expression of our disbelief at what fate had dealt us.
Just a month earlier, Arsenal finished the season in a lowly 12th place, having spent the campaign boring fans on the pitch, suffering a pair of mighty scandals off it, and signing Chris Kiwomya. Yet somehow, in the middle of the summer, one of the game's most iconic footballers chose to join.
ALSO ON FFT.COM
Worth the wait
It took him a little while to get going, but the fans didn't mind. Once he'd bagged his first goal he set about extravagantly decorating games wherever he went. No wonder the Highbury faithful loved him: Bergkamp is a player whose role cuts to the essence of what it means to be a fan. Whatever our age, we're all children when we watch football; boys and girls watching a show, hoping for a bit of magic.
And the Dutchman was prolifically magical: a physics-defying, pirouetting shaman. His vision was from an upper world, his control and sleight of foot enchanting, his passes almost infuriatingly precise. Heck, even to watch him stroll onto the pitch and warm up felt a treat for a while back there. I found myself arriving at my seat a bit earlier each week. I wasn't the only one.
For his team-mates, Bergkamp was quite the maestro. Nowhere was his influence felt more keenly than on the training ground. Bergkamp was stunned to smell alcohol on the breath of his colleagues, and to see the unhealthy food they feasted upon. He trained with composure and dedication, refuelled wisely, and went about his affairs with serenely focused presence, an idyllic contrast to the self-destructively boisterous atmosphere of English football in the mid-1990s.
Would it be too narratively fanciful to wonder if Arsene Wenger may not have chosen to join the Gunners had Bergkamp, the squad's only Wengerian talent, not already been on the books? Perhaps. But it's safe to assume that the Frenchman wouldn't have been able to introduce his scientific, cultured revolution with such ease and speed had Bergkamp not blazed a trail for it in the previous campaign.
Quiet at the back
Dennis had effectively been laying the groundwork for a year. He was Arsene's pre-emptive ambassador; teasing open the minds of his team-mates to the idea of a modern, continental approach.
From the day the Dutchman arrived, all of his colleagues wanted a bit of what Dennis had. So, by the time a bespectacled Frenchman stood in front of them a year later, the squad were ready to listen to a man they might have otherwise distrusted and spat out, as they had with his predecessor, Bruce Rioch.
ALSO ON FFT.COM
Bergkamp begat Wenger, and Wenger begat it all. Soon, his French revolution sparked imitations at other top-flight teams. Under orders from their club managers, England players would interrogate the likes of Ray Parlour and Tony Adams at international get-togethers. Meanwhile, the cry went up from boardrooms across the land: get me a manager who's foreign and clever! And it had been Bergkamp who first flicked the switch for all this enlightenment.
Phone pal
His arrival, 20 years ago this weekend, was an earthquake moment. I remember the day so well. I was walking down the street in an Arsenal shirt, when an old man came rushing out of his house and leapt on top of me. "We've got Bergkamp! Official, official!" he shouted, over and over. It felt like we'd won a trophy. I bought all the papers the next morning and gazed at the reports in shock. It was actually my birthday, but it felt like one for all Arsenal fans. I queued up to get his name printed on my shirt, and then felt physically sick with excitement when I clicked into Highbury for his debut.
I could hardly believe it when, in 2000, I was approached to run Dennis's official personal website. But it wasn't as easy a 'yes' for me as you may imagine. His reputation as the Iceman preceded him, and the advice to never meet your heroes lest they disappoint is surely all the wiser when your hero is a deeply private, notoriously impenetrable soul.
But I went for it and we hit it off immediately, working together on an almost daily basis for years. The Dennis I discovered was a man of depth and spiritual vibration. He was aridly hilarious, touchingly thoughtful and, when he was left out of the side, brilliantly grumpy. But it was the depth that stood out: so Zen-like could Dennis be that, had you stood him among a group of Buddhist monks, they'd have seemed caffeined-up berks in comparison.
When it came to composing his updates for the website and penning his Guardian column, it wasn't a traditional ghostwriter he needed. It was more a matter of me pinging him some assists, and seeing what we came up with together. A decent way to earn a crust.
A friend once said to me: "It's so cool that you've got Dennis Bergkamp's phone number." I replied: "Yeah, but it's even cooler that he's got mine." Frequently, he'd phone for a chat when I was, say, sitting on a bus or queuing in a supermarket. "I see," I'd say as I bagged up my groceries or sat on the top deck, "and what did Wenger say to you all at half-time?" I often attracted disbelieving stares.
One call stands out, even though I don't remember a word of it. We spoke, unexpectedly, a few hours after Arsenal had won the league at Old Trafford in 2002. I was in an interesting position for such a conversation: queuing for a late-night kebab, firmly in the "I wuv you, I do" point of drunkenness, and only remaining vertical thanks to my soaring adrenalin. Goodness only knows what I said to him. When I sheepishly asked him about it the next day, he chuckled, and said: "Chas, it was very entertaining." Being called entertaining by Dennis Bergkamp – another tick on the old bucket list.
Looking back
Unlike too many stars of the Wenger era, Dennis never swanned off to the Nou Camp or the north-west. Instead he stayed with us for 11 years and retired a Gooner. 'Will we ever see his like again?' people ask at such times. That plaudit is unnecessarily defeatist and schmaltzy. Yet, after Dennis left in 2006, no Gunners player captured my imagination to even remotely the same degree until the brilliant, bewitching Mesut Ozil arrived in 2013.
Twenty years after Bergkamp signed, I don't go all misty-eyed or wanting when I think about his time with the club I love. We had 11 years of his magic, and having had these glimpses of the divine, I can only feel two emotions: enormous gratitude and a lingering dash of disbelief.
Quizzes, features and footballing fun
Get the best features, fun and footballing frolics straight to your inbox every week.
Thank you for signing up to Four Four Two. You will receive a verification email shortly.
There was a problem. Please refresh the page and try again.