Ranked! The 15 best retro England football shirts of all time
Rating the best retro England football shirts and finest threads the Three Lions have worn across the ages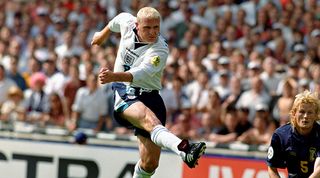 The best retro England football shirts are associated with triumph. International glory has been hard to come by for England in recent decades, but, after a semi-final in the 2018 World Cup and a final appearance in Euro 2020, Gareth Southgate and his squad will be intent on going one better at World Cup 2022 (opens in new tab) and ensuring their latest bold kit (opens in new tab) goes down in football folklore.
True, FourFourTwo might not have ranked England's home shirt (opens in new tab) for the tournament in Qatar too highly when compared with every other kit set to appear (opens in new tab) there, but, ultimately, how well a shirt is received among fans depends on the success a nation has while wearing it.
Nike has been England's kit manufacturer for the past decade now, and there have been some belting and slightly more questionable designs (opens in new tab) during that time. However, Umbro and Admiral are the most recognisable manufacturers from years gone by, with vintage England shirts (opens in new tab) from over the years now available to buy. With that being said, we have picked out the 15 best ever kits worn by the Three Lions – featuring striped sleeves, buttoned-up collars and, er, multicoloured crosses.
The best retro England football shirts of all time:
15. 1995-96, home
Hardly high style: thanks to the baggy mid-90s trend, the shirts were absolutely ginormous, making beanpoles like Darren Anderton and Steve McManaman look like they'd just run through a sheet on their mum's washing line. The centralised badge and Umbro logo is fairly basic, too – but it remains one of England's most fondly remembered efforts thanks to a glorious summer performance from the Three Lions at Euro '96.
The shirt has made a resurgence in recent years, though, with fans donning the collared kit most recently at Euro 2020 - when The Three Lions tune reached such incredible heights once again. It remains a classic retro kit, befitting of the 90s and the feel-good nature around the country during the 1996 European Championships.
6. 2010-11, home
A true fashionista might pop this one in pole position: it was designed by Peter Saville, the genius behind album covers for Joy Division, Roxy Music, Brian Eno, Peter Gabriel, Pulp and Suede. And it really was a thing to behold, with red, blue, green and purple crosses dotted on the shoulders, a tasteful collar, and royal blue highlights.
England never wore it at an international tournament, though, sandwiched in between the 2010 World Cup and 2012 Euros, this tasty shirt only lasted a season before Umbro introduced a new design. A shame, really.
13. 2003-05, away
Exactly the same shade of red as the 1966 World Cup final shirt, this away kit from the early noughties is simply lovely. Worn at Euro 2004, the shoulders are admittedly as patriotic as possible with the St George's crosses, but they still work surprisingly well.
The shirts also featured silver letters and numbers, something a little bit different that helps it to stand out from the crowd. The shirt is reminiscent of Wayne Rooney bursting through at 18-years-old, scoring a double in the red kit against Croatia during a 4-2 win.
12. 1984-87, home
A classy neckline and pale stripes gave this top a business-like feel, and business was also reasonably good for the garments' occupants – especially Gary Lineker, who won the 1986 World Cup Golden Boot wearing it.
Granted Diego Maradona did embarrass half of the England team wearing it in Mexico, too, but at least they looked smart while sliding at the ankles of the elusive Argentine dancing past them.
11. 1987-89, home
A staple eighties England shirt, this has been boosted in the public perception by that famous pic of Terry Butcher: bandage around head, dripping in claret after either fighting off numerous wild animals or bonking his head during a 1989 World Cup qualifier with Sweden.
"I needed seven stitches in the wound, the problem was that the doc did only five," recalled the defender. "But if Bobby Robson had substituted me, I'd have hit him."
10. 1997-98, away
England won one of their two trophies in this shirt - true, just the 1997 Tournoi de France, but it was easy to mentally substitute the 1998 World Cup trophy for the weird footy gong that Alan Shearer held aloft afterwards in the mind's eye.
Alas, France 1998 didn't quite go to plan, but their clobber looked reasonable, and even the subtle flag pattern embedded in the design wasn't overkill.
9. 1949-54, home
A post-war peach: plain, with long sleeves (usually rolled up to the elbow), a giant button-up collar and a simple badge, the Brylcreemed likes of Billy Wright and Tom Finney looked pretty splendid.
Oddly, the badge sometimes featured an eleventh Tudor rose dotted amid the lions (there are usually just 10). Regardless, it is a simple but effective design.
8. 2001-03, away
Umbro churned out some rank England shirts, but this was a pearl: moving on from the 1990s over-meddling, it was a simple and striking red, and with an England flag collar that was nicely understated. The blue stitching offers the shirt something different, too, while the England flag on the cuffs of the sleeves stands out to make it look even better.
David Beckham achieved redemption with a penalty goal against Argentina at the 2002 World Cup, but, most importantly, this shirt is reversible. Not often you get that with national team shirts.
7. 1974-80, away
While England endured a torrid spell in international football in the 1970s, at least their away kit looked the part. Indeed, England failed to qualify for two World Cups - in 1974 and 1978 - and didn't even make the 1976 European Championship. All this, despite winning the World Cup just a decade before.
This Admiral shirt featured striped sleeves rarely seen on an England top, due to never having had Adidas as a manufacturer, while the discotheque-ready collar is perfect.
6. 2018-19, home
We can already hear the cries of decree, telling us this shirt is unworthy of such a high position on this list. However, while it seemed Nike shirt designers simply dragged a Photoshop swoosh and a country badge onto a plain tee, tinker with the neck a little bit, and it's pub o' clock for the 2018 World Cup, at least this England variation looks stunning.
Sometimes less is more, and the lazy sods have undoubtedly produced a striking top worthy of glory right here. Kieran Tripper sure looked good blasting that free-kick in against Croatia in the semi-finals. Oh, what could have been.
5. 2019-22, home
A modern take on a retro design, the home shirt England wore at Euro 2020 could well have become the nation's most iconic kit ever, had they beaten Italy in the final.
Unfortunately, that wasn't to be, but the centralised badge and Nike logo, the contrasted ringer crew neck, the accent running down the side of the shirt, and the the edgy font used for the names and numbers truly makes this an instant classic in the pantheon of England kits.
Utilising both red and blue certainly helps to elevate this shirt, too.
4. 1990-93, home
Cor, now this shirt is a looker.
Most famously pictured being used as a snot rag by a very upset Geordie, the Italia '90 shirt of Gazza, Lineker, Platt and company has stood the test of time well – the slightly flammable looking material and subtle zig-zags give it an unmistakable but pleasant early-nineties feel.
Along with the 1996 Euro home shirt, and the next two on this list, the 1990-93 home jaunt is among the favourite retro kits for England fans to pick up, and it's certainly clear to see why.
3. 1980-83, home
England didn't lose a game at the 1982 World Cup in Spain, beating France, Czechoslovakia and Kuwait in the first group stage, but missing out on advancing from the second stage after two frustrating goalless draws at the Bernabeu against West Germany and Spain.
At least they looked like winners, thanks to a cracking Admiral effort with a glorious v-neck straddled by blue and red shoulder flanks. Nike even decided to nick inspiration from this shirt, opting to use the red and blue colours on England's 2018 World Cup warm-up top (opens in new tab) - a shirt fans would have been delighted to see the team wear in a proper match.
2. 1990-92, third
England kits have rarely been cool – you don't see many down at Dulwich Hamlet with their occupant ordering a craft beer – but this one undoubtedly was, mainly thanks to Barney Sumner from New Order popping it on for England's classic football song, World In Motion.
Despite being Manchester City blue and covered in the Umbro diamond formation that besmirched many other kits, it just worked. England never wore it at Italia '90, mind – and in fact donned it only once, against Turkey a year later. A shame.
1. 1966, away
Does this kit deserve a place at the top of the pile simply because it was worn during the only real moment of unbridled English footballing success ever, thus cementing it into the cortex of every Three Lions fan who has gazed upon the image of a fresh-faced Bobby Moore holding the trophy aloft on his mate's shoulders? Or does it deserve it simply because it's a design classic, pure and simple?
A bit of both, probably: if England had been a horrible bunch of cloggers at '66, this would still have been a beautiful, uncluttered and striking piece of work – but it can't be separated from its context, and nor need it be. Not everything was better in the sixties – just look at the dentistry on show in the pic – but the image takes us to a happy place, and not many other England kits can do that. A winner.
Thank you for reading 5 articles this month* Join now for unlimited access
Enjoy your first month for just £1 / $1 / €1
*Read 5 free articles per month without a subscription
Join now for unlimited access
Try first month for just £1 / $1 / €1