Bobby Charlton: Perfect XI
"Di Stefano was the most intelligent player ever"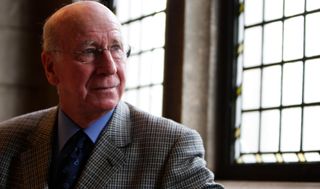 Having played with and against the best, Manchester United and England hero Sir Bobby Charlton's team really is the stuff of dreams...
Goalkeeper
Gordon Banks
This position caused me a headache. I was considering Peter Schmeichel, but I'm going to have to go with Gordon Banks, simply because I had a closer look at him during my playing career. To play against Gordon was a nightmare! You would lose morale as a striker sometimes, because he used to save everything. Equally, it boosted you when he was in the England team. He was a good athlete, but it was his positioning that was really his secret. He was always in the right place.
Right-back
Djalma Santos
Santos played for Brazil in four World Cups from 1954 and was the best right-back I ever saw. He was too good to be a full-back, really, he could have played anywhere on the pitch. He always seemed to have so much time on the ball, which is the sign of a really good player. I first saw him play in the 1958 World Cup-winning team, and he was still going in 1966.
Centre-back
Bobby Moore
I've had another dilemma over picking my centre-backs, because I didn't want to leave out John Charles, but I've had to go with Bobby and Franz Beckenbauer. Bobby was simply outstanding, and he had great awareness of where trouble was going to happen, so he could prevent it. A great man.
Centre-back
Franz Beckenbauer
He had a lot of the same qualities as Bobby Moore. Franz was a marvelous distributor of the ball, a great tackler, he always had control of a situation and he never panicked. They were both extremely cool and never looked like they were at full stretch. Such a hard player to play against.
Left-back
Silvio Marzolini
A left back who starred for Argentina through the 1960s. He was really difficult to play against. He wasn't that fast, but his positioning was so good he didn't need to be. He was very impressive to everyone at the World Cup in England. He had such good control that it gave him time and space to play the ball away safely. Marzolini could go forward too– so we've got another full back who was really comfortable on the ball.
Right midfield
Michel Platini
I'm picking really intelligent midfielders and Platini was in a different class. He was so precise with his passing that he'd find little bits of space that nobody else on the pitch could. He could pass it short or long, and he scored a lot of wonderful goals, too.
Central midfield
Alfredo Di Stefano
My captain. He was the most intelligent player ever. The first time I saw him, I was watching from up in the stands in the Bernabeu stadium when Man United played them in the old European Cup, and I couldn't take my eyes off this guy. I'd never seen anyone so good. He would release players with amazing defence-splitting passes, and he scored so many goals. Di Stefano also commanded so much respect: he led with authority.
Central midfield
Duncan Edwards
From a sheer strength point of view, he was unstoppable. He was so physically strong, he could go everywhere on the pitch and win the ball. And when he had it, he could distribute it accurately with either foot. Unfortunately there's not much footage in existence of Duncan playing, so you'll just have to take my word for how good he was! There is no player around today that you could compare him too… he was phenomenal.
Left-midfield
Johan Cruyff
He was pretty intelligent, too! A real football brain. He had superb control, he was inventive and he could perform magic with a ball to get himself out of trouble instinctively. He got a lot of goals, and although he was so skilful, he didn't show off – he played to the strengths of the players around him. This side would really keep hold of the ball.
Forward
Pele
I was debating between Maradona, Pele and Puskas for the places up front. But I couldn't leave Pele out. He was the most naturally gifted in every sense really, his control, his vision. Most people would chose Pele over Puskas because they saw more of him, but if you look at the stats, there' s not much in it. I remember when Pele scored his 1,000th goal. The pictures went round the world and I mentioned it to Puskas.He replied: 'I scored my 1,000th goal five years ago!' – and he wasn't being boastful. Maybe Pele and Puskas could play a half each!
Forward
Diego Maradona
Maradona gets in because he's the fastest player I've ever seen running with theball, and he kept it perfectly under control. His pace was absolutely frightening, you just couldn't stop him. And he always got himself into positions where he could score. You couldn't possibly leave him out.
Manager
Sir Alex Ferguson
I don't think you really need a manager – all you really need is to say we'll play 4-3-3 or 4-4-2 and let them do the rest – but if I've got to name one I'll go for Alex (Ferguson). He's the only manager capable of handling all of these players.
Substitutes
John Charles
If you're up against a team playing route one, you'd put Charles in. He was a huge guy who headed everything. But he was very skilful, too.
Francisco Gento
He was fast, skilful, and could score goals. Play him with wingers and you're guaranteed he'll get on the scoresheet.
Peter Schmeichel
An incredible shot-stopper, and United's greatest ever keeper.
Roy Keane
A born leader and a great team player. He didn't make many mistakes and he always made up for it if he did!
Ferenc Puskas
I never saw Puskas miss a chance when he was one-on-one with the keeper. His goalscoring record is incredible – he got pretty much a goal a game for both Real Madrid and Hungary.
Interview: Nick Moore. From the March 2007 issue of FourFourTwo.
Thank you for reading 5 articles this month* Join now for unlimited access
Enjoy your first month for just £1 / $1 / €1
*Read 5 free articles per month without a subscription
Join now for unlimited access
Try first month for just £1 / $1 / €1
Get FourFourTwo Newsletter
The best features, fun and footballing quizzes, straight to your inbox every week.
Nick Moore is a freelance journalist based on the Isle of Skye, Scotland. He wrote his first FourFourTwo feature in 2001 about Gerard Houllier's cup-treble-winning Liverpool side, and has continued to ink his witty words for the mag ever since. Nick has produced FFT's 'Ask A Silly Question' interview for 16 years, once getting Peter Crouch to confess that he dreams about being a dwarf.