Booze, togas and a persistent Mariachi band: The story of Scotland at Mexico 86
By Sam Rowe published
It's been 16 years since Scotland graced a major international tournament, but there was a time the Tartan Army were regular globe-trotters. Yet even in those relative glory days, things didn't always go to plan. Sam Rowe explains...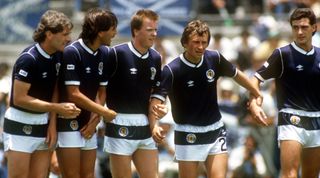 "Toga! Toga! Toga!" chants Gordon Strachan. The former Scotland midfielder's most vivid memory of representing his country during Mexico 86 came not on the pitch, but off it, while dressed as an ancient Roman.
"There was nothing to do," Strachan tells FourFourTwo. "No TV and you had one phone call a week, so we ended up in robes with flowers stuck in our hair, having a drink after the last game. Nobody else was there but us lads, it was good fun. You wouldn't get away with that these days."
Sadly for Scotland, their team's booze-soaked swansong in Central America almost serves as the perfect metaphor for their team's dismal performance in the 1986 World Cup, in that very few people turned up. After a disappointing group stage – comprising three games, one point and a sole goal scored – Scotland were eliminated and the players planned a boozy, Animal House-inspired toga party. As it turned out, only Strachan, Charlie Nicholas, Jim Bett and Steve Nichol went to the effort of stripping their beds for the occasion.
Brutal goodbye
"It's quite weird," says former Scotland striker Nicholas, now 52, then a flashy 24-year-old forward with Arsenal. "After the last game you go home, pack your bags and your flight's ready to go the next day – it's as quick and brutal as that.
"But after we got back we decided to have a toga night. Well, it ended up as only a few of us, but there we were dressed in togas, rather drunk, and it was quite a sight to see the current Scottish manager [Strachan] dressed up in a toga with a little wreath. It's a memory I'll never forget."
Scotland's brief stay in Mexico may be remembered more by the players for their behind the scenes hi-jinks, but much like the 1974, 78 and 82 tournaments that came before it – the latter of which saw the team painfully miss out on the second round on goal difference – it could have easily been so different.
Going into the competition, Scotland were still mourning the death of legendary manager Jock Stein, who tragically suffered a heart attack during the team's final qualification game against Wales in September 1985. But, with the reins handed to his part-time assistant Alex Ferguson – the man who'd guided Aberdeen to three league titles and Cup Winners' Cup glory in the previous six years – Nicholas claims the team was far from under a cloud.
"If Fergie had said no, I think there would've been disarray," says Nicholas, "but the fact Fergie was on board and Walter Smith was coming with him, I think was a big positive for a lot of guys.
"Several nights we'd be out for a bite to eat in restaurants and were allowed an occasional drink, so it was a very happy-go-lucky camp. I didn't know him, but he appealed to me immediately, Fergie."
Though serious lessons about hype were learned in 1978, when manager Ally Macleod proudly boasted his much-fancied Scots would lift the Jules Rimet, or come back with "at least a medal", confidence in 1986 was high. This was despite the absence of Liverpool stars Alan Hansen – left out by Ferguson who questioned his commitment after a series of withdrawals from the squad – and Kenny Dalglish through injury. Undeterred, Ferguson's gifted squad was determined to finally make an impression at a major tournament.
Missing stars
"We were confident," remembers Nicholas. "We knew we had a lot of talented players. I mean, Dalglish pulled out with a knee injury, and he was the legend of legends for us all, but there were people like me who just about got in.
"I'd gone from being the fourth choice striker to probably being the number one choice for Fergie, so it was an opportunity for me to get my reputation back in line and give myself an opportunity to play in a competition I'd never been in."
Yet when the competition did finally begin, Scotland failed to live up to expectation. It was often the way during the 1970s and 80s, despite a golden era of players. The first game was an unlucky loss against World Cup debutants Denmark, with a seemingly legitimate Roy Aitken goal disallowed and Charlie Nicholas taken off with an injury, as Scotland perished at the hands of a majestic Danish side teeming with talent, including Juventus superstar Michael Laudrup.
SEE ALSO The best team never to reach a semi-final
Disappointing though it was, the defeat did provide another first-rate extra-curricular memory for the team, as the Scots made drinking buddies of the Danish squad after spotting them in the team hotel.
"It was the day of the game, once we'd finished," says Strachan, then with Manchester United. "We got back to the hotel and there's banners and everything saying 'Well done'. We thought that wasn't bad for getting beat, so we were waving at the staff saying 'Thank you very much', but it was for Denmark who were staying in the same hotel.
"They arrived back, so we were clapping them off the bus as we'd had a few drinks: 'That's great – you're some player, lad'. Fantastic."
Sweaty work
Back on the pitch, and Scotland took the lead against West Germany in the second group match through Gordon Strachan, yet the Germans levelled quickly through Rudi Voller and eventually came out as victors.
"The hardest part was sitting and watching them against Germany," says Nicholas, consigned to the dugout with an ankle injury, "but when Gordon scored I actually thought we could win here. It was 120 degrees and it was taking its toll on the Germans as much as it was us, but they gradually wore us down.
"I remember the boys physically after that game – Graeme Souness lost close to a stone. He was in prime condition, as fit a guy as I'd ever come across, and he lost a stone in one game, it was extraordinary."
Somehow, despite a paltry return of one point and just one goal, Scotland entered their final game against Uruguay with a realistic chance of advancing to the second round, should they take all three points. But what followed from the South Americans – who only needed a draw to qualify – bordered on criminal. A red card for Jose Batista following a reducer on Gordon Strachan after just 56 seconds, a World Cup record, set the tone.
"They were a disgrace, an absolute disgrace," bemoans Nicholas. "They just came and kicked the living daylights out of the boys. It was extraordinary. It was a really old fashioned, brutal team that was going to take no prisoners. If they were going to go out, they were going to do it screaming and bawling – and they did scream and bawl, but they were physically abusive. How they got away with it I'll never know, but they did, and they qualified."
SEE ALSO The dirtiest game and the seven-goal thriller in Mexico
As with all their World Cup showings before (and since), Scotland were being sent home at the first hurdle. It was a heartbreaking, yet inherently British, affair.
Perhaps it just wasn't meant to be. After all, Alex Ferguson – now a knight of the realm – took the manager's job at a little-known club in Manchester a few months later, winning a record-breaking 49 trophies during his 26-year spell there. In hindsight, he probably doesn't lose too much sleep over his fleeting stint at the helm of the national squad.
Musical memories
Though they sadly didn't set the world alight on it, if nothing else Scotland left South America with plenty of off-field memories. And, if you're Gordon Strachan – a few friends, too.
"The entertainment [in the team hotel] was a Mariachi band," he smiles. "Every time we ate, these guys would play their f***ing music. The boys knew they were getting on my tits, and told them: 'The wee man loves you', so they thought they were my best mate. Any time I went for a cup of tea, these f***ing three would turn up.
"I remember one morning about six o'clock I cannae sleep, so I go down, make myself a cup of tea and I just see this head at the door. He goes and gets his two mates, they put their f***ing sombreros on and sang me a song at 6.15 in the morning."
Strachan laughs: "Matter of fact, I have a signed album in the house: 'To Gordon, our amigo'. So that was the highlight of my World Cup."
Thank you for reading 5 articles this month* Join now for unlimited access
Enjoy your first month for just £1 / $1 / €1
*Read 5 free articles per month without a subscription
Join now for unlimited access
Try first month for just £1 / $1 / €1
Quizzes, features and footballing fun
Get the best features, fun and footballing frolics straight to your inbox every week.
Thank you for signing up to Four Four Two. You will receive a verification email shortly.
There was a problem. Please refresh the page and try again.