Brazil's hire-and-fire culture is more mental than you'd imagine – and it's holding them back
By Jack Lang published
While Argentine bosses are employed freely across the world, South America's largest country struggles to export coaches. Jack Lang explains why short-term thinking is proving harmful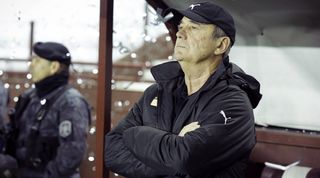 Levir Culpi wasn't going to go quietly into the dark night. The coach, axed by Brazilian giants Fluminense on November 6, had a few things he wanted to get off his chest first.
"I'm pissed off," he wrote in an open letter to the club. "I'm grateful for the opportunity to be part of Fluminense's history. To work for nine months at a club famous for being the best in the world at sacking coaches is no mean feat."
His ire was understandable. True, Flu had gone six games without a win – a run marked by some fairly miserable football. But Levir had brought stability to a club rocked by behind-the-scenes turmoil and the sale of star player Fred, even guiding the Tricolor to glory in the inaugural edition of the Primeira Liga (a tentative attempt at a new breakaway national competition) in April – all while traipsing between nondescript regional stadiums while the Maracanã was being used for the Olympics. It was a thankless task if ever there was one.
Common occurrence
Unfortunately, this kind of thing is all too common in Brazil. While Levir's claim that Flu are the worst offenders is up for debate, there can be little doubt that Brazilian clubs on the whole are world-class sackers of football managers.
Thirty-five rounds into the Série A season, there have already been 22 managerial changes (that's excluding caretaker regimes, of which there have been plenty). Only four sides have maintained the same manager since the campaign began in May; the same number have had three full-time coaches in that time. Of the 20 men who held top-flight managerial positions on January 1, only one remains in position: Dorival Júnior, at Santos.
Pan out further and the view gets even worse. Most clubs have had more than 10 managers since the start of the decade. Figueirense, Sport and Vitória have chopped and changed 16 times; Atlético Paranaense have gone through 19. A 2014 study by Mexican newspaper El Economista put the life expectancy of a manager in Brazil at 15.2 matches – the worst of any semi-major league. If anything, that felt a little generous.
The miserable trend owes much to the seam of short-termism that runs through Brazilian football. Supporters are notoriously impatient, even relative to their kind. Club presidents, many of whom are elected and thus need to keep their constituents onside, favour quick fixes over long-term projects, meaning no manager is ever more than a few adverse results away from the axe.
Managerial merry-go-round
The churn of managers inevitably means that the same old faces crop up at the same few clubs again and again. In recent years, Muricy Ramalho (São Paulo), Abel Braga, Celso Roth (both Internacional), Luiz Felipe Scolari (Grêmio), Vanderlei Luxemburgo (Flamengo) and our old friend Levir (Atlético Mineiro) have all reappeared at former stomping grounds. At times, the whole division appears to be operating a revolving-door policy: Argel Fucks, a man even more angry than his name would have you believe, is already on his third Brasileirão club of the season.
Against that backdrop, it's little surprise that younger managers with more modest CVs have struggled to break through in recent years. Promising tacticians like Adílson Batista, Ney Franco and Marquinhos Santos have been chewed up and spat out by the system. Others – Dorival Júnior, Mano Menezes, Caio Júnior – are only now piecing their careers back together after a series of setbacks.
It's left a worrying vacuum below the old guard and the problem isn't lost on those inside the bubble. "We need to make space for those coming through. That's fundamental," Atlético-PR coach Paulo Autuori told ESPN Brasil last month. "One leaves, another arrives, one leaves, another arrives... We have to get out of this vicious cycle."
For that to happen, Brazil must address the insularity that has long been at the heart of its football culture. It's a tendency to batten down the hatches and insist that the 'país do futebol' will find its own way, even when all evidence points to the fact that greater steps forward are being made elsewhere. This thinking was in evidence in 2012, when the CBF turned down the chance to speak to Pep Guardiola about the (very real) possibility of him coaching the national team. It was also demonstrated again last month, when Luxemburgo – one of the fast-fading grand old dames of Brazilian coaching – claimed that Guardiola is "more marketing than management".
Swimming against the tide
That smug short-sightedness would be fine if Brazil was producing managers of similar standing. But a glance at the shortlist for Best FIFA Men's Coach 2016 is revealing; it includes candidates from Germany, Spain, Italy, Portugal, Argentina, France and Wales, but no Brazilian. There is no Copacabana Klopp or Paraná Pochettino on the verge of taking the global game by storm.
That isn't to say that success stories are nowhere to be found. Marcelo Oliveira and Tite enjoyed success with Cruzeiro and Corinthians respectively after being granted time to incubate rounded projects. This term, 45-year-old Zé Ricardo has caught the eye at Flamengo, while Botafogo coach Jair Ventura – the son of Jairzinho – has a bright future ahead of him.
But these regimes are exceptions to the rule and, for Autuori, borne more of luck than judgement. "Zé Ricardo is doing a fantastic job at Flamengo," the 60-year-old said. "But was that an idea they planned out at the start of the season or did it just come about through necessity? Necessity. I want to see that kind of project emerge through planning."
A better future?
Help may soon be at hand: there have been tentative discussions about a law establishing a limit on the number of coaches each club can employ in a calendar year. That would be a start, but any change in the rules must also be accompanied by a cultural shift, both in boardrooms and in the stands. There must be more patience and more protection if Brazilian coaches are to be allowed to develop as they are elsewhere.
Failing that, there will be more familiar missteps to come – and more embittered coaches getting fed up with their lot. It's a dystopian vision, to be sure, but one that Levir hinted at in his mic-drop letter: "I'll write a book about my return to Brazil after seven years in Japan," he seethed. "I'm going to call it 'Back to Hell'."
Thank you for reading 5 articles this month* Join now for unlimited access
Enjoy your first month for just £1 / $1 / €1
*Read 5 free articles per month without a subscription
Join now for unlimited access
Try first month for just £1 / $1 / €1
Quizzes, features and footballing fun
Get the best features, fun and footballing frolics straight to your inbox every week.
Thank you for signing up to Four Four Two. You will receive a verification email shortly.
There was a problem. Please refresh the page and try again.