Football tactics: a brief history of three-man defences in English football
Back threes are all the rage thanks to Antonio Conte and now even Arsene Wenger, but they're far from pioneers in England as Thore Haugstad explains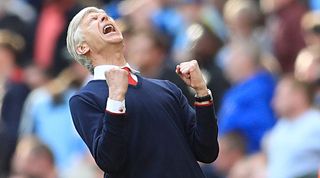 England's top flight has never been known for tactical experimentation, but as 4-4-2s and 4-2-3-1s are replaced by more unconventional systems, it's worth remembering that Antonio Conte and Pep Guardiola are not the first coaches to swim against the tide.
Over the last 30 years, a few brave souls have questioned whether 4-4-2 is the way to go. Some have even made use of the system that's perhaps viewed with the most suspicion – the back three. The risk has been considerable, given that virtually every young English player is drilled in a back four, but while some heretics have crashed and burned, others have managed to pull it off. 
1. The masterstroke: George Graham at Arsenal
George Graham built the famous Back Four at Highbury, but the cautious Scot was not averse to formational variations if they helped keep clean sheets. After arriving in 1986, the Scot created a well-drilled backline featuring a young Tony Adams and shrewd recruits like Nigel Winterburn and Lee Dixon. Three years later, their stinginess had put Arsenal close to a first league title in 18 years.
On the last day of the season, the Gunners needed to beat table-toppers Liverpool at Anfield by two clear goals to win the league. Graham approached the challenge in characteristic fashion – by playing even more defensively. The back four became a back five, with David O'Leary deployed as sweeper behind Bould and Adams. "I told the lads everyone expected us to go hell-for-leather from kick-off," Graham said later. "But I said I'd be delighted if the match was goalless at half-time."
Graham got what he wanted and, when Alan Smith put Arsenal ahead early in the second half, the shackles were removed. In stoppage time, Michael Thomas sealed a 2-0 win to complete one of the most dramatic league finishes English football has ever seen. Graham's tweak paid off.
2. Mid-90s efforts: Hoddle and the Spice Boys
Four years later, Glenn Hoddle took charge of Chelsea as player-manager. In came a more cultured passing style, drastic backroom changes and a permanent back three, with Hoddle himself playing as a sweeper in the first two seasons. In the third came reinforcements including Ruud Gullit, Mark Hughes and wing-back Dan Petrescu.
The results were mixed. Chelsea never finished higher than 11th under Hoddle and did better in the cups, reaching the 1994 FA Cup Final, when they were hammered 4-0 by Manchester United. Yet sound foundations had been built and, after Hoddle took the England job in 1996, Chelsea didn't fall below 6th until Jose Mourinho's catastrophic title defence 19 years later. "We helped to change the philosophy of that club," Hoddle told FourFourTwo in 2008.
Elsewhere in late 1994, Liverpool boss Roy Evans wheeled out the 3-5-2. The aim was to retain the flowing attacking football while solidifying the team, with Steve McManaman given a free role behind Robbie Fowler and Stan Collymore. They came 4th in 1995 – an improvement of four places on the previous year – then finished 3rd in 1996, and 4th in 1997.
That wasn't too bad, though it could have been better. In April 1997, the Reds would have gone top with three games left had they beaten United at home. Instead they lost 3-1 in a game of familiar defensive errors. "I ended up playing with a back three because I always felt we were a bit vulnerable through the middle," Evans said. "We just couldn't get a couple of solid lads in that position."
3. The disaster: McClaren's England in Croatia
If the back four typifies English football, the national team may well be the riskiest place to ditch it. In October 2006, Steve McClaren was under pressure after a goalless draw at home to Macedonia in the Euro 2008 qualifiers, and so decided to try out 3-5-2 in the hardest game of the group – Croatia away.
England looked as if they'd never played the system before, which was exactly the case. The back three of Rio Ferdinand, John Terry and Jamie Carragher were dragged all over the place and England lost 2-0, their first competitive defeat by such a margin since 1993.
Inevitably, McClaren got crucified. "We lost the game, so obviously the tactics didn't work," he stated, and was made little smarter by Croatia boss Slaven Bilic saying he had hoped England would play 3-5-2. However, McClaren at least offered some consolation for fans worried about missing out on the tournament: "There are enough points to play for so we'll be OK."
4. The resurrection: Roberto Martinez at Wigan
Years later, Roberto Martinez proved you don't need a star-studded squad to master a back three. In 2010, he had travelled to the World Cup in South Africa to study Marcelo Bielsa's thrilling Chile side, who lined up in a 3-3-1-3. Eighteen months on, he needed all the inspiration he could get.
His Wigan side were bottom of the Premier League after 23 games, five points adrift of safety. With little left to lose, Martinez switched to a 3-4-3. The Latics ended up winning seven of their last nine games, beating Liverpool, Arsenal and Manchester United. "In a year's time, there will be a lot of teams playing a 3-4-3, believe me," Martinez said, having lifted Wigan to 15th.
5. Recent interpretations: From Rodgers to Conte
He wasn't far wrong. The back three has been seen with increasing frequency. Brendan Rodgers occasionally used a 3-5-2 during Liverpool's 2013/14 title tilt, and engineered a run of 10 wins in 12 games a year later with 3-4-3. At Manchester United, Louis van Gaal was no stranger to the back three, but it was very much unloved.
This season, Guardiola, Ronald Koeman and Mauricio Pochettino are among those who have fielded similar systems. Still, the most successful version has been Conte's 3-4-3, which has helped Chelsea to five straight wins without conceding, making the Blues candidates to become the first title winners to use a back three permanently. In their last game, opponents Everton weren't even allowed a shot on target. Graham would have been delighted.
Quizzes, features and footballing fun
Get the best features, fun and footballing frolics straight to your inbox every week.
Thank you for signing up to Four Four Two. You will receive a verification email shortly.
There was a problem. Please refresh the page and try again.