China crisis: Why Brazil's post-World Cup clear-up is facing another big problem
Brazilians playing away from their home nation is nothing new, but the crumbling of bridges to Ukraine and bad attitudes have paved the way for future superpowers to muscle in, writes Gregor Vasconcelos...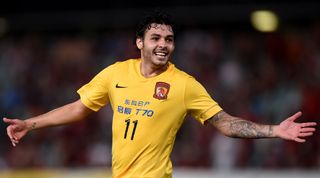 It certainly came as surprise when, just after being named Brasileirão Player of the Year for the second time running, Everton Ribeiro announced he was joining Al Ahli. Alternative markets are not new to Brazilian football, but there's an increasingly worrying trend of the country's finest players chasing eastern cash over sparring with the best in Europe.
Cruzeiro's Ribeiro had just been called up to Dunga's national team for the first time after Brazil's World Cup disaster, yet with his stock rising, he plumped for club football in the Middle East.
"I picked Ahli because of their project to become the top club in Asia and win the Asian Champions League," muttered the attacking midfielder. "I have come here for the challenge." Well, that and the reported £3.6 million per year contract.
Ribeiro's move is just the latest in a Minas Gerais summer exodus, however. Diego Tardelli and Ricardo Goulart, also fresh faces to Dunga's national team setup, left Cruzeiro and Atletico for China, with Shandong Luneng and Guangzhou Evergrande respectively. This season's Europa League group stage top goalscorer, Red Bull Salzburg's Alan, joined the latter for €11.1m in January.
In July 2014 there were 25 Brazilians playing in the Chinese Super League, most of them throwaway names. But the arrivals of Goulart, Tardelli and Alan shifted the goalposts.
Goulart, only 23 (main image), was expected to move to Europe after winning Placar's prestigious Golden Ball award last year. Asia wasn't even an option. Alan, 25, on a high following his excellent Europa League performances for Salzburg, left at the peak of his powers. Ribeiro, 26, claims to have turned down Manchester United to spend his best years in Dubai.
"The world is now so connected that everyone knows what is going on in China and England," shrugged Goulart. "I shall do all I can to draw attention to myself."
The players' insistences that their moves come from sporting motives alone are difficult to take seriously. Ronaldo's former agent Reinaldo Pitta says that "young players still harbour the dream of playing in Europe", but recent evidence suggests those dreams can be easily bought.
No fun for Dunga
None of this is good news for Brazil coach Dunga, the man charged with leading a new era after that 7-1 humbling by Germany.
"In my playing days, Europe was the leader, specifically Italian clubs, who bought players between 27 and 30 years old," he said.
"The next step was for countries behind the Iron Curtain, like Russia and Ukraine, to change the way Brazilian players were bought, poaching players at 18-20. Now we have a new market doing the same."
In his latest squad for matches against France and Chile, Shandong Luneng's Tardelli was the only China-based player to get the nod. Ribeiro and Goulart were omitted thanks to their lack of recent action.
"They're both starting pre-season, and we have not observed them day to day there," the Brazil boss explained. "We have Brazilian professionals working in all those countries. And not just players, they have many Brazilian coaches also.
"We will be observing. This is a new struggle for the coach of the national team. The coaches in Europe do not have to travel to see their players. The Brazil coach will have to."
It's not too long ago that moves to clubs like Shakhtar Donetsk were viewed with similar disdain by the Brazilian public. Eastern European clubs built a solid Brazilian base of largely unknown players, providing them with a platform to rise – namely the Champions League, which gave the likes of Willian and Fernandinho their big break – before selling them on for tidy profits.
INTERVIEW Douglas Costa: I could achieve everything I want to at Chelsea (opens in new tab)
But for now that particular door has been sealed shut in a war-ravaged country. Russia, another big market for Brazilian footballers, has suffered the same fate due to its political instability. Now it's China's turn.
Asian persuasion
The world's most populated country has been dipping into Brazilian waters for a while now, but with bridges to Ukraine and Russia all but burned out, Asia's big fish has finally found its opening to swallow some of Brazil's best players.
Previously, those who went to China did so only for a brief sojourn: see Didier Drogba and Nicolas Anelka in 2012; ex-Wolfsburg title winner Zvjezdan Misimovic soon after. But with the country's increasing appetite for football, it's unlikely this will remain the case for too much longer.
Two weeks ago, the Chinese government released a statement saying it had accepted a 'Football Reform Plan'. In it, they claimed that becoming good at the sport is an "ardent wish", and listed the nation's three biggest objectives: qualifying for a World Cup, hosting one, and ultimately winning it. "[We must] grasp the development opportunity as babies," opined president Xi Jinping.
Needless to say, that might take a while. Interest has to be built up in the meantime, and what better way to do it than through the Chinese Super League? For now, calling on foreigners to raise the bar is the plan – 76 of them in the league last year, 25 of them Brazilian.
Argentine Dario Conca, then of Fluminense, was arguably China's first big splurge in the Brazilian market in 2011. He too was only there for a relatively short time, returning to the Rio de Janeiro side in January 2014. His case, however, exemplifies why China can be an appealing option to so many: the midfielder was, for a time, the third-highest earner in world football. He was uncapped and an unknown property in Europe, yet was only being paid less than Lionel Messi and Cristiano Ronaldo.
But despite Conca and Drogba's arrivals, the best players were still picked up by European clubs, whether straight to big ones like Neymar and Lucas Moura, or an Eastern European side like Shakhtar (who currently cater for 13 Brazilians) with ties to big competitions.
In 2015, however, six players have already left the Brasileirão for China: Hernan Barcos, Tardelli, Conca, Goulart, Anselmo Ramon and Marcelo Moreno (with Ribeiro heading to Dubai). All of these players have been prominent in Brazil for a few years, the latter quintet especially, playing vital roles in a Cruzeiro side that used stability as a key factor in its successful retention of the trophy last year.
As expected their side has been broken up, but apart from Lucas Silva, now of Real Madrid, the four other departees have chosen the relatively untried climate of Asian football over visibility.
TALENTSPOTTER Lucas Silva: 10 things you need to know (according to him) (opens in new tab)
China isn't the only country that's been mining Brazilian stars from their spiritual homes – there were 43 Brazilian players spread across the 32 teams in last year's Asian Champions League group stage.
While China has emerged, seemingly out of nowhere, the Middle East has always been a lingering presence with ever-growing influence.
Nilmar made a pit-stop there in 2012 before returning to Internacional, giving two of his prime years to Al Rayyan and El Jaish. Jucilei chose Al Jazira over a return to Corinthians when leaving Anzhi Makhachkala. The examples are plentiful, and range from capped players to fading starlets like Romarinho (formerly of Corinthians).
While the Middle Eastern lifestyle has long been a draw for Brazilian footballers – and let's face it, pretty much everyone – the closure of the Russian and Ukranian markets has also helped the Gulf nations' causes.
Somewhat differently to Chinese bigwigs, however, Sheikhs have always been confident about prising important players away from their Brazilian sides. Now they're aiming higher and snatching those who could have come to form the backbone of their national side.
Money matters
Brazil's German drubbing at the World Cup prompted calls for serious change. A core idea was to increase the Brasileirão's appeal, and thus its ability to hold onto the best players for longer.
While it's always been clear that Brazil couldn't compete with Europe either financially or in terms of its competitiveness, clubs expected players to remain in Brazil to develop longer instead of shooting off at the first opportunity.
In many ways, it's difficult to judge young players who end up doing so. Hyuri, who left Botafogo for Guizhou Renhe within three months of his senior debut, said that he has no intentions of returning to Brazil anytime soon.
"The money comes in, exactly the right day every month," he admitted. It's financial security he never had back home.
What's more difficult is to understand the moves of players like Ribeiro, Goulart and Alan, who all played for well-run clubs, were established names and seemed destined for European football's upper echelons.
It seems that fewer players are willing to take the Felipe Anderson route, signing for a decent side and attempting to work their way up. Just as Anderson has seen his stock soar at Lazio, his competitors will likely see theirs plummet, regardless of how well they play.
TALENTSPOTTER Meet Neymar's former partner in crime who's setting Serie A alight
Brazilian football is at an all-time low. Mircea Lucescu, of Shakhtar Donetsk, recently spoke of how European clubs view Brazilian players: unprofessional and money hungry. The latest exodus does little to disprove the theory.
Bayern Munich's Rafinha landed himself in trouble with private comments to friends in the aftermath of last week's 7-0 win over Shakhtar. "It's unbelievable," said the right-back, in a video rant that went viral. "With all respect to the Gauchos, what a disgusting bunch of boys!
"Look at what our dear and beloved Douglas Costa said to Schweinsteiger: 'Who are you?' he said in English. 'What do you have to say to me?' Now I want to ask you: What does that guy have in his head to say that to Schweinsteiger?
"You guys remember Marlos, who played for Coritiba. He's playing there as well. He said: 'Rafinha it's f***ed here. One wants to be better than the other. One buys a 30k watch, the other buys a 40k one, then another a 50k one and so it goes.
"It's a f***ing war between them. These kids are f***ed, the Gauchos are f***ed, man. I hear Fernando is a nice guy, but the others, what a disrespectful bunch. Marlos said that it's a war over there; said that the kid from Atletico MG, Bernard, has a tough time with them. They betray him. He is getting screwed over there."
It's all a set of blows to a national team trying to rebuild from the debris left behind by Luiz Felipe Scolari. Key players are leaving Brazil at a crucial time for their development, heading to a league where they are likely to stagnate. Whether Dunga gives them a chance or not is a moot point, because when push comes to shove, they may not be equipped to compete at the highest level.
In a time of crisis for Brazil, Dunga needs his stars to step up. Instead they are taking the opposite route, hiding in the unknown becoming rich, but forgotten men.
Thank you for reading 5 articles this month* Join now for unlimited access
Enjoy your first month for just £1 / $1 / €1
*Read 5 free articles per month without a subscription
Join now for unlimited access
Try first month for just £1 / $1 / €1
Quizzes, features and footballing fun
Get daily World Cup 2022 news, updates and other football frolics to your inbox
Quizzes, features and footballing fun
Get daily World Cup 2022 news, updates and other football frolics to your inbox
Thank you for signing up to Four Four Two. You will receive a verification email shortly.
There was a problem. Please refresh the page and try again.