Clattenburg equally biased against both Manchester sides
Manchester derby referee will discriminate completely equally, Back of the Net has discovered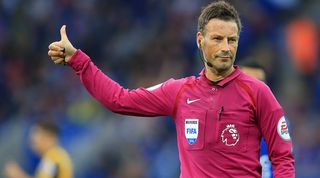 Professional Game Match Officials Limited (PGMOL) has reassured fans that Mark Clattenburg will be biased against both Manchester clubs in Saturday's crunch Premier League derby.
Fans of Manchester City and Manchester United have reacted negatively to the appointment of England's top referee, but PGMOL is adamant that Clattenburg holds long-standing grudges against both clubs, their players, their managers and their fans, in precisely equal measure.
No favouritism
"It's true that Mark despises Man City and will do everything in his power to sabotage them at every turn," a spokesman from PGMOL told FFT.
"If you're a City fan then you're right in thinking that Mark hates you personally and would love nothing more than to make you miserable.
"But he also hates United. In fact he hates them exactly the same amount that he hates City, so fans can expect an equal number of unfair red cards, baffling penalties and knowing smirks at the expense of both teams."
MORE BACK OF THE NET
Enough hatred to go around
While detractors have attempted to tarnish Clattenburg with accusations of bias, it appears that his secret appetite to destroy every single team has in fact made him one of the world's most trusted referees.
"For example, I can't stand Portugal," Clattenburg told FFT. "But I also despise France. That certainly came in handy in the Euro 2016 final where it so happened that my revulsion for both teams led to very even-handed decision making.
"I know that other officials were considered for the Manchester derby but they couldn't muster the same absolute vitriol for one of the teams in question, which is what tends to set me apart.
"I can honestly say that every Premier League club can expect exactly the same level of open, snide contempt from me. The motivation for my entire, very accomplished career is spite.
"God, I hate football and everyone who plays it and watches it."
Please note: This satirical news story is not real. But you knew that already, obviously.
Quizzes, features and footballing fun
Get the best features, fun and footballing frolics straight to your inbox every week.