Daniel Levy has divided Tottenham fans, but now he's overseeing something special at Spurs
From player sales to a rumoured location move via a spell of Tim Sherwood, it hasn't always gone smoothly for the investment guru at Spurs - but Raj Bains argues we're now seeing his forward-thinking shining through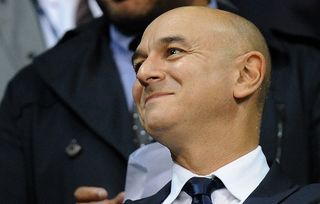 Daniel Levy had a life before becoming one of the most divisive chairmen in English football. Having graduated from Cambridge University, he first helped run his family business Mr Byrite, which was later rebranded Blue Inc and sold on in 2006.
He then made the majority of his money in the property market during a lucrative boom, before going into business with Joe Lewis and forming ENIC, who have been majority owners of Tottenham since 2001. An intensely secretive man, he's very rarely been interviewed, preferring instead to do the majority of his communication through prepared written statements. All of it has contributed to his wider mystique.
Unlike some owners and directors in football, Levy isn't a public-facing figure. What little we do know about his personal life - such as his lifelong fandom of Tottenham and time as a season ticket holder - are details he'll likely have provided himself.
Levy has preferred to let his actions to do the talking, which has helped create what's become a less-than-flattering caricature; the outward perception of his leaderships is that he is far more concerned with making money, being cheap and maximising sales than helping Spurs progress as a club.
Tottenham are still unfairly labelled a 'selling club' by some, which is a view that's been encouraged by the business Levy has done in the past. In order to make Tottenham a profitable club, his approach to the transfer market appeared to have been influenced by his time in property development: buying low and selling high.
What's often ignored, however, is that where Spurs have come from wasn't particularly high standing, so keeping hold of marquee talent wasn't ever going to be the simple task it was often portrayed as. The season ENIC bought the club from Alan Sugar, in the February of the 2000/01 campaign, Spurs finished 12th and won just 13 league matches all season.
Manager mayhem
Having just turned 38 years old at the time of the takeover, Levy quickly fell into a pattern that would help define the early years of his Tottenham stewardship: the club went through four managers in as many years, with a high turnover of players to match.
In fairness, Spurs spent more on incoming transfers than they did on outgoing talent during those years, so one couldn't accuse Levy of failing to back the men he was bringing into the club. Yet there were still definite concerns over just how suited he was to recruiting them in the first place. It wasn't until the 2005/06 season under Martin Jol that Spurs would finally turn a corner, finishing inside the top six for the first time during the Premier League era.
Although on-field success didn't come easily, what those first few years afforded Levy was the chance to make Tottenham self-sustainable financially, removing the burden of debt and possible bankruptcy that had been a feature of the club before ENIC took control.
Subsequently, the time Spurs have spent making profits in the transfer market and growing their commercial appeal has directly resulted in their ability to find the type of projects that have resulted in a state-of-the-art training base and a new stadium, both of which will benefit the club immeasurably for the foreseeable future.
In following years, the savvy, driven and widely celebrated way that Spurs have punched above their own weight is directly in Levy's image. While it took more than a couple of failed attempts before his methods began to find traction, Tottenham haven't stopped growing as a club - both on and off the field - in the last decade.
Far from faultless
To say that Levy has been blameless in his time running Spurs would be wrong, but there has often been a method behind what might have seemed madness. Where coaching changes have occurred, it's hard to disagree with many of them post-Jol (if you ignore that strange period where Tim Sherwood was manager).
The manner in which Jol discovered his fate was regrettable – during a televised game that he'd go on to lose – but the thinking behind introducing Juande Ramos was sound even if results weren't. Harry Redknapp enjoyed an unprecedented stretch with what was, at that time, the most talent squad Spurs had ever assembled in the Premier League, but was rightly let go when he allowed his individual ambition to harm results on-field.
Since then, Mauricio Pochettino has been everything Andre Villas-Boas was supposed to be, only better. Spurs have been able to increase the prominence of their academy, turn mid-range purchases into superstars and challenge for the biggest domestic prizes without threatening their economic integrity.
Transfer spend has repeatedly been a stick used to beat Levy with over the years, and that's no better illustrated than the work done by these two managers. Rumour has it that Villas-Boas and Levy started to have strains in their working relationship around the sale of Gareth Bale, which was – naturally – something the manager was dead against.
According to reports, Villas-Boas wanted to pair Bale with the likes of Hulk, Joao Moutinho and Willian, none of whom Levy was either willing or able to secure the services of. But with his track record, those sort of extravagant deals were never going to be done if the chairman didn't see the financial value in them.
Investment club
This brings us to ENIC in a roundabout way, because in truth, every business decision Levy makes - including transfers - can be boiled back down to one simple fact: Tottenham are owned by an investment company. It's an open secret that, no matter what happens, the big picture for both Levy and ENIC is to take Spurs from the bottom half of the table, make them financially sound, invest in infrastructure like the new training centre and stadium, and leave them packaged as one of the most upwardly mobile and attractive clubs on the continent.
ENIC made an investment in 2001, and all their work is pulling towards the goal of selling the club for the highest fee possible. Buy low, sell high – it's the thread that holds Levy's entire career together.
That said, Tottenham are in an interesting position going forwards. With almost anybody seemingly capable of passing the FA's fit-and-proper-person test, there's no guarantee that the club will fall into better, more capable hands after Levy and ENIC are done. A case of better the devil you know, then? There's a potential timeline where Spurs fans might look back on the Levy-led years as halcyon days, which is unthinkable among those who choose to blame the chairman for the team's every shortcoming.
In truth, Levy is unfairly maligned, and his more questionable characteristics are blown out of proportion. He's the type of person you'd much rather be with than against, as the clubs that've had to do business with him will attest to.
READ THIS...
Why Dele Alli is a new type of modern England player
Barring some calamity, there's no question that Levy and ENIC will leave Tottenham in far better standing than how they found the club – and that's becoming rarer with each passing year in football where ownership is concerned.
Traditionally bigger clubs have spent more money and achieved far less in the same time frame, so the sneering that Levy has had to endure about his apparent tight-fistedness has grown increasingly misguided with each passing success.
It hasn't been easy at times, and there have been episodes that have tested his relationship with the fanbase more than others - a proposed move to Stratford top of that list - but when time comes for the dust to settle, Levy will have done more good than he has bad. And there's not much more that football fans can ask for than that.
Thank you for reading 5 articles this month* Join now for unlimited access
Enjoy your first month for just £1 / $1 / €1
*Read 5 free articles per month without a subscription
Join now for unlimited access
Try first month for just £1 / $1 / €1
Get FourFourTwo Newsletter
The best features, fun and footballing quizzes, straight to your inbox every week.