In defence of Michael Owen: the ex-footballer who just wants to be honest
By Chas Newkey-Burden published
So what if he thought Beckham's kick was daft? So did an entire nation. Chas Newkey-Burden says reaction to the striker's autobiography only encourages future tedium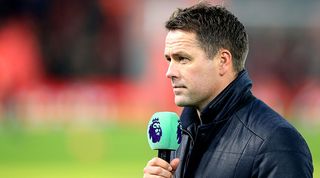 Footballers can't win if they share their thoughts in public. When they're guarded in their interviews, we complain they're being boring. We say their sanitised autobiographies are banal and pointless. We snigger at their clichés.
Then, every so often, one of them dares to speak his mind openly and frankly — and we come down on him like a ton of bricks.
Ask Michael Owen. His autobiography (opens in new tab) has been serialised in the papers all week. The former England striker's words have created such a stink that the country momentarily set aside divisions over Brexit and united in condemnation of Owen. How very dare he say those things!
But when you actually look at what he said, is any of it unreasonable? Speaking of David Beckham's red card in the 1998 World Cup, Owen writes: "I'd be lying if I didn't say that what David did that day hadn't let every single one of that England team down."
Surely that's just a simple truth? When a player gets sent off, he makes it harder for his team-mates to win the match. And if he was shown red for petulantly lashing out during a massive match, that makes it all the clearer — of course he let the team down that day.
"I still hold some resentment about it today," Owen adds. Twenty-one years on, now nearly twice the age he was then, the man is still raw about that night in France. An honest and vulnerable revelation — exactly what a reader wants from an autobiography. So what's the problem?
Turning to his move to Newcastle in 2005, Owen writes that: "From a career perspective, there was no doubt in my mind that a move to the north-east was a downward step."
Is anyone actually going to argue that a former Liverpool and Real Madrid player moving to St. James' Park is not a downward step?
Owen says Newcastle fans suffer from a "blind delusion" that their club is bigger than it is. Look me in the eye and tell me you've never thought that of the Toon Army, and I'll look back as your nose grows to Pinocchio proportions.
Sure, these extracts from his book are great fodder for tabloid headlines, but the condemnation of Owen seems daft to me. Don't we want footballers to be honest when they share their thoughts? Isn't that exactly what we want, rather than the bland biographies and evasive post-match interviews we usually get?
If we pelt the players who speak openly, we make it less likely that others will be honest when they speak. We'll end up with only boring interviews and books, drowning in a swamp of wearisome inanity.
On a good day, footballers can be more interesting than you might expect. I was a staff writer for 90 Minutes and Shoot in the late 1990s, and then a ghostwriter for Icons. For eight years of my life I interviewed footballers most days.
True, there were some very boring chats. I lost count of the amount of times a footballer told me that he and his team-mates had nicknamed a new signing "Snow – 'cos he's settled so quickly". I heard that so often it almost drove me potty. I began to wonder if it was some sort of prank arranged by my workmates.
I also remember a 30-minute interview with Patrik Berger during which he was agonisingly evasive and dull. I could have asked if his name was Patrik and he'd probably have replied: "Well, I wouldn't go that far…"
I struggled on with Berger, but he wasn't playing ball. By the end of the interview I would have done anything for him just to say he called Danny Murphy "snow". I'd have killed for some of that gold.
There were other interviews like that, including one with Owen. The only thing I learned in that interview was that he'd been media trained to within an inch of his life.
But then there was an hour I spent interviewing Roy Keane, during which he fixed me with his eyes and tore himself to pieces. Or the time I quizzed Alan Shearer for Shoot, and the notoriously guarded striker opened his heart about his despair at being in the middle of a long-term injury.
And I'll never forget when Paolo Di Canio told me what he thought should happen in response to the 9/11 attacks. (It wasn't pretty.)
Returning to Owen, let's look again at what he said about Beckham: "I'd be lying if I didn't say that what David did that day hadn't let every single one of that England team down."
Maybe the first three words are the key to all of this. Given the reaction to his words this week – and those when other players have rocked the boat – perhaps some fans would prefer to be lied to. Not me, though. If I'm going to spend £20 on an autobiography, I want to know what they really think.
While you're here, why not take advantage of our brilliant subscribers' offer? Get 5 issues of the world's greatest football magazine for £5 (opens in new tab) – the game's greatest stories and finest journalism direct to your door for less than a pint in London. Cheers!
NOW READ
UNPOPULAR OPINION Why Zlatan Ibrahimovic is the most overrated player of the modern era
LIST The 25 best football films and documentaries... ever!
WATCH Premier League live stream 2019/20: how to watch every game from anywhere in the world
Thank you for reading 5 articles this month* Join now for unlimited access
Enjoy your first month for just £1 / $1 / €1
*Read 5 free articles per month without a subscription
Join now for unlimited access
Try first month for just £1 / $1 / €1
Quizzes, features and footballing fun
Get the best features, fun and footballing frolics straight to your inbox every week.