The 25 best football films and documentaries... ever!
Brian Clough, Sly Stallone and Cristiano Ronaldo all feature in our rundown of stone-cold classics - though sadly not in the same film. Here's where to find them...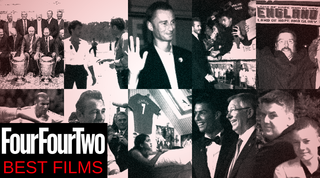 25. Purely Belter
Way before its name briefly resembled an email address, Newcastle United's St. James' Park was the backdrop for a tale of two working-class Geordie lads trying to raise the cash for a season ticket to watch their favourite team.
Embarrassingly poor Alan Shearer cameo aside, this film is packed with the wit, humour and language that made the Viz such a hit. The two lads give performances that make their characters impossible not to like, and while the protagonists are believable, there's nothing irrelevant about their mission either: every modern football fan can relate to the Geordies' yearning for "a time when you didn't have to be loaded to watch football".
Available on Amazon Video • Buy it for £5.99
24. Zidane: A 21st Century Portrait
Like a big-screen version of the Sky Sports PlayerCam, A 21st Century Portrait follows Zizou on and off the ball during a single match playing for Real Madrid against Villarreal.
To non-football fans, 90 minutes of a balding Frenchman mooding, brooding and trudging about sounds like a pretentious arthouse nightmare. To the scarf-wearers and rattle-wavers, it's glossy, mesmerising football porn that makes you think you're not far off being as good a player as the French great. Until he gets the ball, obviously.
Available on Amazon Video • Buy for £4.50
23. Bostock's Cup
A little-known TV film from 1999 that featured the former members of lowly Bostock Stanley (Tim Healy, Nick Hancock, Ralf Little et al) reminiscing about their famous FA Cup victory 25 years previously.
Filled with the sort of humour for which the lower leagues and park football are renowned – the 45-degree sloping pitch and a player nicknamed 'Shoes' because he once turned up for training in a new pair – Bostock's Cup is a classic. Unfortunately, there are no plans to repeat the film, although the players did turn out for a charity match and apparently Nick Hancock bagged the winner...
22. The Crazy Gang
Virtually the entire cast of Wimbledon's dastardly FA Cup-winning crew gather to discuss the means - both fair and foul - by which they beat Liverpool in the 1988 final.
Vinnie Jones appears slightly vulnerable, explaining how his parents' divorce turned him into "an angry young man" as a teenager, but John Fashanu - showing no remorse for his gruesome challenges on Gary Mabbutt and John O'Neill - comes across as slightly deranged. A distinctly blood-and-thunder watch.
21. City!
This jaw-dropping documentary reveals a time in the early 1980s when Manchester City still adhered resolutely to the "Cups for cock-ups" adage. The film shows bewigged City supremo Peter Swales terminating Malcolm Allison's disastrous second spell at Maine Road and appointing John Bond to alleviate the Moss Side gloom, with the soap opera revolving around giant cigars, enormous cars, Swales' nasty suits and Big Mal's baffling tactics. A vastly different era for City compared to today's petro-dollar world.
20. Escape to Victory
Winner of the 'so bad it's good' category, this film did surprisingly well at the box office. Surprisingly, because it's perhaps the most ludicrous idea for a football film ever.
Michael Caine watches on as Pele, Bobby Moore, Ossie Ardiles, several Ipswich players (don't ask) and Sylvester Stallone – of course – play British and American POWs obliged to play in a match against the German national team in Nazi-occupied Paris. Need we say more? Well, we will.
Legend has it that Stallone wanted to score the winning goal of the flick. The problem? He was a goalkeeper. Naturally, the script was rewritten for the match to go to a penalty shootout so that Sly could step up and save the day.
Available on Amazon Video • Buy it for £4.75
19. The Damned United
Brian Clough's personality was bigger than any cinema screen, but his 44 days at Leeds were a footballing "tragedy" that couldn't be resisted. Bringing the man, the myth and the legend to life was the job of serial impersonator Michael Sheen (who had previously played Tony Blair, Kenneth Williams and David Frost – although not all at once).
Much sweeter and Clough family-endorsed than the harrowing David Pearce novel on which it is based, the story sits nicely on the tramlines of cinematic convention but, crucially, without losing its colourful and intriguing characters. The egomaniacal Clough was both an enigma and a delight, and though watered-down, this film captures that well. A must-see for fans with a fondness for the original 'special one'.
Accurate? Maybe not, but it's certainly compelling.
Available on Amazon Video • Buy it for £4.34
18. Meanwhile Back In Sunderland
Produced by Tyne Tees, this brilliant piece of social commentary focuses on the bewitching effect Sunderland's shock 1973 FA Cup win had on the town, as director Ken Stephinson takes the bold decision to focus on those who watched the Rokerites take on Don Revie's Leeds United at home.
The highlight is the crowd of Sunderland fans massed outside the TV rental shop, and the old-timers - clad in red and white candy garb - having a sing-song in the pub later that night. A wonderfully evocative film.
17. Shaolin Soccer
Do films get any cooler than this 2001 Stephen Chow flick? Loads of laughs, pretty Chinese girls, crazily exaggerated martial arts and football. Sorry, that should be martial arts IN football.
With special powers, stunning acrobatics, more flying kicks than the Battle of Santiago and just a little help from CGI, the matches in this are stuffed with non-stop breathtaking action.
More a video game than a film, Shaolin Soccer is arguably the most enjoyable football movie ever made. In fact, remove the word 'football'; this is one of the most enjoyable films ever made, full stop.
Available on Amazon Video • Buy it for £4.99
16. Bend it like Beckham
An inspiration to every Tomboy, Dick and Harry out there, Jess Bhamra ignores pressure from her British Indian parents and plays football in a local women's team.
As Jess, actress Parminder Nagra battles against not just opponents and – urgh – boys, but also the trials and tribulations of growing up a second-generation British Asian. Things worked out well for Nagra, who soon got snapped up by US TV behemoth ER. Her on-screen team-mate Keira Knightley also switched to Los Angeles, and not to play for the Galaxy...
Available on Amazon Video • Buy it for £4.97
15. Hillsborough
Following the 2016 landmark court case, this harrowing documentary highlights the missed opportunities to prevent the tragedy and improve safety at the Leppings Lane end, and how the authorities attempted to cover up their catastrophic misjudgements following the disaster in April 1989.
Interviews with the survivors and families of the victims provide the context to English football's darkest chapter.
14. There's only one Jimmy Grimble
Full Monty with a football, this 2000 John Hay piece is so unashamedly British that it even braves cliché to cast Robert Carlyle as the protagonist's mentor. Stereotypes aside, however, the film is compelling in its relatability.
The titular Grimble experiences the dream every bloke has as a youth – being scouted by his beloved club. Jimmy's fantasy turns real after being given a pair of magical boots that supposedly belonged to a Manchestet City legend. They let him forget the nervous kid who "cacks his pants" in school matches, and provide a welcome break from the loss, romance, toilet humour and grim-up-North stereotypes that make up his life off the pitch.
But do the boots give him talent? Or has he had it all along? Pure, unadulterated Boy's Own stuff...
Available on Amazon Video • Buy it for £4.99
13. North Korea – The Game Of Their Lives
At the 1966 World Cup, North Korea captured the hearts of the English public by defeating Italy at Ayresome Park in the group stage and taking a 3-0 lead against Portugal in the quarter-final at Goodison Park.
This fascinating, revealing and occasionally heartwarming film sheds light on life inside the world's most reclusive nation for North Korea's famous footballers.
12. Busby, Stein and Shankly: The Football Men
An Arena trilogy – narrated by respected football writer Hugh McIlvanney - focusing on three Scottish managerial giants, each born within a few miles of one another south of Glasgow.
The Football Men delves into the psyche behind the managers' rise to prominence; a fear of grinding poverty and a career in the mines was one key factor, as was the winning mentality forged kicking a ball around on the streets when they were youngsters. Social history blended perfectly with football.
11. Orient: Club For A Fiver
Numerous football documentaries have featured expletive-fuelled rants by managers, including Premier Passions, which focused on Sunderland's relegation from the Premier League in 1996/97.
Yet nothing can match the ferocity of Orient boss John Sitton when his team were trailing Brentford 3-0 at half-time of a Boxing Day match in 1994. This is football at its most raw.
10. Fever Pitch
Nick Hornby's book did more than any other to describe the mind-bending angst of the football fan. The film version attempts the same trick via the rather more Hollywood-friendly medium of a love story starring Colin Firth. Thanks to a sharp script (and a brilliant supporting role from straight-talking friend Mark Strong), it more or less succeeds.
Set during Arsenal's dramatic 1989 title-winning season, it stars Firth as an obsessive Gunner whose life revolves around the team – "I don't know whether life is shit because Arsenal are shit, or the other way around" – at the expense of personal relationships.
If your partner isn't a football fan, it might help them understand what it is you go through on a weekly basis. Might, but probably won't. They're still going to see a grown adult crying because a one bunch of millionaire foreigners beat another.
Available on Amazon Video • Buy it for £5.48
9. Ronaldo
Ronaldo the winner. Ronaldo the toiler. Ronaldo the family man. Ronaldo... the loner? Perhaps it shouldn't come as too much of a shock, given his all-out personal drive to be the best, but it's a side that Ronaldo depicts strongly nonetheless.
He trusts few but keeps those he loves close (yes, Jorge Mendes is among them), meaning there isn't too much room for others in CR7's hectic life. Pre-approved films about a star as big as him should generally be taken with a pinch of salt, but there are genuinely intriguing tales to tell from childhood onwards, and this film captures another side to a player voted the planet's best five times.
Available on Amazon Video • Buy it for £3.35
8. Mike Bassett: England manager
This Marmite film would be shocking to a football virgin. Those to whom the game is more important than their marriage, however, will be unable to help loving this movie and its wealth of in-gags, from Mick Channon's letter under the carpet to the remarkably English Republic of Ireland team.
You'll spot the obvious player caricatures (the ponytailed keeper, the drunken Geordie, the psychotic defender, the midfield playboy), chuckle at the squad's World Cup song, roll your eyes at the hostile press, sympathise for the luckless ex-Norwich boss, and – crucially – cheer when England score.
After scraping through to the World Cup finals courtesy of Luxembourg's shock win over Turkey, there isn't much hope for Mike Bassett. But with his dogged determination to play "four-four-fucking-two" and with Rudyard Kipling as his inspiration, he leads his bunch of misfits towards glory.
Available on Amazon Video • Buy it for £4.67
7. Sunderland 'Til I Die
In its press release announcing the fly-on-the-wall show, producers Fulwell 73 optimistically declared that STID would "...take its audience through the highs and lows of SAFC's first season in the Championship following its painful relegation the previous year." In a horrific 2017/18, there were few highs for Sunderland.
Naturally, the pain of relegation makes this terrific Netflix series even more compelling viewing. Access is excellent despite the misery behind the scenes, but the show's creators manage to paint the bigger picture too; one of a heartwarmingly loyal community that's impossible not to sympathise with.
6. Les Bleus
This brilliant 2016 offering is something of a hidden gem – it's actually available on Netflix, for starters. It charts 20 years of the French national team and its bumpy journey with the nation, featuring World Cup triumph, rising racial tensions, giant bust-ups and lots more in between.
It's sub-titled, but that shouldn't put you off – the show's producers have tracked down key, eloquent figures who provide unique insight into a fascinating period, inluding Lilian Thuram, Olivier Giroud, Raymond Domenech, Robert Pires, Eric Cantona, Arsene Wenger and even former prime minister Francois Hollande.
5. The Class of '92
Brilliant '90s romp charting the success of Fergie's Fledglings: Gary and Phil Neville, Ryan Giggs, Paul Scholes, Nicky Butt and David Beckham. The documentary details the stunning rise of six young footballers from 1992 Youth Cup success to winning the Premier League and that historic Treble in 1999.
Insight into the dressing room, the backgrounds of the main players, football and culture at the time is wonderfully interwoven with testimonials from the likes of Zinedine Zidane, Eric Cantona and others. Created by the same team behind the equally superb Senna documentary.
Available on Amazon Video • Buy it for £2.94
4. Next Goal Wins
Film critic Mark Kermode, totally ambivalent towards football, claimed to have "cried and punched the air" after watching the heartwarming story of American Samoa – infamously defeated 31-0 by Australia in 2001 – attempting to improve their fortunes in qualification for the 2014 World Cup.
They're still not exactly world-beaters, of course, but as an underdog tale the beautifully made Next Goal Wins takes some serious beating.
Available on Amazon Video • Buy it for £2.94
3. I Believe In Miracles
A fantastically revealing account of how Brian Clough took Nottingham Forest from second-tier mid-tablers to European champions. Slick production, a rollicking soundtrack and unseen footage of Old Big 'Ead bring together one of football's best tales. A must-see.
Gary Birtles sums it up: "This has to be one of the greatest achievements in world football."
Available on Amazon Video • Buy it for £3.35
2. An Impossible Job
"My wife couldn't believe how much I swore," a rueful Graham Taylor said of this toe-curling, fly-on-the-wall documentary, which was shot as England failed dismally to qualify for the 1994 World Cup.
Whether it's Taylor's frustrations at not being able to get the best out of Paul Gascoigne, his haranguing of the officials after they failed to award England a penalty in a decisive clash with Holland, the disastrous tactics against Norway, or assistant Phil Neal's monosyllabic, monotone comments, this is addictive car-crash viewing.
ACTION REPLAY The making of 'An Impossible Job': FFT's inside story from the men involved
1. Two Escobars
Two (unrelated) Escobars; one intertwined, fascinating story. Colombia defender Andres Escobar – whose own goal contributed to los Cafeteros' early exit from USA 94 – may have been shot dead seven months after Pablo's own grizzly end at the hands of police, but his murder was a direct result of his namesake's legacy.
Pablo Escobar adored football, and saw it as an opportunity to further his gargantuan drug empire – if nothing else, stuffing money into Atletico Nacional was an ideal way to launder it. Nacional defender Andres, though, was simply in the wrong place at the wrong time; his disastrous act against the USA aggravated powerful men with big money riding on the outcome, and led to him being gunned down in a nightclub car park.
The Two Escobars brings the two tales together impeccably, charting the ugly relationship between Colombia's cartels – plus those caught up along the way – and the beautiful game they all loved.
Thank you for reading 5 articles this month* Join now for unlimited access
Enjoy your first month for just £1 / $1 / €1
*Read 5 free articles per month without a subscription
Join now for unlimited access
Try first month for just £1 / $1 / €1
Get FourFourTwo Newsletter
The best features, fun and footballing quizzes, straight to your inbox every week.