Federico Bernardeschi: the versatile Fiorentina number 10 being courted by Barcelona
La Viola's trequartista-turned-wingback has made a big impact under Paulo Sousa after last season's injury problems. Blair Newman gives us the lowdown...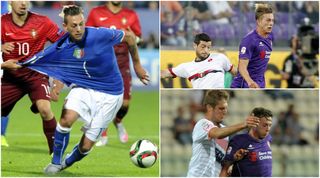 60-second story
Some shirt numbers can prove burdensome for footballers. Manchester United's number seven is synonymous with glory due to those it has adorned in the past: George Best, Eric Cantona, David Beckham and Cristiano Ronaldo.
As a result, whoever is assigned that number has big shoes to fill. Some clubs go so far as to retire their most prestigious players' numbers, as Milan and Napoli did with Paolo Maldini and Diego Maradona respectively. This is done to honour the departing legend, though it also ensures that no future player has to deal with such impossibly high standards.
The importance of the number 10 shirt in Fiorentina's history cannot be overstated; it has been worn by club heroes such as Giancarlo Antognoni, Roberto Baggio and Rui Costa. Rather aptly, the former two are idols of the shirt's current incumbent, Federico Bernardeschi. However, the 21-year-old has not struggled under the weight of expectation that comes with wearing the iconic number on his back since being assigned it at the start of the season. On the contrary, he has flourished.
In many respects the youngster, who is a son of Tuscany having been born in Carrara to the north of Florence, was a bold choice. After coming through La Viola's youth system he was farmed out to Serie B side Crotone for the 2013/14 season and proceeded to score 12 goals to help the club into playoffs.
He returned to Florence a highly-rated young player but a series of injuries, including a bad ankle fracture, restricted him to a mere two starts in all competitions last season. His fortunes changed for the better when Paulo Sousa was appointed as Fiorentina head coach over the summer. As well as the new shirt, the Portuguese has given Bernardeschi plenty of playing time and used the youngster in multiple different positions, making use of his versatility and aiding his development from prospect to real deal.
Why you need to know him
An attacking midfielder by trade, Bernardeschi fits the number 10 shirt at least in terms of his natural position. However, while he started the season in that area of the field, he has progressively moved further from his comfort zone.
On the opening day of the Serie A campaign he played as an inside forward in Sousa's favoured 3-4-2-1 system, operating behind lone striker Nikola Kalinic. Then, against Roma on 25 October, he was utilised at left wing-back. More recently, he has been used effectively as an inverted right wing-back.
In his latest position he has thrived, cutting in from the right onto his favoured left foot to drive at the opposition and link up with Slovenian playmaker Josip Ilicic. Two goals against Sousa's old employers Basel cemented the new role as arguably Bernardeschi's best and a continuation of that form in Fiorentina's recent league games has led to covetous looks from the likes of Barcelona. Indeed, Barcelona sporting director Ariedo Braida commented publicly on the link, telling Radio Blu: "Are Barcelona interested in Bernardeschi? Let's say yes… He's a talented guy… A perfect replacement for Dani Alves? No comment."
Strengths
Bernardeschi's willingness to take on whatever position Sousa opts to throw him into shows a level of fortitude rarely seen in such young players. Furthermore, his ability to carry out the tasks asked of him in each position is a sign of real tactical maturity.
While he tends to enjoy the hubbub of a more central attacking position, Bernardeschi has arguably moved to a new level of performance in his wider, more defensive wing-back role. He knows when to hold a wide position and when to move inside and run at the opposition and, while he relishes a one-on-one with the ball at his feet, he is also hard-working, alert to defensive dangers and not averse to getting stuck in when required.
Weaknesses
Truthfully there are few obvious glaring gaps in Bernardeschi's makeup, tactical or technical, mental or physical. There are, however, a few areas which he could brush up on if he is to fulfil his world class potential. While a decent passer and an adept finisher, as proven with his two goals against Barcelona in pre-season and more recently against Basel in Europa League action, Bernardeschi could inject a little more cut and thrust in the final third.
Sometimes his passes lack the crispness needed to find the intended target smoothly, while he could work on his composure and instinct in front of goal. If he is to pursue his career as a wing-back any lacking in the aforementioned attacking departments shouldn't be too much of an issue, though he should nonetheless continue to work on his fitness and defensive decision making.
They said…
Sousa has eulogised Bernardeschi's flexibility and commitment. "He is a player who has a strong desire to help the team, the city and himself," he told reporters, before adding: "When a player has this attitude, the coach has the ability to change tactics… Not everyone has this open-mindedness."
Fiorentina centre-back Davide Astori believes Bernardeschi is destined for great things, something he made clear when asked to discuss the transfer speculation revolving around his team-mate. "We were joking with him about (the Barcelona rumours)… asking him to say 'hi' to Messi from us. He's got talent and the right head on his shoulders, and he's improving gradually. He could make history with Fiorentina though and I hope he sticks with us for a while."
Did you know?
After some excellent performances for Fiorentina's Primavera, a 17-year-old Bernardeschi was subject to serious interest from Manchester United, but the move never came about. Of the rumour, his father Alberto stated: "We preferred to stay at Fiorentina because he's happy. He's always been treated well and it wouldn't have been right to leave. It's not the case that by going to a world-class team one will arrive immediately at the top."
What happens next?
With Fiorentina flying high in Serie A it's fair to suggest that, assuming he continues his good form, it can't be long before Bernardeschi earns a call-up to Antonio Conte's Italy team. He was in fact brought into a 42-man pre-World Cup 2014 squad by then-Azzurri coach Cesare Prandelli but was not capped and has since only featured for the under-21 side.
Of course, first Bernardeschi will have to deflect all speculation regarding his club future and concentrate on playing well for Fiorentina. And, with the number 10 shirt on his back, he has a lot to live up to. He's not encumbered by the situation however, saying: "I've been Viola for many years and... I want to bear [the shirt] with honour, without presumption. Having the number 10 on my back is a source of pride.
"I feel many eyes pointed on me... it gives me confidence and pushes me to always give my best for this shirt, on the pitch and in training." With that attitude, even a club as grandiose as Barcelona may have to wait a while longer to sway this particular starlet.
More features every day on FFT.com (opens in new tab)
Thank you for reading 5 articles this month* Join now for unlimited access
Enjoy your first month for just £1 / $1 / €1
*Read 5 free articles per month without a subscription
Join now for unlimited access
Try first month for just £1 / $1 / €1