FIFA 18: The 10 best central midfielders in FUT for under 40k
From an In Form Manchester United midfielder to a pair of Real Madrid bargains, these are simply the best FIFA Ultimate Team deals on the market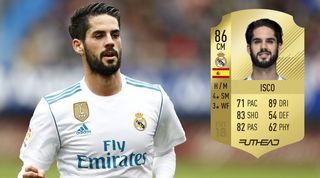 As in non-pixellated football, central midfielders are some of the most important players in FIFA 18. They perform various roles including (but not limited to) holding your team together, thwarting attacks, supporting your strikers and cracking off long shots.
Understandably, costs for the best are high - yet each of these 10 central midfielders is an absolute steal at under 40k...
IF (In Form) Allan
Allan's only In Form card to date pulled onto the scene during Team of the Week 15 and became an instant hit among FUT players. He was dubbed the Brazilian N'Golo Kante thanks to his similarities with the Frenchman, despite costing just a fraction of the Frenchman's price.
Allan's ability to intercept possession is rated at 91, which, combined with his 84 agility and 89 reactions, means he's an expert at cutting passing lanes.
The only drawbacks to IF Allan are his height (5ft 8in) and poor shooting stats, but a Hawk chemistry style (opens in new tab) would give his jumping and finishing stats decent boosts, allowing him to win aerial balls and score goals from time to time.
Potential cost: 34k
SIF (Second In Form) Anderson Talisca
Anderson Talisca's Second In Form card is one of the most overpowered, making him among the most versatile central midfielders in the game. He strikes the ball with authority thanks to fine shooting stats, and his ball distribution skills are also insanely good.
With the right chemistry styles (opens in new tab) he can play as a CAM, CM or CDM – plus he's Brazilian so has a host of players he can get soft links from. If you fancy some 5-star skill moves in your side, Anderson links strongly with one of the smoothest dribblers in the game, Ricardo Quaresma (they both play for Besiktas in real life).
At 22k, he's an absolute steal. He's got an even better special card which is rated at 86, but it costs 98k.
Potential cost: 22k
IF Giacomo Bonaventura
In Form Bonaventura is one of the most dependable creative midfielders you'll find in Serie A. He's best utilised alongside a strong defensive-minded midfielder due to his lack of strength and aggression – he's more maestro than machine.
With a 91 long-shot rating, Bonaventura is perfectly capable of scoring from outside the box. The Italian is also very good at ghosting past players thanks to his great dribbling stats coupled with 4-star skill moves.
Potential cost: 30k
NIF (Not In Form) 86 Casemiro
Casemiro received an 86-rated NIF card during the ratings refresh due to his impressive performances for Real Madrid. He's now one of the best Not In Form central midfielders in the game.
Despite his lack of blistering pace, Casemiro is still capable of protecting your defence: his high defensive work-rate means he's constantly looking to cut passing lanes and intercept the ball.
Potential cost: 22k
IF Nabil Fekir
Fekir's first In Form is a bit old considering it debuted in TOTW5, but it's still an amazing card to have in your team.
EA did a great job of making Fekir's low centre of gravity noticeable. His turns feel buttery thanks to 87 agility, and with 95 balance plus 85 strength, he's a very hard man to shrug off the ball. This makes the Frenchman a force to be reckoned with as an attacking midfielder.
Potential cost: 36k
IF Danilo Pereira
You don't buy Danilo to score goals or perform fancy tricks. You bring him into your squad to do one thing: secure your midfield and frustrate your opponents' efforts of ping-ponging the ball into your 18-yard area.
Standing at 6ft 2in with 91 strength and 90 aggression, Danilo is as tough as they come in FUT. His ability to shore up your midfield is further strengthened by his powerful defending stats. The Portuguese is one player you don't want to come up against, but he's one you should have in your squad if you feel like trying a Liga Nos hybrid.
Potential cost: 32k
IF Wayne Rooney
Rooney's first IF received rave reviews when it came out in TOTW12. He was the go-to CM for Premier League teams before SIF Aaron Mooy came around and stole his thunder, but he's still one of the best central midfield players for under 40k.
His base finishing stat is rated at 85, so you won't have trouble finding the back of the net with Wazza. An 89 curve stat also makes him excellent at scoring finesse shots.
With 70 pace, you can be confident of outrunning the likes of Toni Kroos and Javi Martinez, but we all know he's only going to be facing them once in a blue moon. Thus, you need to apply a pace boosting chemistry style (opens in new tab) like Hunter or Catalyst to make Rooney usable in the Weekend League and the top divisions of Seasons.
Potential cost: 32k
IF Jesse Lingard
Lingard's superb showings in real life earned him a spot in TOTW16, which put smiles on the faces of Manchester United supporters (even if Jose Mourinho's grin was still nowhere to be seen).
The England international's IF card boasts 93 agility and 90 ball control, making him one of the best dribblers in the Premier League. He's also got 88 pace, which coupled with his 'Tries to beat defensive line' trait, makes him incredibly overpowered.
Potential cost: 33k
IF Wylan Cyprien
In Form Cyprien is just three defensive stat points away from being in the Gullit gang, but he's still an excellent defensive midfielder.
He's something of a jack-of-all-trades: a good passer, decent in front of goal (thanks to his 78 finishing and 84 long shots) and great at protecting your half of the pitch, shoving players aside with his physicality. Slap a Shadow chemistry style (opens in new tab) on him and you've got a real gem on your hands.
Potential cost: 29k
NIF Isco
Despite lacking blistering pace and physicality, Real Madrid's midfield maestro Isco is still one of the best players to have in your FIFA Ultimate Team considering his scoring and dribbling skills.
The 25-year-old's finishing is rated at 88, which is insanely high for a central midfielder – EA's way of saying sorry for his lack of pace and strength. As expected from a player of Isco's calibre, he's also got great dribbling stats that let him glide past defenders with ease.
Potential cost: 23k
More FIFA 18 on FourFourTwo...
FUT The 11 rarest FIFA 18 Ultimate Team cards: do you have any of these stashed in your club?
REVEALED! The 18 best FIFA 18 Ultimate Team ratings refresh upgrades
LIST FIFA 18's 11 most overpowered players
Thank you for reading 5 articles this month* Join now for unlimited access
Enjoy your first month for just £1 / $1 / €1
*Read 5 free articles per month without a subscription
Join now for unlimited access
Try first month for just £1 / $1 / €1
Get FourFourTwo Newsletter
The best features, fun and footballing quizzes, straight to your inbox every week.
Phillip is a football writer from Nigeria. He's been a football writer since he was 13 and after getting his work featured on various news outlets including the Daily Mirror, Red Bull, Planet Football and Football.London over the years, he has now turned his focus from solely writing about the beautiful game, to covering the not-so-beautiful virtual game of FIFA as a brilliant excuse to spend hours on his Playstation.