Revealed! The 11 rarest FIFA 18 Ultimate Team cards: do you have any of these stashed in your club?
Failed loan moves, teams relegated out of the game: sometimes bizarre circumstances cause random FIFA cards to skyrocket in value. Ben Wilson profiles the players you never knew were worth big bucks…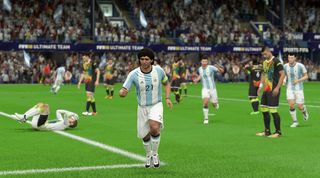 For all Reading fans' love of former shot-stopper Adam Federici, few Royals would have predicted him one day becoming the most hard-to-find goalie in a videogame. As for the Shrewsbury supporters who witnessed midfielder Mike Jones's only league goal in a Town shirt back in January 2007? Little did they know they were watching a player who'd turn heads 11 years later for his abilities on virtual turf.
That's the magic of Ultimate Team. Every season a single real-life oddity, or unusual in-game attribute, causes a handful of average-to-good player cards to be as desired as those belonging to Ronaldo, Messi and Suarez. Below we profile the 11 supposed also-rans who've experienced this phenomenon in FIFA 18. Alright, 10 supposed also-rans and one very, very famous handball convert.
GK: Adam Federici (Nottingham Forest)
Bournemouth's back-up custodian is easy to find on the transfer market, so long as you're happy to own his Cherries card.
Things get much trickier – and more expensive – for Forest completionists. The Aussie had a September loan spell on the Trent curtailed after just 12 days, meaning his tree-crested card was only in packs for two weeks. It's appeared on the market once since February, and instantly sold for 10,000 coins.
RB: Coke (Schalke)
No, the Spanish full-back hasn't seen his card supply exhausted as an elaborate, fizzy pop-related marketing gimmick. Instead, it's a January loan switch from Schalke to Levante which has caused its value to mushroom.
It's all down to nationality. At least two Spanish players from the Bundesliga are needed in the 'Spain To Germany' squad-building challenge (SBC), and Coke is the only right-back who ticks both boxes. His departure means the Schalke card is no longer in packs, causing its price to steadily rise. Find one in your club for a 13K coin boost.
CB: Shun Obu (Albirex Niigata)
Albirex Niigata's 2017 relegation placed them in a division outside of FIFA, the J2 League – and means that since the turn of the year, its players are no longer in packs.
Yet there's still a SBC for Albirex, meaning most of the squad can be sold at a premium if found within your club. Obu and central defensive partner Kazunari Ono shift for 10,000 coins, while Brazilian team-mate Thiago Galhardo has a maximum selling price of 30,000 – and usually goes under the hammer for at least 17K.
LB: Jakub Cunta (Cracovia)
Just when you've convinced yourself that FIFA fans are a highbrow bunch, you discover a FIFA 18 player has gone extinct on the transfer market because his name contains a rude word.
Yep, if you want to grab Cracovia's left-back you'll have to have David de Gea-sharp reflexes – his card sells within seconds when listed – and 10,000 coins to spare. All because of a certain four letters found on his birth certificate. (And we don't mean 'Jaku'…).
RM: Robin Lod (Panathinaikos)
The Greek league has spawned just four in-form cards all season – and as the first, Lod scored cult status among the FIFA community. Rumoured transfer interest from Wolves and Bristol City then whipped up even more interest in his 79-rated card.
A January move to England never materialised, but fans who invested are clinging to him regardless. All of which means you're looking at a lovely 44,000-coin cash injection if you still have him hidden away.
CAM: Diego Maradona (Icons)
Greatest of all time? Probably. Most expensive card in FIFA 18? Definitely. Cristiano Ronaldo's 99-rated Team Of The Year card will set you back five million coins. Want deadly Diego and you'll need to more than double that.
At the time of writing, he's available for just over 12 million coins – but he's been known to sell for up to 15 million. All in all, it makes him the one card on this list you're unlikely to have opened in a pack without realising.
CM: Mike Jones (Carlisle United)
Incredibly, FIFA 18's most sought-after bronze card is a 63-rated Carlisle journeyman who's also had spells with Bury, Crawley and Shrewsbury Town.
The reason is a simple combination of speed and flexibility. Jones's 86 Pace rating is an outlier for bronze central midfielders, particularly when you factor in additional RM and LM eligibility. He's the perfect engine-room super-sub, and hence fetches up to 15K.
LM: Ante Rebic (Eintracht Frankfurt)
FIFA 18's Frankfurt SBC is the work of the devil: you need at least one wide midfielder to complete it, but they only have three in their squad – rendering silver cards for Rebic, Aymen Barkok and Marius Wolf extinct.
Find any of the above cards in your club and you'll immediately be able to sell them on the market for 17,000 coins. Just don't get overly excited if you pack Rebic's upgraded gold card – a position change to ST has effectively rendered it useless in the SBC. Cheeky EA.
RW: Anwar El Ghazi (Lille)
Seventy. Five. Thousand. Coins. If you thought those three Eintracht Frankfurt wingers sounded expensive, then try clubbing together the cash required for Lille's 74-rated Dutchman.
It's not because fans are keen to deploy his 79 Pace or 75 Shooting attributes. Rather, a devious SBC once more provides the explanation; Lille's challenge requires one winger, meaning club-mates Pepe (30K) and Luiz Araujo (27K) also bring in substantial returns if you have them to shop.
ST: Cristiano (Kashiwa Reysol)
Ronaldo may be this year's cover star, but on release Kashiwa Reysol's Brazilian forward earned almost as much hype as his Portuguese namesake. YouTubers insisted Cristiano's silver card was vastly overpowered, and as a result it quickly became extinct.
EA fixed that to an extent by making a special 83-rated Cristiano the prize for completing the full set of Meiji Yasuda J1 SBCs, but that silver card remains tough to snare. You're looking at a tidy 50-60K return if you find it in your club.
ST: Lucas Alario (River Plate)
Leverkusen's Argentine striker signed from River Plate on the same day that FIFA 18's web app launched back in September – meaning that for a very brief time, he was available in packs with an affiliation to his former side.
As a result, his River Plate card has bordered on extinct all season, and continues to rise in value. On 1 January 2018 it was worth 10,000 coins; by mid-March that number had climbed to 22K. Given that his identical Leverkusen alternate can be nabbed for 500 coins, this is surely one for los Millonarios devotees alone.
More FIFA 18 on FourFourTwo...
REVEALED! The 18 best FIFA 18 Ultimate Team ratings refresh upgrades
LIST FIFA 18's 11 most overpowered players
EXPERTS 7 critical FIFA 18 tips – direct from the developer EA Canada
Thank you for reading 5 articles this month* Join now for unlimited access
Enjoy your first month for just £1 / $1 / €1
*Read 5 free articles per month without a subscription
Join now for unlimited access
Try first month for just £1 / $1 / €1
Get FourFourTwo Newsletter
The best features, fun and footballing quizzes, straight to your inbox every week.