Revealed! The 18 best FIFA 18 Ultimate Team ratings refresh upgrades
The players with the most impressive 2018 ratings boosts from the Premier League, La Liga, Serie A, Bundesliga, Ligue 1 and beyond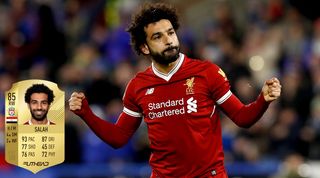 EA have waved their magic wand and given some of Europe's (and the Rest of the World's) most in-form players a boost to their Ultimate Team cards. Europe's major leagues have all seen upgrades to basic Ultimate Team cards – but players who might be sweating after a subpar season can cease fretting: there are no downgrades this year. Phew.
It's not just the big names going up in the world; a few of European top divisions' lesser lights are also given their due. These are the players who have seen the biggest improvements on their recent card, as well as some highlight names to pick out and really improve your team...
Premier League
Headline act: Mo Salah (Liverpool)
83 OVR > 85 OVR
There isn't much the Egyptian attacker hasn't been able to do during his second stint in the Premier League. His Ratings Refresh card reflects that: Salah has been given significant upgrades on his shooting and physicality.
Best upgrades: Ahmed Hegazi (West Brom)
68 OVR > 75 OVR
From one Egyptian to another. Amid West Brom's current woes in the Premier League doldrums, it's easy to forget that Hegazi had one of the best starts to a debut season for a defender in Premier League history. The imperious stopper's massive seven-point jump is thoroughly deserved.
Best upgrades: Nick Pope (Burnley)
68 OVR > 75 OVR
Tom Heaton's long layoff could have spelled trouble for Burnley. Thankfully for the Clarets, former Charlton keeper Nick Pope has excelled in his stead and made the No.1 spot his own (for now).
Ligue 1
Headline act: Edinson Cavani (PSG)
88 OVR > 89 OVR
The Uruguayan striker may have been playing in Neymar's shadow (and had a penalty or two nicked from underneath him) for much of the season, but his goal tally doesn't lie. Cavani has 24 goals in 25 league games, having netted every 84 minutes on average.
Best upgrades: Adama Mbengue (Caen)
62 OVR > 69 OVR
The Senegalese left-back has developed quickly in a short space of time. Mbengue's seven-point hike overall is indicative of a player whose star continues to rise in what is, crucially, a World Cup year.
Best upgrades: Tomas Koubek (Rennes)
67 OVR > 74 OVR
Standing at a gargantuan 6ft 6in, Koubek proves size does matter as his winter upgrade has morphed him into one of the finest silver goalkeepers in the game. What he lacks in speed, he more than makes him elsewhere across the board.
Serie A
Headline act: Dries Mertens (Napoli)
86 OVR > 87 OVR
Napoli's surge towards the top of the table wasn't going to go unnoticed by EA. Mertens has continued his hot form in Serie A, and he's bound to punish virtual defences too. While only receiving a small boost compared to some of his peers, the Belgian forward is now staking a claim for being one of the best all-round players in the game.
Best upgrades: Milan Skriniar (Inter)
74 OVR > 80 OVR
With a name like that, the Slovakian was bound to turn up at San Siro eventually. And turn up he has: the centre-back has impressed Inter fans and newcomers alike with how dominating he's been in recent months.
Best upgrades: Patrick Cutrone (Milan)
65 OVR > 71 OVR
We shan't leave the other Milan giant out: their 20-year-old striker is a household name of the future. You could argue 71 is a little low but, if you're inclined to play with and against silver teams, you can't do much arguing about Cutrone's +13 pace increase. The kid's got it in spades.
Bundesliga
Headline act: Mats Hummels (Bayern Munich)
88 OVR > 89 OVR
Going from Borussia Dortmund to Bayern Munich tends to be a wise career move these days (unless your name is Mario Gotze). Defender Hummels has picked up where he's left off since joining Bayern in 2016 – by consistently performing to the level required of the Bavarian giants. An overall boost is his reward.
Best upgrades: Mickael Cuisance (Borussia Monchengladbach)
61 OVR > 70 OVR
Here he is; one of the best winter upgrades in the game. You don't go up nine points by chance, and the French midfielder's attacking ability and footballing brain belies his 18 years of age. Yes, he was born in 1999. Yes, we're all old.
Best upgrades: Dennis Geiger (Hoffenheim)
61 OVR > 70 OVR
The Bundesliga, as we've become accustomed to over the years, is the breeding ground for some serious up-and-coming talent. Geiger's upgrade may still be doing him a disservice. Expect the teenage midfielder to come into the thinking of several big-name clubs over the summer.
La Liga
Headline act: Philippe Coutinho (Barcelona)
86 OVR > 87 OVR
OK, this one is a bit sneaky. Coutinho has spent most of the season showing his skills in the Premier League before his big-money move to Barça. He hasn't quite hit the ground running yet at the Camp Nou, but he's sure to improve many a La Liga Ultimate Team squad.
Best upgrades: Alejandro Mula (Malaga)
60 OVR > 73 OVR
No, that's not a typo. That 13-point jump for the Spanish winger is well deserved after tearing things up with Malaga at the start of the season. In essence, he's a whole new player who could make a mockery of players rated far above him in-game. Just check out those stats.
Best upgrades: Maximiliano Gomez (Celta Vigo)
70 OVR > 77 OVR
Probably not the top Spanish-based Uruguayan striker you'd want on your team, but don't discount Gomez. He's currently boasting a one-in-two record in La Liga, and he's only 21 years old. Plenty more to come, and that might yet include a 2018 World Cup appearance.
Rest of the World
Headline act: Yacine Brahimi (Porto)
82 OVR > 84 OVR
The Algerian has continued his consistent form while plying on the wing for Porto this season. He's been duly rewarded with a solid improvement upon his basic card.
Best upgrades: Joao Novais (Rio Ave)
62 OVR > 73 OVR
Not only does the Portuguese midfielder have one of the best upgrades in the game, he now also comes with 99 shot power. He's the PES 6 Adriano of FIFA 18. Go and get him.
Best upgrades: MaximilianWober(Ajax)
66 OVR > 73 OVR
Ajax didn't create this composed young stopper – Rapid Vienna did – but he's their player now. Unless you want to nab in in FUT , that is. With serious pace and defending upgrades, Wober is sure to improve any Eredivisie side you're trying to cobble together.
FIFA 18 hints and tips on FourFourTwo:
FIFA 18's 11 most overpowered players
7 critical FIFA 18 tips – direct from the developer EA Canada
The 10 best FIFA 18 kits that'll make your Ultimate Team look snazzy
15 of the finest FIFA 18 hidden gems you can sign in Career Mode
Skill moves: How to do 7 of our favourites
Chemistry Styles explained – and why they're more important than you think
The 5 best formations in FIFA 18: our favourite systems explained
Thank you for reading 5 articles this month* Join now for unlimited access
Enjoy your first month for just £1 / $1 / €1
*Read 5 free articles per month without a subscription
Join now for unlimited access
Try first month for just £1 / $1 / €1
Get FourFourTwo Newsletter
The best features, fun and footballing quizzes, straight to your inbox every week.