Revealed! FIFA 18's 11 most overpowered players
Everybody wants more for less – not least in Ultimate Team, where your money counts and marginal gains could be the difference between success and failure. Luckily for you, Phillip Ekuwem is on hand...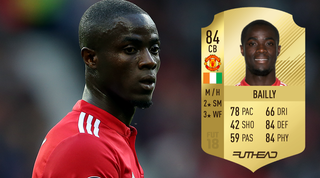 Building a formidable team in FIFA Ultimate Team doesn't have to cost you tons of time or money. The likes of Cristiano Ronaldo, Gareth Bale and Ruud Gullit are unfortunately out of reach for the average FUT player, but thankfully there are plenty of cheap beasts in the game capable of excellence for your Ultimate Team.
At this stage in FIFA, you don't really want obsolete cards that were once considered overpowered upon the game's release. On that note, we take a look at the most OP players under 20,000 coins – including some unpopular 'special' players.
Ralf Fahrmann (GK)
Price: 3.2k
David de Gea is undoubtedly the best goalkeeper in the game, but Ralf Fahrmann isn't too far off the Spanish shot-stopper.
Schalke's net-minder is a quality goalkeeper in nearly every aspect, but has a tendency to take inaccurate goal-kicks thanks to his 52 kicking stat. Don't let that scare you away, though: you can work around that by playing a short pass to your defenders.
Jordan Lukaku (LB)
Price: 1.2k
We're four months into FIFA 18 and Lukaku Jr. is still one of the most overpowered players in the game. He's a wall in defence, but also capable of aiding your team going forward thanks to his blistering pace.
He's very affordable at around 1,200 coins, so you should definitely consider picking him up if you're short of a quality left-back.
In Form (IF): Lorenzo De Silvestri (RB)
Price: 13k
In Form De Silvestri is undoubtedly one of the best right-backs in FUT. The Torino man appeared in TOTW 17, thus receiving a huge stat boost from his 76-rated non-rare gold card – making him the most OP right-back in the game. He's pretty much the Italian Antonio Valencia, and at 13k that's an amazing price.
IF: Martin Hinteregger (CB)
Price: 11.5k
Hinteregger's inclusion in TOTW 18 was somewhat unexpected, but who cares? Now we now have a cheap alternative to Borussia Dortmund's Sokratis – one of the best CBs in the game.
Augsburg man Hinteregger actually has slightly better stats than Sokratis, making him an absolute tank in defence.
Eric Bailly (CB)
Price: 16k
Pace, defending and physicality are must-have stats for centre-backs in FIFA and Bailly has them all. Slap a Shadow chemistry style (opens in new tab) on the Manchester United man and his pace will go up to 90, making him capable of keeping up with most attackers. His standing and sliding tackles will also get maxed out at 99.
His strength and aggression are rated 85 and 87 respectively, thus allowing him to force players off the ball with relative ease.
Tiemoue Bakayoko (CDM)
Price: 1k
You can't talk about overpowered players without mentioning Bakayoko. He may be below-par at Chelsea, but he's a beast on FUT. The Frenchman is weak going forward due to his terrible shooting, but he's great for thwarting incoming attacks with strong strength and interception stats.
Bakayoko, up to now, has remained one of the most annoying CDMs to come up against – so you'd do well to snap him up for close to discard.
Corentin Tolisso (CM)
Price: 1.6k
Tolisso is widely regarded as a poor man's Arturo Vidal, since he possesses similar stats to his Bayern Munich team-mate. Unless you've got around 130k coins to splash on the Chile international, Tolisso would be an excellent addition to your Ultimate Team.
He's the perfect partner for Bakayoko in midfield as he performs the same role as the Frenchman, and does it rather well indeed.
Anthony Martial (LM)
Price: 11k
You will struggle to find a more OP player than goal machine Martial. The French forward is super quick with 91 pace (which gets maxed out on a Hunter chemistry style (opens in new tab)), and can make sharp turns thanks to his 85 agility stat.
Martial is among the most lethal gold wingers in the Premier League: he's strong, fast and skilful. He's also got a four-star weak foot which is quite handy for first-time shots.
TOTGS (Team of the Group Stage): Emiliano Rigoni (RM)
Price: 12k
Despite being an unpopular player on FUT, Zenit's Rigoni is incredibly OP. He's blessed with a five-star weak foot: a potential game-changer thanks to the freedom of movement it grants its wielders.
The 82-rated winger is an absolute steal at 12k coins considering his TOTGS card is markedly similar to IF Willian's, which is currently worth in excess of 200k. Trust us on this one.
Gabriel Jesus (ST)
Price: 8k
Jesus epitomises FIFA 18's OP stars. Tons of FUT players still use his base card in expensive EPL teams because he's just that good. The Manchester City man's pace is rated at 87, which his great for running in behind defences; meanwhile, with 87 dribbling and a four-star skill rating he can go past defenders with ease... one heel-to-heel flick at a time.
SIF: Niclas Fullkrug (ST)
Price: 14k
Fullkrug's second In Form is insane as a starter or a super sub. Pace is regarded as the most important attribute for strikers in FUT. Its usefulness shouldn't be overestimated, but Fullkrug's second In Form will show you why you shouldn't ignore stats like strength, positioning and heading accuracy.
The Germany international hardly misses headers due to his maxed-out 99 heading accuracy, and with 91 strength he can hold his own against your opponent's centre-backs. On a Hunter chemistry style (opens in new tab), his 82 pace goes up to 93 – but he's still a beast without it.
Fullkrug should be worth more than 14k, but we've got the majority of FUT players to thank for overlooking classic strikers (thus reducing the demand for him).
FIFA 18 hints and tips on FourFourTwo:
7 critical FIFA 18 tips – direct from the developer EA Canada
The 10 best FIFA 18 kits that'll make your Ultimate Team look snazzy
15 of the finest FIFA 18 hidden gems you can sign in Career Mode
Skill moves: How to do 7 of our favourites
Chemistry Styles explained – and why they're more important than you think
The 5 best formations in FIFA 18: our favourite systems explained
Thank you for reading 5 articles this month* Join now for unlimited access
Enjoy your first month for just £1 / $1 / €1
*Read 5 free articles per month without a subscription
Join now for unlimited access
Try first month for just £1 / $1 / €1
Get FourFourTwo Newsletter
The best features, fun and footballing quizzes, straight to your inbox every week.
Phillip is a football writer from Nigeria. He's been a football writer since he was 13 and after getting his work featured on various news outlets including the Daily Mirror, Red Bull, Planet Football and Football.London over the years, he has now turned his focus from solely writing about the beautiful game, to covering the not-so-beautiful virtual game of FIFA as a brilliant excuse to spend hours on his Playstation.