FIFA 18 skill moves: How to do 7 of our favourites
Want to fool your opponents with some cheeky trickery? Fraser Gilbert details everything you need to conquer FIFA 18's new skill set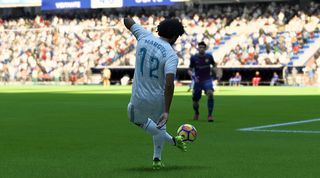 Your ability to master a skill move in FIFA can be the difference between winning and losing. Whether it's a simple fake shot or a perfectly timed rabona, these manoeuvres are sure to leave opposition defences bamboozled.
As usual, EA Sports have thrown some new tricks into the mix this year, while also enhancing some pre-existing ones. We've detailed them below, so get learning now and we guarantee your game will improve massively as a result.
1. The Cruyff Turn
 
How to do it: Press B then A (Xbox)/Circle then X (PS4) and flick right stick in opposite direction to where player is facing
If you opt to learn just one new FIFA skill this year, make it this one. The Cruyff Turn can be performed by any player in the game, and if used effectively will leave both online and AI opponents highly susceptible to its defence-splitting nature.
2. Sombrero Flick
 
How to do it: Flick right stick in direction player is facing while running
There are multiple ways to pull off the Sombrero Flick in FIFA 18, with some new variations added to the mix this year. The Okocha Sombrero Flick (activated while running) and the Forward Sombrero Flick (activated while ball is bouncing) can only be performed by players with five-star skills.
3. El Tornado
 
How to do it: Hold LB/L1; flick right stick up and then left or right
El Tornado is special in that it can only be performed by a select few players in FIFA 18; Cristiano Ronaldo, Antoine Griezmann and Roberto Carlos among them. The trick is so exclusive that it isn't even credited as an official skill move in-game, but EA have said they'll unlock it for any player who pulls it off in real life. Crouchy, the floor is yours.
4. No Touch Dribbling
 
How to do it: Hold RB/R1 and use left stick to feint. Release RB/R1 to burst away.
Slight alterations have been made to the No Touch Dribbling system in this year's game. Now, the RB/R1 button(s) serve as your modifier, allowing you to deceive opponents before leaving them in the dust with a quick burst of speed.
5. The Bridge
 
How to do it: Hold RT/R2 and flick right stick towards opponent
The Bridge returns in FIFA 18 after a short absence, and unlike most of the skills on this list, it can be performed by any player in-game. Take some time to familiarise yourself with the positioning and timing required to carry it out successfully.
6. One Foot Spin
 
How to do it: Flick right stick back and then left or right
This is a four-star skill move that can be performed in one of two ways. There are no modifiers required to carry it out, so all you need to do is flick the right stick back and then left or right depending on your chosen direction.
7. Heel Control
 
How to do it: Automated – no input necessary
Players like Neymar, Marcelo and Ronaldinho can all control long passes with their heel in FIFA 18, resulting in a beautiful-looking animation. The best part? The move is completely automated, requiring you to do nothing but bask in its glory.
FIFA 18 Chemistry Styles explained – and why they're more important than you think
The 5 best formations in FIFA 18: our favourite systems explained
7 essential FIFA 18 tips: new defending, Career Mode advice, Ultimate Team web app and more
The 12 best FIFA 18 right-backs you should sign in Ultimate Team
FIFA 18 wonderkids: the 13 best young players to sign in Career Mode
How to do the 12 new FIFA 18 celebrations – plus more of our favourites
The 11 best cheap Premier League players for your FIFA 18 Ultimate Team
The 11 best free agents in FIFA 18
7 must-read FIFA 17 tips and tricks – directly from the developers at EA Sports
Quizzes, features and footballing fun
Get the best features, fun and footballing frolics straight to your inbox every week.
Thank you for signing up to Four Four Two. You will receive a verification email shortly.
There was a problem. Please refresh the page and try again.