FIFA 18 best young players: the 13 finest wonderkids to sign in Career Mode
Fraser Gilbert runs you through the exciting youngsters with the highest potential in FIFA 18's single-player mode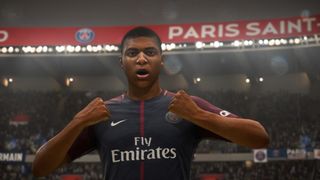 FIFA's Career Mode lasts for 15 whole seasons, and if you're hoping to achieve long-term success then you'll need to build for the future. Of course, there are so many options at your disposal that it can prove tough to know who to spend your precious cash on.
That's where FFT comes in. We've identified every FIFA 18 wonderkid who begins Career Mode with a potential of 90 or higher (at time of writing). If you train them well, pay them handsomely and offer plenty of valuable game time, then you'll soon have the world's very best players lining your squad.
13. Ezequiel Barco
Rating: 72, Potential: 90
Need to know: The youngest of FIFA 18's top wonderkids arrives in the form of 18-year-old Ezequiel Barco. The Independiente star boasts 90 acceleration, 85 agility and 81 sprint speed attributes, favouring LM, CM or CAM roles in-game. Sign him up, and watch as his overall rating flourishes in seasons to come.
12. Youri Tielemans
Rating: 80, Potential: 90
Need to know: Monaco's new, €23m signing sees a slight boost applied to his FIFA rating this year, with his potential ability hitting the 90 mark. The 20-year-old Tielemans signed a five-year contract with the Ligue 1 champions back in May, offering them plenty of time to develop the talented Belgian into a worldwide superstar.
11. Marcus Rashford
Rating: 81, Potential: 90
Need to know: The pacy Rashford is equipped with 93 acceleration and 92 sprint speed in FIFA 18 - a lethal combination in attack. His potential has also increased this year, allowing the prolific young striker to become one of the world's top forwards in time. You'll struggle to pry him away from Old Trafford, though.
10. Andreas Christensen
Rating: 81, Potential: 90
Need to know: Since returning from his loan spell at Borussia Monchengladbach, Chelsea's Christensen has found himself a regular at Stamford Bridge. The 21-year-old Denmark international is clearly expected to thrive given his 90 potential in FIFA 18, a figure which sees him listed as the only defender in our line-up.
9. Anthony Martial
Rating: 82, Potential: 90
Need to know: France international Martial is another of Manchester United's speedsters to make the cut. The forward's stats haven't altered heavily over the past 12 months, however, with his current and potential ratings remaining the same. Be sure to take advantage of his 92 acceleration, 89 sprint speed and 88 dribbling stats.
8. Dele Alli
Rating: 84, Potential: 90
Need to know: It comes as no surprise that Spurs' Alli emerges as the top English prospect in FIFA 18. It was the same story last year – but this time, the ex-MK Dons midfielder benefits from a slight addition to his overall rating. Expect his finishing, dribbling and composure to improve as a result.
7. Leroy Sane
Rating: 82, Potential: 91
Need to know: Manchester City's German winger finally benefits from a new face scan in FIFA 18, ditching the generic model he sported in last year's game. His potential ability also clocks in at 91, matching the final version of his Career Mode persona in FIFA 17. You'll be seeing him a lot in Ultimate Team - the result of his 94 pace stat.
READ The 20 best Premier League player faces in FIFA 18
6. Thomas Lemar
Rating: 83, Potential: 91
Need to know: Lemar is another to benefit from a big addition to his potential rating this year. The same applies to his overall rating, thanks to upgrades for his dribbling, vision and crossing attributes. The 21-year-old provides one of many compelling reasons to take charge of Monaco in FIFA 18's Career Mode.
5. Gabriel Jesus
Rating: 81, Potential: 92
Need to know: Initially, it can prove tempting to overlook the 81-rated Jesus in favour of Manchester City's Sergio Aguero. With enough perseverance, though, Jesus's potential can rise to 92 - slightly improved over FIFA 17. Bragging 93 agility, 92 balance and 89 acceleration, you can't afford to overlook this talented, 20-year-old Brazilian.
4. Ousmane Dembele
Rating: 83, Potential: 92
Need to know: Despite suffering an unfortunate injury following his €105m transfer to Barcelona in the summer, Dembele's current and potential ratings are still improved in FIFA 18. The 20-year-old Frenchman's 92 potential puts him among the game's elite wonderkids, and he benefits from outstanding speed, dribbling and five-star skills attributes.
3. Marco Asensio
Rating: 84, Potential: 92
Need to know: The 21-year-old Asensio made 23 La Liga appearances for Real Madrid in his first full year at the Bernabeu, while he also netted in the Champions League final. His potential has soared to 92 in FIFA 18 as a result, with the only downside arising from his increased value and wage demands in Career Mode.
2. Gianluigi Donnarumma
Rating: 82, Potential: 94
Need to know: Milan wonderkid Donnarumma is the only goalkeeper on this list. The 18-year-old has emerged as one of the world's top shot-stoppers despite his young age, and this leads to an incredible 94 potential rating in FIFA 18. As an added bonus, his 2018 contract expiry results in a potential free transfer opportunity in Career Mode.
1. Kylian Mbappe
Rating: 83, Potential: 94
Need to know: Given his 83 overall and 94 potential ratings, PSG's newly acquired forward proves the ultimate pick of FIFA 18's wonderkids. This year's game implements a significant bonus to his potential rating over last year, improving attributes such as sprint speed and finishing along the way. Invest now, and you'll bag a lethal striker for the duration of FIFA 18's Career Mode.
More FIFA 18 content…
CELEBRATIONS How to do the 12 new FIFA 18 celebrations – plus more of our favourites
DREAM TEAM 11 best cheap Premier League players for FIFA 18 Ultimate Team
REVEALED! 10 excellent FIFA 18 Ultimate Team bargains for under 2,000 coins
BUDGETS! FIFA 18 career mode transfer budgets for every Premier League team
TEAMS 10 teams we can't wait to use in FIFA 18
BARGAINS The 11 best free agents in FIFA 18
Thank you for reading 5 articles this month* Join now for unlimited access
Enjoy your first month for just £1 / $1 / €1
*Read 5 free articles per month without a subscription
Join now for unlimited access
Try first month for just £1 / $1 / €1
Get FourFourTwo Newsletter
The best features, fun and footballing quizzes, straight to your inbox every week.